By: Kyle Niblett
April 4, 2023
At 17 years old, a tall, skinny boy from Richmond, Virginia took the advice of his father and traveled down to the University of Florida with dreams of winning championships for UF Head Golf Coach Buster Bishop.
As Bryan Kornblau (BBC '81) grew from a boy into a man, it turns out the best thing to happen to him was that the hall of fame coach rejected him quick, quicker than Tiger Woods rejected the LIV Golf Tour. In the end, it did not matter that the next Jack Nicklaus was not coming out of Gainesville; what mattered was the next great construction manager was.
Four decades later, the culmination of Kornblau's legacy built at the M.E. Rinker, Sr. School of Construction Management has resulted in a transformative announcement for the soon-to-be-built Bruno E. and Maritza F. Ramos Collaboratory: an industry-leading Virtual Design Construction Lab named after Kornblau and his company, Eagle Construction of Virginia.
Cementing the future of advanced construction technologies within the architectural, engineering and construction (AEC) space, this gift from Virginia's most trusted builder and Kornblau will empower the students and researchers at the UF College of Design, Construction and Planning (DCP) to continue doing the work that progresses the industry, while ensuring UF remains the preeminent institution in this space.
"When you look at what construction executives and career construction folks have to do on a day-to-day basis, they have to collaborate," Kornblau answered when asked why the new Eagle VDC Lab was so important to him personally. "Not one person on site is an all-in-one construction manager, architect, engineers and real-estate developer. Each person must work together, and this gift to the Collaboratory will teach them how to do just that."
With Kornblau's philanthropy matching Dean Chimay Anumba's vision, the lab will be a best-in-class space in perpetuity. As an adaptable space, it will be modified based on technological advancement and the research current students, researchers, and industry practitioners are conducting. Technology will be available on a moment's notice for students and researchers to effectively and efficiently collaborate in a way that makes solving problems and creating advancements easily attainable.
"Dean Anumba has breathed new life into the program, and along with many of his faculty and staff, his vision of what DCP needs to look like in order to excel on a peer level is second-to-none," said Kornblau, who serves as the chairman and principal of the real-estate investment firm Markel/Eagle Partners. "All of the funds necessary to create an environment that can compete with the national powerhouses in design and construction are there, and that is a testament to the success of the fundraising campaign and the vision and generosity of the Florida legislature."
At 64 years old, Kornblau admits that the lab's advanced technology is something not very easily found in a construction industry where methods and business models don't change rapidly. As a result, Kornblau spent the early part of his career like a NASCAR driver at Richmond International Speedway. While completing laps over and over again, he asked himself one race-related question about his business: "How do you fix a car while it is still racing around the track?"
Long before the question was ever answered, however, he had his own race to run.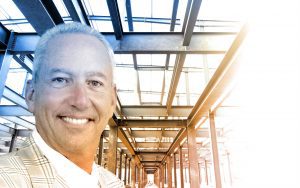 OFF TO THE RACES
Spending his summers on construction sites where the hot red clay attached itself to his boots quicker than sweat poured down his brow, Kornblau was an understudy for his father, Sam "The Chief" Kornblau. Considered "the elder statesman of Richmond real-estate development," The Chief sheepishly had a pretty good guess his son wasn't going to be winning tournaments surrounded by the Loblolly Pine Trees of Augusta National Golf Club. As a result, he pitched something better: palm trees with pretty women.
Having just watched his dad, aka the president of Richmond's Home Builders Association, navigate the treacherous waters of the 1973 oil crisis and survive in the development business, the younger Kornblau figured the literal South couldn't be the worst option if things went figuratively south, so he hopped in a station wagon with his pops and made the 700-mile journey to Gainesville. Despite seeing more pine trees than palm trees and more birds than beaches, the younger Kornblau fell in love with UF at first sight. With a special waiver from then-School of Building Construction Director Don Halperin, he was accepted for the fall 1977 semester.
"I will never forget my first class was a construction materials class taught by Professor Bill Apps in Fine Arts A," Kornblau said. "I'll tell you what – his class hooked me, and I never looked back."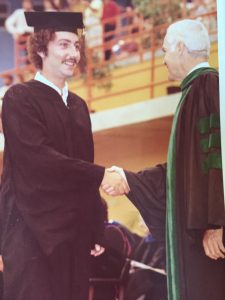 THE RISE OF AN EAGLE EMPIRE
After graduating from the legendary Rinker Class of 1981, the newest Gator returned home to the capitol of Virginia looking at 20 percent interest rates and the toughest, most competitive market he had ever seen. As companies went out of business after making one bad mistake, he worked for his dad's company for a few years at the general contractor level as a project manager, learning just how difficult the business was. The newest Kornblau in construction took out a loan in October 1984 and opened his own small business. Flying high on the Reagan-inspired patriotism of the mid 80s, he named it Eagle Construction of Virginia.
At 26 years old, Kornblau started with 60 lots and benefitted from The Chief's wisdom, his own gained from his UF education, and the market timing. Slowly, the business grew throughout the rest of the decade. After surviving the Savings and Loans Crisis and driven by the work ethic of his old man who came into the office every day until he was 93 years old, Kornblau eventually turned his 60-lot company into the state's largest privately held homebuilding company. By the mid-2000s, the firm was recognized as *the* homebuilder of Central Virginia, winning a plethora of Homearama People's Choice Awards on their way to 135 communities and 5,000-plus homes. When the financial crisis of 2008 hit, Kornblau once again timed the market perfectly.
"We sold our land positions due to the demand because it was so hard to get construction done at a reasonable price," Kornblau said. "We were making more money selling our landholdings than we could actually building and physically improving the property."
Thanks to learning the art of the deal from The Chief, Eagle flew right through America's downturn before starting a private equity fund manager with the first fund at $32 million. After selling everything in his nest to Markel Venture in 2013, Kornblau assumed his aforementioned role as the chairman and a principal of the new private equity firm, Markel/Eagle Partners.
"Eagle has continued to be a leader in the market, in different types of mixed-use projects and also different innovative types of housing for sale," Kornblau humbly proclaimed. "But even with the success at the time, I was continuing to ask myself, 'How do you fix a car while it is still racing around the track?'"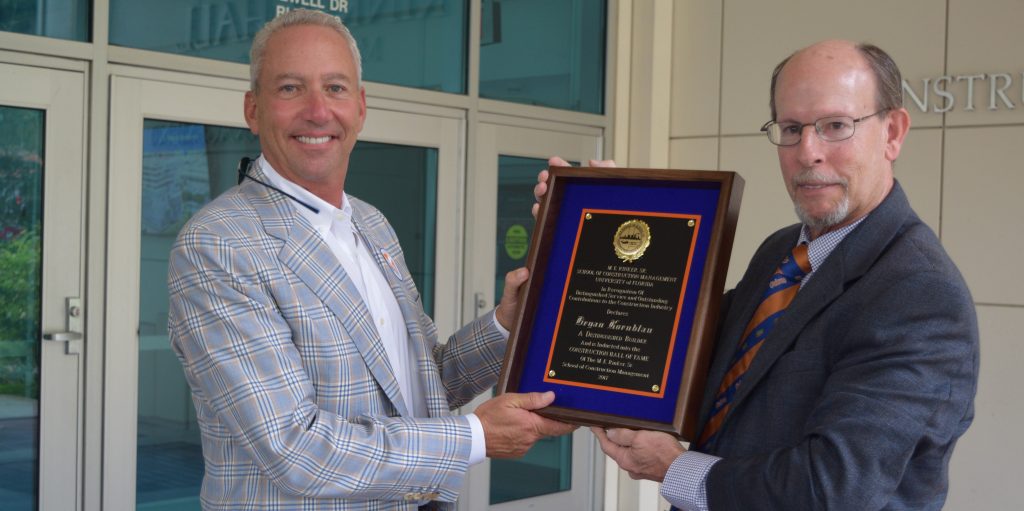 ANOTHER RINKER LEGACY BEGINS
As Kornblau was looking for the answer to his question of how to take his business to the next level, two Rinker graduates in the small town of Bristol, Rhode Island, were introducing an unassuming, neatly dressed undergrad to Dr. Raymond Issa, Rinker's Director of the Center for Advanced Construction Information Modeling (CACIM).
"Dr. Bilge Gökhan Çelik (Ph.D. '06) and Dr. Michael Emmer (Ph.D. '09) introduced me to Dr. Issa at an American Schools of Construction Conference in Reno, Nevada," said Nathan Blinn (MSCM '15, Ph.D. '18), who was the star of the Roger Williams University underdog team who finished above a team from Stanford at the ASC competition. "Inside the Reno-Tahoe International Airport was the first time in my professional life where I had a moment where you find this connection with someone and realize there is something really interesting there."
After researching the Rinker School, Blinn decided to pack up everything and move down to the Sunshine State for graduate school. As he got involved with as much research as he could with different groups in different departments, he also started teaching and working on different grants to understand how to make a difference in the industry. After receiving his master's of science in construction management in 2015, Blinn was a doctoral candidate on Sept. 16, 2017, when he made the life-changing decision to introduce himself to a man who was being inducted into the Rinker Construction Hall of Fame while wearing a magnificent orange-and-blue plaid sports coat: Bryan Kornblau.
A Rinker grad with Virginian insight had stumbled upon a doctoral student looking for a professional invite.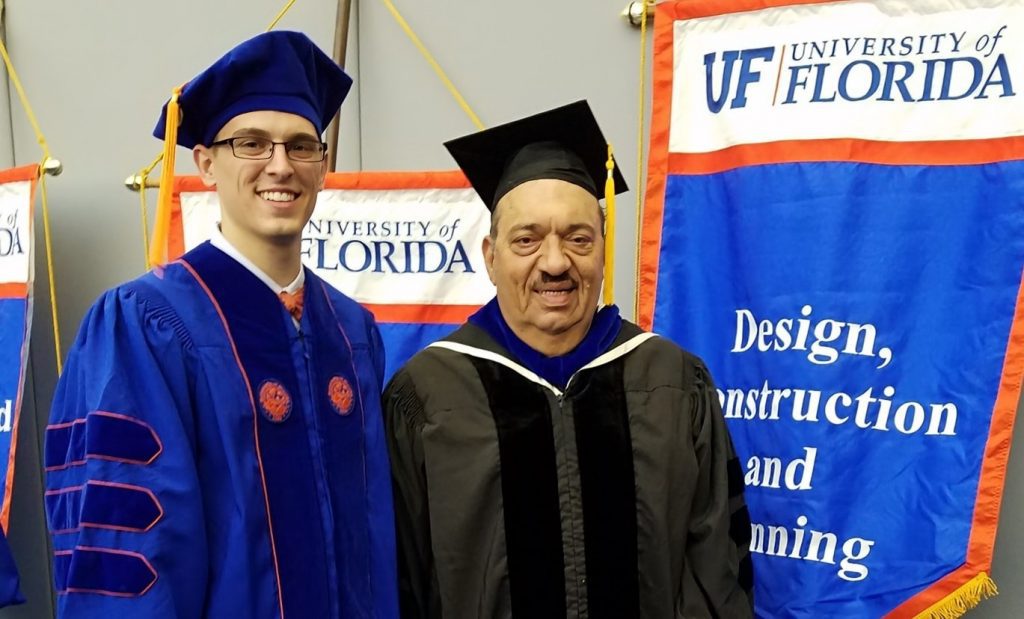 A BOND LIKE NO OTHER FORMS
Unlike science, when the positive charges of Kornblau and Blinn interacted, the forces didn't go against each other. In fact, they went toward the same goal. Not being intimidated by the larger-than-life personality, Blinn approached Kornblau and let him know he'd be heading up a VIP tour showcasing Blinn's lab and his doctoral work. It was not just a tour though. It was an experience.
"On that Saturday, we had a big group go through his lab and he gave a great presentation," Kornblau happily recalled as if it were a memory of opening a Christmas gift as a child. "I'll never forget the holographic projector that he displayed as he explained the new innovation in scanning, three-dimensional scanning, drone scanning, modeling and building information modeling. I remember looking at him and thinking to myself, 'If I can recruit him to Richmond, we can do some special things.'"
Just like meeting Dr. Issa, Blinn had found another special someone. Kornblau was not just asking surface-level questions. The inquiries were deeply insightful, interesting, and hard-hitting – ones Blinn had never considered that immediately moved both to even bigger-picture thinking. It was then at that exact moment six years ago when the residential construction industry transformed.
"It is that beautiful moment when you find somebody who has an unwavering desire to be better," Blinn explained. "A phrase I use a lot is 'Build Better.' We did not realize it at first, but we found that in each other. I care about him deeply, and he cares about myself and my wife and our families. I consider him family now."
A few short weeks later Kornblau flew his entire executive team down to Gainesville to meet Blinn, whose persuasiveness, positivity and potential made a deep impact on the Eagle team. As Kornblau continued to think about driving real change in an industry, he asked a decades-long question for the last time: How do you fix a car while it is still racing around the track?
"I searched for that answer for 30 years, and it was answered when I met Nathan Blinn," Kornblau said. "I saw Nathan as the one who could actually be the mechanic to fix that car while it was still running around the track, changing the tires and tuning up the engine without losing the lead."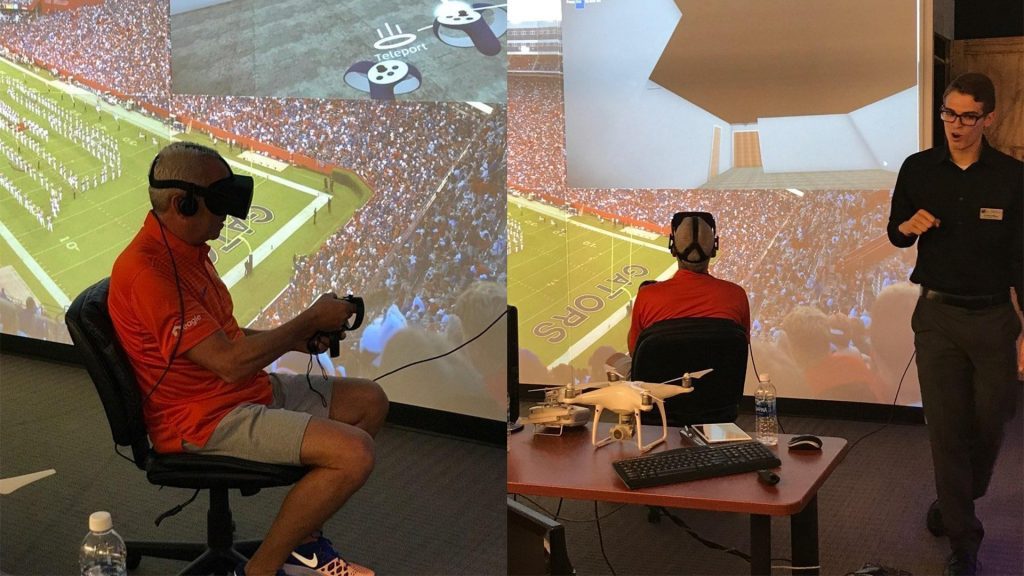 RECRUITING A FIVE-STAR PROSPECT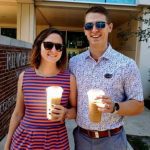 Despite the connection, Kornblau at times felt like Nick Saban trying to recruit Tim Tebow away from Florida. Blinn's wife, Andrea, had a great job in Venice, and the couple could have worked anywhere in the Sunshine State. As Nathan sat inside Andrea's Sarasota apartment, the two faced a crossroads: do you lean into this powerful connection, or do you not? Unlike Tebow, this five-star prospect decided to go out of state. In Blinn's words, it wasn't to work for a residential builder; it was to work for somebody who had a vision for a better future. The Blinns were all in.
"Arguably, Bryan put a lot of trust in somebody that hadn't earned it yet," Blinn acknowledged. "I think we just had that connection to fundamentally shatter the way we do business. We were able to foster an interesting dynamic where we were side-by-side pushing this thing to unknown places. I would not trade it for anything."
Kornblau had gone from learning about the construction business from his father to slowly turning into a professional father figure of his own.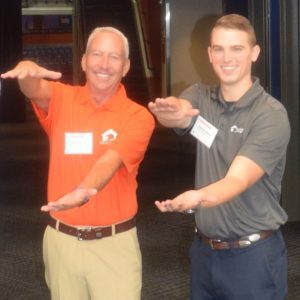 TRANSFORMING THE BUSINESS
With a vision, passion and willingness to move mountains, Blinn and Kornblau transformed a Virginia construction company into a BIM-based organization. Through intense process research and program customization geared toward the residential industry, Eagle was quickly able to produce fully-flushed drawing sets, complete with takeoffs ready for permit, in less than two hours. Furthermore, the idea of developing homesteading protocols with home-site reports that tie in drone mapping and laser scanning to tighten down their "below the sill plate" costs has become easy to Eagle. However, it is only easy now because Blinn was not afraid of it being difficult back then.
"The most dangerous phrase of all is, 'That's how we've always done it,'" Blinn said. "That phrase gets used more in construction than I care to admit, and that's because we work in a business that is slow in adapting, changing and integrating new things."
With this new technology in place, Eagle has been able to change the narrative from a contractor asking another business to do something to a contractor using "we" when discussing making improvements with Eagle. The you-to-we transition in verbiage has been extremely critical in the relationships between Eagle and its partners. Having started with the vision, it is now the commitment and passion that pushes the company to new heights. For Kornblau, whose business had been around for more than three decades, it felt like going from driving a Studebaker on a dirt road to accelerating in a brand-new Ferrari on the Autobahn.
"I have a lot of extremely intelligent people collaborating for honestly the first time since my organization was born. It is funny how the collaboration is a theme that always comes back up. It comes back up because it is important, which is why we felt it was important to help with DCP's Collaboratory."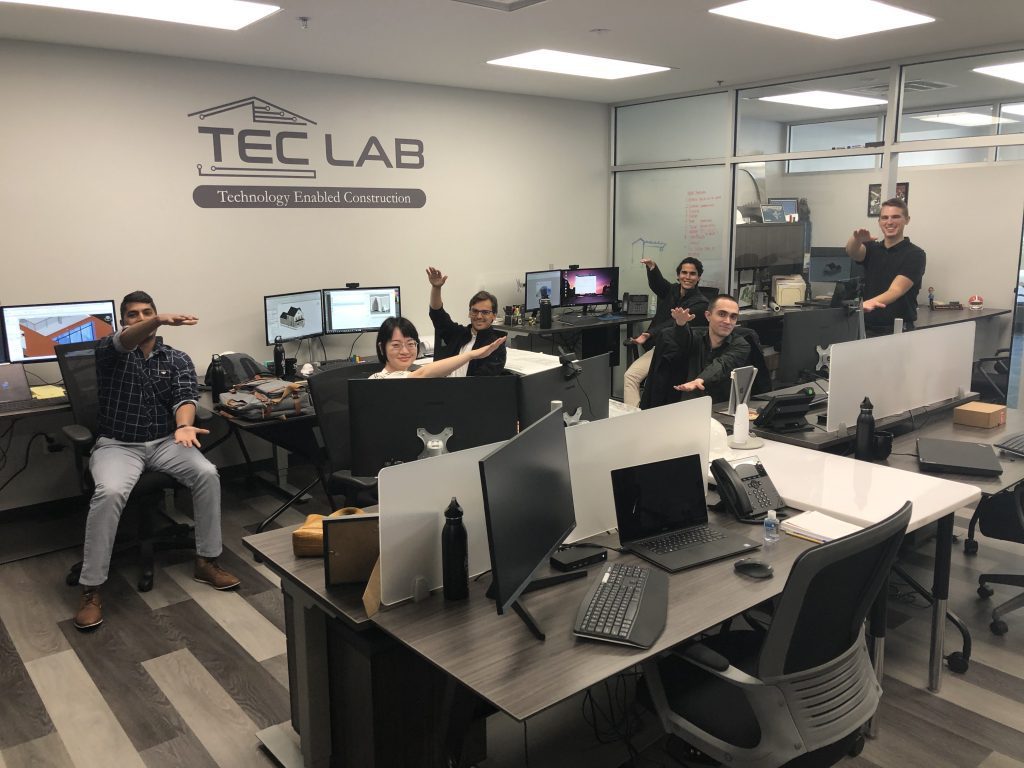 RINKER NORTH
With Kornblau and Blinn leading the way, Richmond has developed a new nickname thanks to Eagle and their hiring practices: "Rinker North." At one point in the last few years, as many as 11 Rinker graduates were working for the company full-time. With a fantastic quality of life in Richmond, the organization continues to recruit impactful individuals from Gainesville who can help the dynamic duo transform the company. But why?
"I have unwavering trust in the program," Kornblau explained. "I went through it in the 70s and early 80s and developed lifelong relationships with the directors, professors, and classmates. I continue to have trust in the curriculum and honestly feel 100 percent comfortable knowing that the graduates that come out of Rinker have the entrepreneurial spirit and drive to take advantage of the technology that we provide."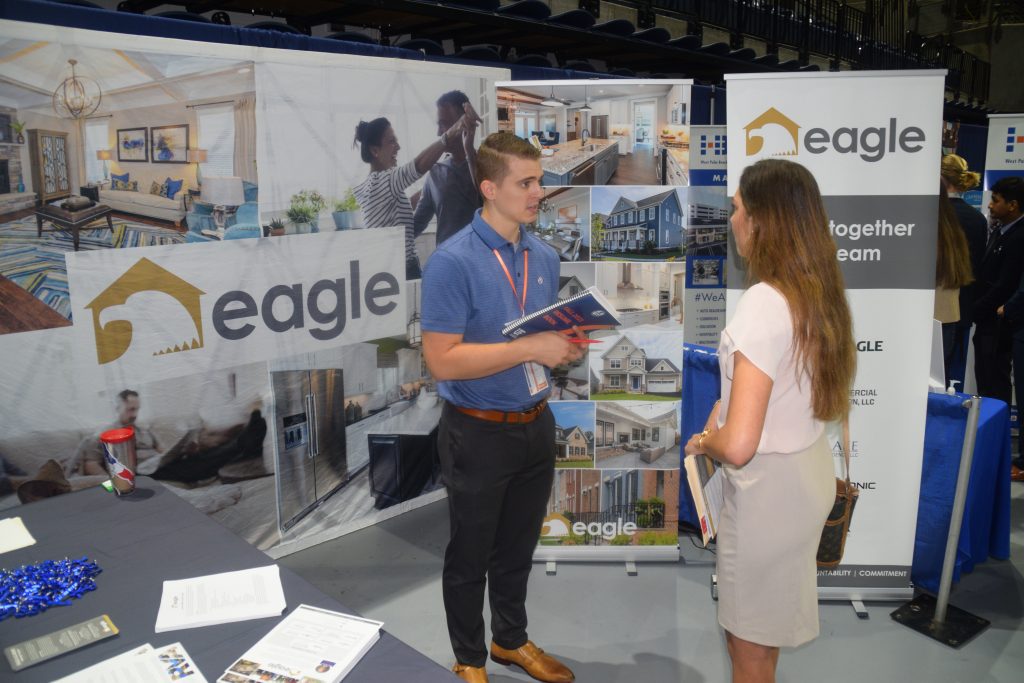 While it may be difficult in theory to ask a young adult to move the 700 miles north of UF after graduation, the success rate has been tremendous due to Eagle's consistent visits to Gainesville and their 100 percent participation rate in DCP's annual career fairs. With Blinn's story of success, as well as him overseeing the internship program, Rinker's influence is obvious. Even more so when you visit his office in Richmond and see Rinker's floor plans on the wall. The relationship has evolved into a win-win all the way around for both Eagle and DCP.
"We spoke many years ago that now is the time where if we are not intentional about being part of the future of the industry, we are going to look up and not have the talent or the resources to continue what we have started," Blinn said.
With Rinker graduates donning Orange and Blue all over Virginia now thanks to Kornblau, Blinn and their coworkers, Eagle felt an obligation to honor Bryan and provide the next generation of talent with opportunities and resources they can't find at any other construction management school in the country. Hence the gift to the Ramos Collaboratory.
GIVING BACK
As Blinn and Kornblau talked about a way to give back, they both realized how important their interdisciplinary education at DCP was and how Eagle needed to step up and be the one to foster that type of space. In an industry where those in the built environment are working with other universities and researchers to continuously move forward, it is easy to miss the mark because of being inside an intense, work-focused bubble.
"It will help create those interactions and be a place where interdisciplinary skills are developed," Kornblau said.
For Blinn, the upcoming lab named after Eagle is near and dear to his heart because of the opportunities he received as a student at Rinker. His desire is to pass what Rinker taught him in terms of resources and diversity of education down to future students, creating an environment where other industry professionals yearn to partner with UF to work on problems that are vital to the continued progress of the industry. By breaking down the barriers to entry in this technological space, this new lab provides an opportunity to revolutionize the construction business and make every person in the industry better off for it.
"This Collaboratory is trying to bring these architects, designers, planners and construction professionals together to make something extremely special," the recent 40 Under 40 recipient said. "The mission of the Collaboratory really struck me from the very beginning as a very powerful one, because it's something that's had a huge impact on my life. This will ensure UF continues to be the place where people want to go to move technology forward."
This of course, has always been the vision of Dean Anumba.
"I remember sitting in the auditorium during Chimay's interview to be the dean, and I remember telling the person next to me after he walked out that UF would be crazy not to hire him," Blinn revealed. "He understood what our industries meant to the world and how DCP could shape it. When you share that vision, and you see it in action, it is very easy to trust."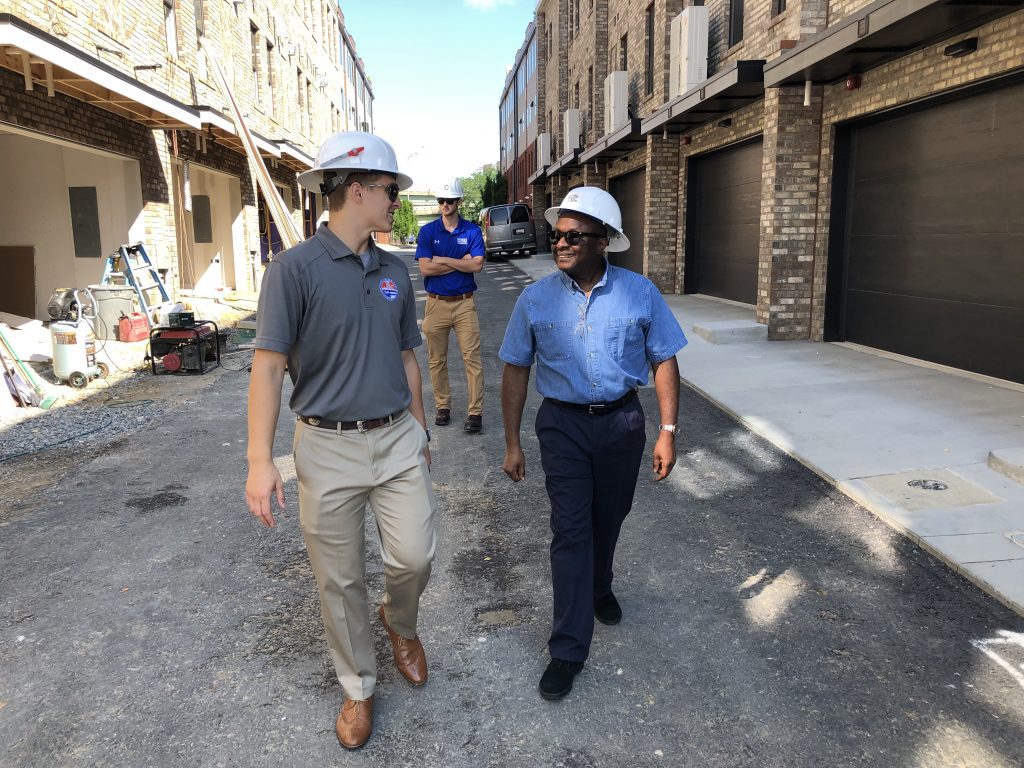 The goal of this vision, whether it be a landscape architect, interior designer or any other discipline at DCP, is to manifest that dream in the new Ramos Collaboratory. The Eagle VDC Lab will give all students the opportunity to do just that. Every toolbox and every technology will be at the disposal of DCP students thanks to gifts from people like Kornblau and Blinn. Perhaps the biggest tool in that box is artificial intelligence.
With the new Eagle VDC Lab, an environment will be created where AI can be explored and applied to solve real-world problems. Now on the fastest track of them all, the Eagle race car is helping DCP make sure AI partners with BIM and other advanced technologies to make the new space a fertile ground for advancement in the industry. Along with UF's supercomputer, the HiPerGator, the investment in the AI space at UF will allow every design, construction and planning student and professional to tap into AI and supplant the old ways of doing things with collaborative, revolutionary improvements.
"My entire life, both at Rinker and in my profession, would have not happened if it was not for collaboration," Kornblau finished with. "That is why we decided to give back."