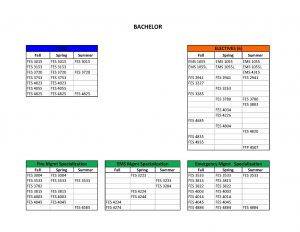 EMS 1055 Emergency Medical Responder
Introduces a basic understanding of pre-hospital emergency medicine; explore issues in patient assessment, distinguishing medical scenarios from trauma scenarios, taking appropriate actions and precautionary measures to ensure patient safety, and treating a patient's injuries within the scope of their certification.
FES 2941 Emergency Management Internship
Gain experience in an emergency management situation to identify and apply best practices in the development of preparation, planning, responding, recovering, and mitigating disasters; participate in supervised disaster management work activities that provide experiential learning in emergency management.
FES 3004 Political and Legal Foundations of Fire Protection
This course examines the legal aspects of fire service and the political and social impacts of legal issues. This course reviews the American legal system and covers legal and political issues involving employment and personnel matters, administration and operations, and planning and code enforcement with regard to the fire service.
FES 3015 Principles of Fire and Emergency Services Management
Fundamentals of management underlying the solution of problems of organization and operation of Fire and Emergency Services agencies.
FES 3153 FES Communication and IT (formerly FES Information Technology)
This course introduces the FES professional to topics that include: the communications process; intra-agency communications; inter-agency communications; public information officer functions; public information and communications, introduction to information systems, records management, NEMSIS, National Fire Incident reporting system, and data collection.
FES 3223 Foundations of EMS Systems
Covers the design and operation of EMS systems, service delivery, and echelons of care. The history of EMS, interface of the public and private organizations and review of the various personnel who comprise these systems, will be examined in relation to their impact on the health care delivery system.
FES 3227 Ambulance Operations
Provides an overview of the application of management principles to the provision of medical transport services. Includes an analysis of the economic, geographic, temporal, and clinical characteristics of ambulance demand, the key processes for providing transport services, and an evaluation of industry best practices.
FES 3233 EMS Safety and Risk Management
This course introduces the student to the risk management principles of an EMS agency. Emphasis on safety from the perspective of the field provider.
FES 3263 Public Safety Educator
Introduces the EMS professional to the education system as it relates to EMS education. Explores issues in curriculum development, teaching, program direction, and development.
FES 3284 Management of Emergency Medical Services
This course covers personnel and resource management issues in providing the EMS function. Quality Assurance and Utilization Review techniques are also covered.
FES 3285 Advanced Leadership Issues in Emergency Medical Services
The course covers organizational development issues in providing the Emergency Medical Services function in the fire-based, hospital-based and third service environments.
FES 3533 Community Risk Reduction for Emergency Services
This course provides a theoretical framework for the understanding of the ethical, sociological, organizational, political, and legal components of community risk reduction, and a methodology for the development of a comprehensive community risk reduction plan. (This course replaces FES 3755 Capital Equipment and Facilities)
FES 3720 Strategic Planning for FES
This course provides the concept and framework for the development of a strategic plan for the functions of emergency management, fire protection, and emergency medical service. A study of the public safety function related to a framework for effective organizational management and performance will be evaluated. This course guides the student through the process of understanding the needs, resources and capabilities of the organization and how to establish a plan to achieve improved performance over time. (This course replaces FES 3823 FES Integrated Operations).
FES 3753 FES Financial Management (formerly Fire Service Financial Management)
This course introduces the professional to topics to include but not limited to: budgeting, auditing, billing, risk-financing, and internal auditing.
FES 3780 Analytical Approaches to Public Fire Protection
This course examines the tools and techniques of rational decision-making in fire and emergency services agencies, including data collection, statistics, probability, decision analysis, utility modeling, resource allocation, and cost-benefit analysis. (This course replaces FES 3033 FES Labor Issues)
FES 3782 Applications of Fire Research
Examines methodology for analyzing fire-related research; provides a framework for independent research in fire dynamics, fire test standards, fire safety, fire modeling, structural fire safety, life-safety, firefighter safety, automatic detection and suppression, risk analysis and loss control, applied research, and fire-related research trends.
FES 3803 Multi-Agency Incident Command
The course deals with managing complex incidents that may require response from fire-rescue, EMS, law enforcement, and/or other public safety sectors.
FES 3815 Command & Control at Catastrophic Incidents
The course covers incident command at multiple-alarm incidents, stressing rapid fire ground decision-making, safety, personnel accountability, and communications.
FES 3822 Disaster Policy in Emergency Management
Describes the functional demands that emergency managers should be aware of in crafting effective emergency management plans, policies, and programs. Addresses how public policy choices impact emergency planning and the consequences of a disaster event. Emphasizes the emergency planning process.
FES 4003 FES Administration (formerly FES Public Policy and Administration)
This course demonstrates the importance of persuasion and influence, budgeting, anticipation of challenges and change, and management tools for analyzing and solving problems. We will explore how the leadership of a fire and emergency services department develops internal and external cooperation to achieve the departments mission.
FES 4014 Foundations of Emergency Management
Examines the history and the principles establishing Emergency Management in the United States. Describes the "Four Phases of Emergency Management," relates processes to codes and laws governing Emergency Management, and examines Emergency Management and the terrorist threat.
FES 4023 Leadership and Ethics
This course will cover the role of legal standards and professional codes of ethics relative to fire and emergency services.
FES 4034 Regulatory Issues in Fire and Emergency Services
This course introduces the student to safety, health, and environmental regulations on the state and federal levels that impact the delivery of fire and emergency services. OSHA, EPA, and NFPA regulatory requirements will be introduced along with methods and techniques to implement compliance programs.
FES 4045 Personnel Management for Emergency Services (formerly FES Human Resource Management)
This course examines relationships and issues in personnel administration and human resource development within the context of fire-related organizations, including personnel management, organizational development, productivity, recruitment and selection, performance management systems, discipline, and collective bargaining.
FES 4055 Public Information and Community Relations for Emergency Services (formerly Public Relations)
This course introduces the FES professional to benefits of community information and community relations. Students explore issues in marketing, crafting the message, identifying the audience, developing programs, and creating press releases.
FES 4224 Management of Mass Casualty Incidents
Course covers systematic approaches to triage, treatment, and transport in response to large scale EMS incidents.
FES 4226 EMS Special Operations
Discusses the various special roles in which EMS personnel may serve, such as hazardous materials, water rescue, and technical rescue.
FES 4234 EMS Community Risk Reduction
This course provides a theoretical framework for the understanding of the ethical, sociological, organizational, political, and legal components of community risk reduction, and a methodology for the development of a comprehensive community risk reduction plan.
FES 4244 Legal, Political, and Regulatory in EMS
Introduces the EMS professional to the legal aspects of Emergency Medical Services. Explores issues in malpractice, consent and refusal of treatment, OSHA, employment issues, and risk management. EMS students gain insights into the legal liabilities in Emergency Medical Services.
FES 4274 Quality Management and Research in Emergency Services
This course introduces the EMS professional to benefits of quality improvement, the history of quality in EMS, measuring quality, and the uses of quality in EMS.
EMS 4315 Analytical Approaches to EMS
This course introduces the EMS professional to topics that include: Introduction and purpose of analysis; analysis in parallel professions; problem identification; foundational analysis; data collection; financial analysis; cost-benefit analysis; policy and impact analysis; and project development.
FFP 4507 Management of Fire-Related Human Behavior
This course presents a study of human behavior in fire and other emergency situations. Students will examine current and past research on human behavior, systems models, life safety education, and building design to determine interactions of these areas in emergency situations. Students will develop an understanding of a best-practice building life safety system as one that combines knowledge in the areas of psychology and sociology joined with engineering and education to produce the best possible outcomes in terms of human survivability in an emergency.
FES 4585 Fire Prevention Organization and Management (formerly Management of Fire Prevention Programs)
This course examines the factors that shape fire risk and the tools for fire prevention, including risk reduction education, codes and standards, inspection and plans review, fire investigation, research, master planning, various types of influences, and strategies.
FES 4685 Fire Investigation and Analysis (formerly Management for Arson Prevention and Control).
This course examines the technical, investigative, legal, and social aspects of arson, including principles of incendiary fire analysis and detection, environmental and psychological factors of arson, legal considerations, intervention, and mitigation strategies.
FES 4804 Disaster Recovery and Mitigation
Provides the opportunity to understand real world disaster response efforts through academic study and interactive applied activities. Topics include the Incident Command System (ICS), Emergency Operations Center (EOC) management, Resource Management (RM), and Command-Communications-Coordination (C3).
FES 4820 Critical Incident Management for Emergency Managers
Examines disaster planning and emergency management. Focuses of the four phases of planning, mitigation, response, and preparedness. Includes FEMA and federal government NIMS ICS-700 and ICS-800 certifications.
FES 4825 Disaster Planning and Control (formerly Design and Management of Community Disaster Exercises)
This course examines community risk assessment and response to fires, natural and human-caused disasters, including National Incident Mgmt. System – Incident Command Systems (NIMS ICS), training and preparedness, communications, civil disturbances, terrorist threats/incidents, hazardous materials planning, mass casualties, earthquake and hurricane preparedness, and disaster mitigation and recovery.
FES 4835 Natural Disaster Phenomena
This course covers the spectrum of natural disasters prevalent in the United States and globally, past, present, and future. Topics include hurricanes, earthquakes, tsunamis, tornadoes, flooding, freezes, snow, and agricultural emergencies. The concerns of planning, operations, mitigation, recovery, and evaluation will be included.
FES 4884 Introduction to Emergency Management of Terrorism
Introduces the fundamental concepts, theories, principles, and practice of terrorism and terrorist events.
FES 4905 Special Studies in Fire and Emergency Services 1-3 Credits
Special areas of study in fire and emergency services adjusted to the needs of individual students.
Prerequisite: instructor permission.
FES 4935 Current Issues in FES
This course describes the role of public safety agencies in the formulation and implementation of change that is either created from within or the result of outside pressure. Emphasis will be on both the politics and processes within the agency, the government and the public.