By: Kyle Niblett
March 15, 2023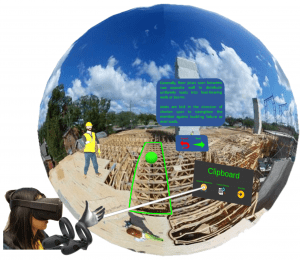 In October 2018, M.E. Rinker, Sr. School of Construction Management Associate Professor Dr. Masoud Gheisari received a grant from the National Science Foundation to figure out how his students could safely learn on construction sites. After all, with more than 150,000 total cases of nonfatal injuries on construction sites annually, the top priority for Rinker students is safety. The problem further deepened in 2020 once the reality of the COVID-19 global pandemic hit.
"The limitations for site visits were severely hampered by COVID-19 and that severely hurt our student's ability to learn on site," Gheisari said. "Luckily, thanks to the NSF and the help of countless people, we were able to find a solution."
Just recently, with the help of Rinker Distinguished Professor Raymond Issa and two other UF faculty members, Gheisari completed the $300,000 grant, where he used virtual reality to democratize access to site visits in STEM undergraduate education. Site visits or field trips have been a tool utilized by STEM educators to engage students in active learning, assist traditional lessons, and attain stronger and deeper student learning experiences. These visits were widely utilized in many STEM fields as they provide a robust method to connect classroom learning to real-world situations.
Despite the ability to enable student interaction with experts and professionals on the site, STEM site visits have long presented major logistical and accessibility challenges for educational institutions and instructors, reducing the number of students that have access to the benefits of such a technique. Some of these hurdles that have been tough to clear have been safety concerns, large class sizes, tight class timetables, unavailability of appropriate sites, and time and resource limitations. Perhaps the biggest limitation to enhance the student's education on site is transportation due to the impossibility of placing students in expensive or dangerous learning situations.
Working with his research team members at his Human-Centered Technology in Construction (HCTC) Research Lab, Gheisari developed a system called "iVisit," providing his students and others a unique opportunity to transform STEM education by eliminating the critical barriers of site visits.
"iVisit is a 360-degree immersive digital environment powered by virtual humans that offers students location-independent site visit opportunities," Gheisari explained. "UF now has the ability to use real-world occasions where contextualized learning in person is dangerous, unsafe, or impossible to achieve."
Dr. Ricardo Eiris, an assistant professor at Michigan Technological University who worked on the iVisit project during his Ph.D. studies at UF, is now using iVisit to teach his students up north.
"For me, at Michigan Tech, because we are in a rural area and need to drive over five hours to get to those site visits, I can overcome our location challenges while allowing my students to repeat the learning activities as many times as they desire," Eiris said. "Furthermore, because iVisit leverages virtual spatiotemporal contexts that can be customized, I can adapt the scope and topics that I will cover in the learning objectives of my classes."
In such an immersive learning environment, students can now easily and repeatedly navigate the immersive data-rich environment of various jobsites, observe the challenges of those sites, interact with augmented data, and communicate with each other. On top of communicating with each other, the new program empowers current Gators studying construction to have unlimited access to otherwise impossible opportunities thanks to a consequence-free environment that is controllable, repeatable, realistic, safe, and provides real-time feedback.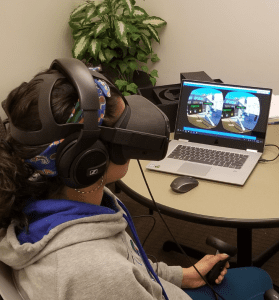 Dr. Jing Wen, an assistant professor at Georgia Tech who also worked on the iVisit project during her Ph.D. studies at UF, remarked how implementing conversational virtual professionals into the project proved to be revolutionary. Students were also blown away at the ability to collaborate with virtual humans (conversational virtual professionals) present on the site and gain instant, real-time feedback regarding construction challenges. This presented opportunities that simply weren't possible for every student on a field trip thanks to crowdedness, COVID or noisy environments.
"We are thankful to NSF for providing an opportunity for us to work on this innovative project," Gheisari concluded with. "The iVisit innovation can help transform the business-as-usual practices of site visits and bring in the important visuospatial aspects to the site visit experience that relies so much on student communication, collaboration, and understanding of the ever-changing spatiotemporal characteristics of each jobsite."