By: Kyle Niblett (April 14, 2022)
University of Florida College of Design, Construction and Planning alumni Nathan Blinn (MSCM '15, Ph.D. '18), Ekta Desai (BDES '08) and Nicole Plunkett (BLAE '10) were three of a select group of UF graduates selected to this year's prominent "40 Gators Under 40." The three recipients tie for the most DCP has ever had.
Presented by the UF Alumni Association, the annual awards program was established in 2006 to recognize alumni under the age of 40 whose achievements positively reflect The Gator Nation. Criteria for the competitive award include making a significant impact on the candidate's industry and having civic or professional accomplishments at the state, national or international level.
"These three remarkable young Gators have already made a significant impact in the architecture, construction and landscape architecture industries respectively," Dean Chimay Anumba said. "They are a tremendous reflection of the OneDCP family and excellent examples of our mission to shape the world we live in."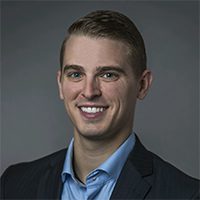 Nathan Blinn (MSCM '15, Ph.D. '18)
Dr. Blinn is vice president of construction and strategic innovation at Eagle Construction of Virginia. He also is founder and principal researcher of archi-TEC-tonic, Virginia. Blinn works to reduce the technological barrier to entry for trade partners, residential AEC professionals and affordable housing organizations to "meaningfully disrupt the industry at its core." In tandem with his alma mater, Blinn provides mentorship and internships for UF students, conducts guest lectures and partners on research projects. Among his areas of specialization are Virtual Design and Construction (VDC) and Building Information Modeling (BIM).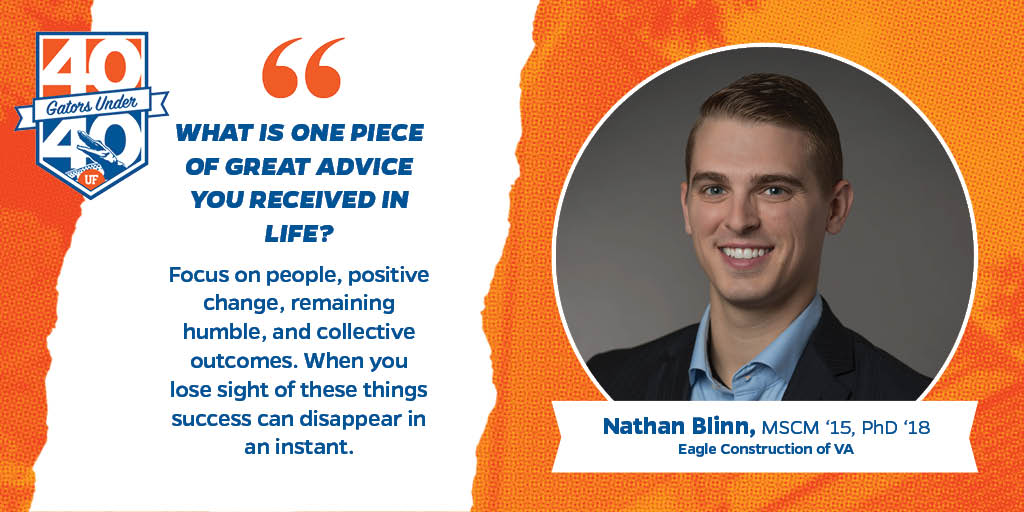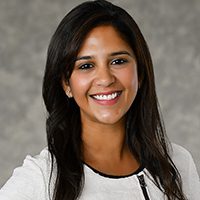 Ekta Desai (BDES '08)
Desai is a partner at SchenkelShultz Architecture in Orlando — the youngest partner in the firm's history. She spearheads the firm's efforts to enrich their work portfolio and to foster an iterative design process supported by research and analysis. Previously, she served as the firm's design lead. Her 15 years of design experience spans the globe and includes UF's new three-story Public Safety Building and projects at the New York City Taxi and Limousine Commission, the 53rd Street New York Public Library and the Edyth Bush Charitable Foundation headquarters. She cultivated her creative roots for eight years working for international design firms in New York City and Mexico City. In an environment where men have historically dominated the design lead role, Desai stands as a passionate woman leader who is pioneering a more diverse and inclusive industry.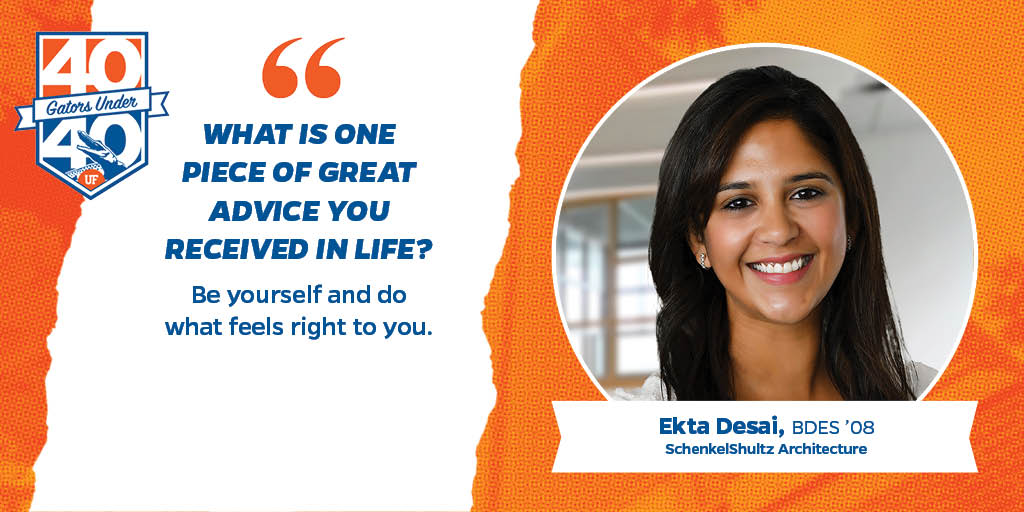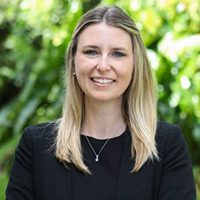 Nicole Plunkett (BLAE '10)
Plunkett is a landscape architect, certified land planner and partner at Cotleur and Hearing in Jupiter. She leads high-level land development projects throughout South Florida. Along with her work at Cotleur and Hearing, Plunkett is founder of Future Landscape Architects of America, a nonprofit that educates K-12 students about careers in landscape architecture. Her work with FLAA led to her winning a $25,000 Innovation and Leadership fellowship from the Landscape Architecture Foundation in 2018.