By: Kyle Niblett
October 6, 2022
The University of Florida College of Design, Construction and Planning (DCP) announced Thursday, October 6, a new 50,000-square foot facility named the Bruno E. and Maritza F. Ramos Collaboratory. This revolutionary, best-in-class facility is intended to bring generational change to UF and will position the College, its faculty, staff and students for success over the next 100 years.
"This innovative facility is critical to the future of DCP and will strengthen collaborative working across all the built environment disciplines in the College," DCP Dean Chimay Anumba said at the groundbreaking ceremony held Oct. 6 in the DCP Atrium. "It will position the College well for its next phase following our Centennial in 2025. We are most grateful for the tremendous financial and in-kind support of our alumni and friends, which has made this possible."
The Ramos Collaboratory is named after two-time DCP graduate Bruno-Elias Ramos (BDES '82, MARCH '85) and his wife Maritza, who made a game-changing gift to the college.
"The University of Florida shaped me professionally and is where I met my wife of 38 years, so it feels great to be able to give back to the institution that has given me so much," Bruno said. "Maritza and I are extremely excited to help bring the Collaboratory to fruition and are certain that this facility will help develop future DCP graduates throughout their education at UF. This building will become the launching pad as they take off from Gainesville and make a meaningful impact in our world."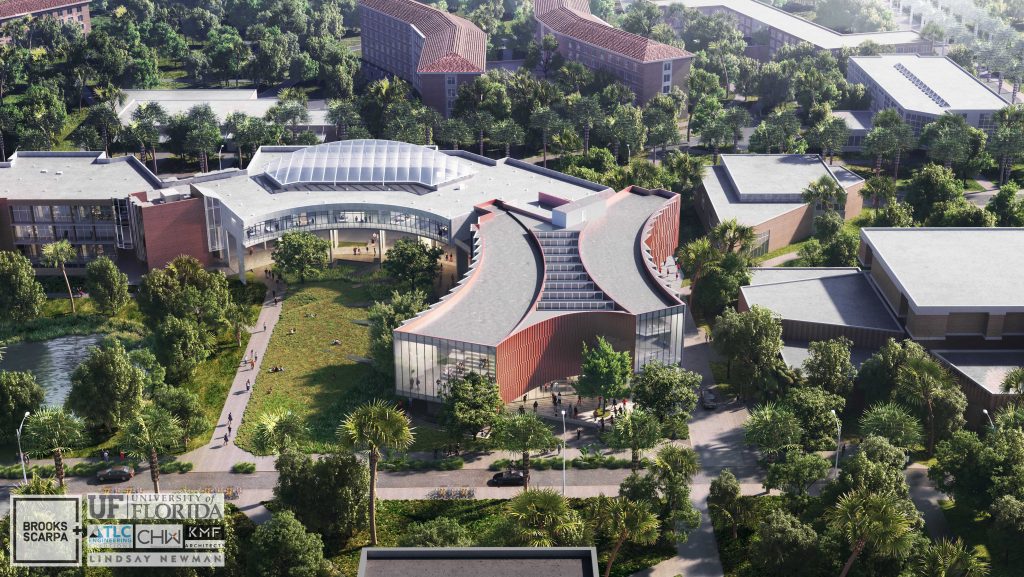 In addition to the Ramos family, UF President Kent Fuchs, Provost and Senior Academic Affairs Vice President Joseph Glover, Senior Vice President and Chief Operating Officer Charlie Lane and Board of Trustees member David L. Brandon (BBC '81) attended the event.
"As a graduate of the UF College of Design, Construction and Planning, I am excited to see Dean Anumba's vision of an academic and research collaboratory come to life," Brandon said. "The building personifies the 'OneUF' philosophy as echoed by the UF Board of Trustees and the University administration. The building will bring all academic disciplines of DCP together in both teaching and lab environments. It will also include disciplines of engineering closely following how projects are collaborated in the outside design and construction world. The Ramos Collaboratory will immediately boost the national prominence of the College."
DCP's mission statement is to shape the world we live in, and no other single project will help catalyze this more than the new facility, which is scheduled for completion before DCP's centennial celebration in 2025. The Ramos Collaboratory will provide a platform for the college to prepare the next generation of world-class leaders in our field. Generations of Gators to come will develop innovative solutions to the grand challenges facing our society and position DCP to earn its rightful place among the nation's preeminent colleges of design, construction and planning.
Upon its completion, the Ramos Collaboratory will reflect real-world industry best practice in its instructional laboratories, maker spaces, research facilities and student collaboration spaces. This will allow the college to capitalize on the strengths of its individual units, nurture multidisciplinary partnerships and outperform its national peers. The research momentum and instructional excellence fostered within the new facility will attract top-flight students and faculty and cultivate a vibrant innovation culture, where faculty, students, alumni and industry partners are equipped to forge out-of-the-box solutions to society's most pressing problems.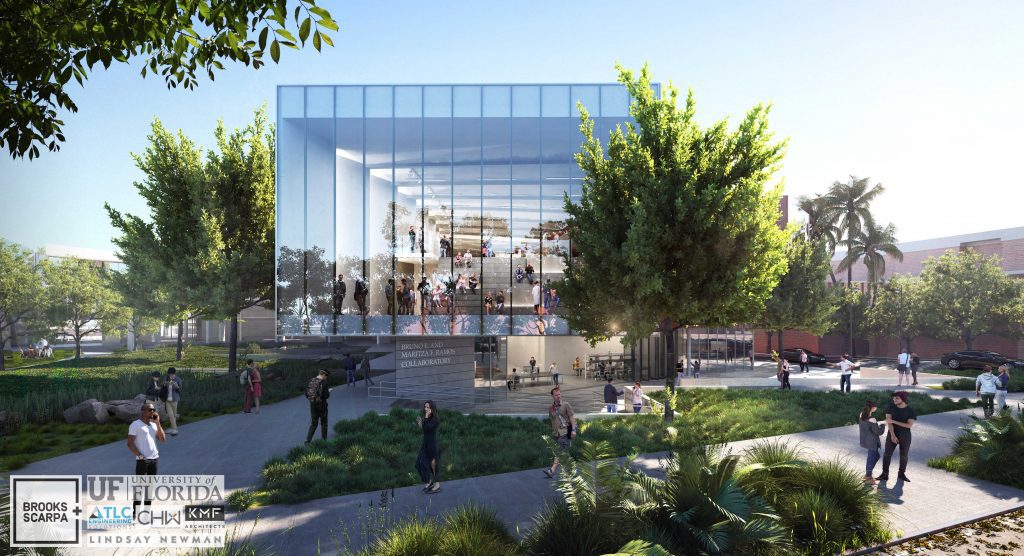 The design for the Ramos Collaboratory was awarded to Brooks+Scarpa Architects, which is led by DCP graduates Angela Brooks (BDES '87), Larry Scarpa (BDES '81, MARCH '87) and Jeffrey Huber (BDES '02, MARCH '04). The Los Angeles and Florida-based firm recently received the 2022 American Institute of Architects Gold Medal Award, the most prestigious award in the architecture discipline. Fellow DCP graduates Eric Kleinsteuber (BDES '02, MARCH '04) of KMF Architects, Laurie Hall (BLAE '09) of CHW and Cat Lindsay (BDES '86) of Lindsay Newman Architecture and Design are collaborating with Brooks+Scarpa on the building design and campus integration.
"The DCP Collaboratory is an exciting project for our studio," Scarpa said. "We have several alumni staff from both our Los Angeles and Fort Lauderdale offices working on the project and are proud to give back to a place that has had a tremendous impact on all of us during our most formative years as students."
Stellar out of Jacksonville, which is known nationwide for its plethora of awards for innovation and safety excellence, has been selected as the construction project manager. The company was founded by UF Construction Hall of Fame member Ronald H. Foster, Sr., a 1967 graduate of DCP's M.E. Rinker, Sr. School of Construction Management.
"I am honored that Stellar will help bring DCP's vision for a Collaboratory to life," Stellar CEO Mike Santarone (BBC '83) said. "As a DCP alumnus and current Industry Advisory Board member, I have seen firsthand the college's commitment to the design, construction and planning industry. With the Collaboratory, UF will boost that commitment by providing a state-of-the-art meeting, learning and research space where students and faculty can study the latest industry practices and conceive innovative approaches that will take the industry to new heights."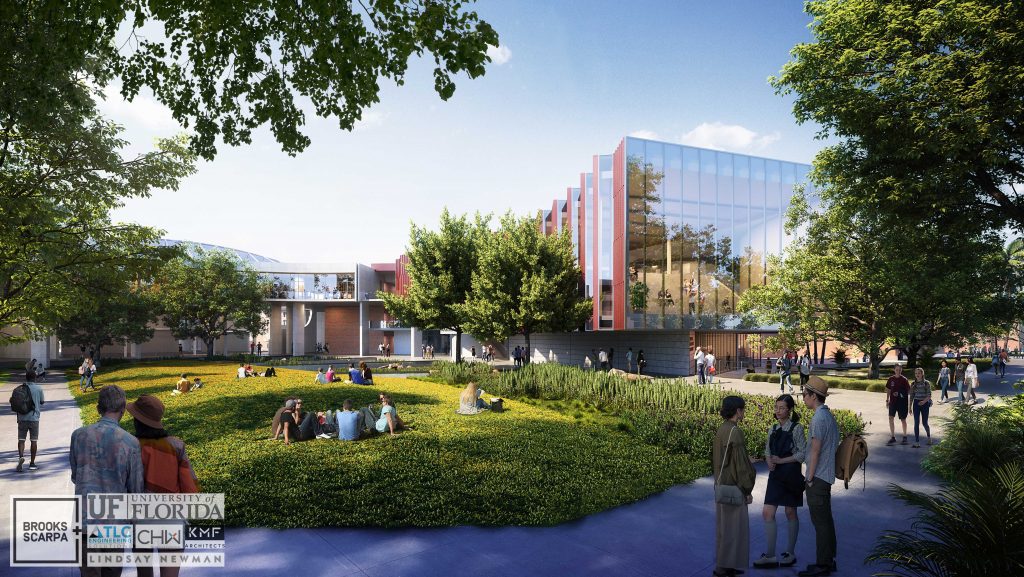 Standing at the nexus of disciplines that will define how societies live, move and thrive in the next century, the project will ensure our built and natural environments are ready for a new era of resiliency. Since the current architecture building was originally constructed in 1979, the college requires a collaborative facility that is equipped to enhance the quality of our students' learning experience, fuel our partnerships and catalyze our existing strengths.
As a result, the new facility will feature functional spaces such as:
A reconfigurable, multi-functional space known as Creative Collisions Commons, where students, faculty and staff can collaborate on a formal or informal basis.
A brand-new Research Hub that will house DCP research centers and institutes and allow faculty and graduate students to freely exchange ideas and work collaboratively to undertake high impact research that addresses critical societal challenges.
A Digital Modeling and Fabrication Space which will enable larger multidisciplinary groups of students to work together on digital models, simulations and 3D printing in purpose-designed facilities. In addition, large-scale facilities for geospatial modeling and simulation, as well as a virtual reality lab, will also be contained in this space.
A Large Multipurpose Hall (and seminar rooms) that will accommodate lecture audiences of 150–200 for annual events such as the Edward D. Stone, Jr. Lecture Series, Research Symposium, Women of Influence, and the Ernest R. Bartley Memorial Lecture Series.
Larger, newer educational spaces which will offer instructional rooms with physical and enhanced technological capabilities to support design-based learning and teaching.
A Virtual Design and Construction (VDC) Lab where students will use state-of-the-art facilities to work on revolutionary digital modeling, learn enhanced computational design and artificial intelligence, and master building information modeling.
Overall, the Ramos Collaboratory will enhance the college's ability to educate students and conduct research for the real world. By reflecting the highly integrated nature of design, construction, planning, civil engineering, real estate and more, this addition will embody the daily reality of our synergistic fields.