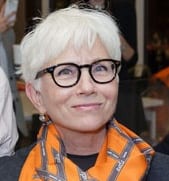 Alumni Profile – Cat Lindsay, B.Des 1986

Cat Lindsay is currently the Head of Workplace and Design Global Real Estate for HBO, Turner, CNN and Warner Brothers. Her responsibilities include leading the research, design and implementation of firm-wide workplace strategy working with the key stakeholders in all divisions.
Before that, she was an owner/partner at Lindsay Newman Architecture and Design for 14 years, where she partnered with John Newman in leading the Lindsay Newman team to complete corporate, residential and cultural projects including the Liberty National Clubhouse, Guest House, Snack Shop Building and Teaching Super Center.
The firm also completed a private art gallery for Henry Kravis, the offices for Boston Properties, JLL Partners and Dune Real Estate Partners. Residential projects include the Long Island home of hockey star, Pat LaFontaine.
She was the Design Director at Gensler from 1998-2002 and was with Skidmore Owings & Merrill LLP (SOM) as an associate for 11 years.
What was your favorite class and why?
My favorite class was lighting. The lessons learned in that class have stayed with me all these years. It was invaluable.
Who was your favorite professor at DCP and why?
My favorite instructor was Jim West, the lighting instructor. He had a way of teaching that made learning so much fun.