By: Kyle Niblett
Each month, DCP will highlight a graduate from the #OneDCP family. To be featured in this space, please email kniblett@dcp.ufl.edu.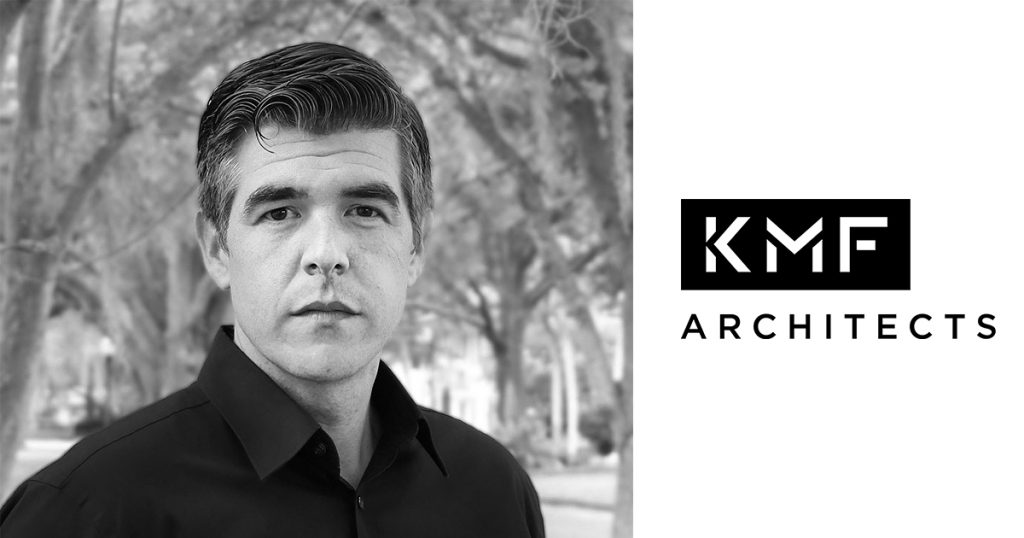 Eric Kleinsteuber is a University of Florida College of Design, Construction and Planning graduate who earned a bachelor's in design in 2002 before receiving a master's degree in architecture in 2004. Kleinsteuber is currently principal at KMF Architects and serves as the design director and architect of record.
Approaching each award-winning project as a unique opportunity to combine design and practicality for our diverse client set, Kleinsteuber explores materiality and spatial relationships in all projects regardless of scope while retaining budget friendly and sustainable solutions. He is a national award winner who is active in his local community both professionally and personally.
Professionally, he serves as chairman of the Orange County Building Code Board of Adjustments and Appeals, sits on the board of the Nils M. Schweizer Fellows and is the past president of the Society of American Registered Architects Florida Council.
Personally, he manages a team and sits on the board of Delaney Park Little League, while also leading youth at his church. In his spare time, he is also a contemporary artist with his work being shown throughout Florida.
Q & A WITH ERIC KLEINSTEUBER
Can you tell us about your career journey?
I grew up in Orlando, Fla., and I was a theater kid. I was active in both the stage and the tech side of the theater. At some point, I had a gap in my schedule and my choices were keyboarding or drafting. My dad suggested that being able to draw a schematic was always a good skill to have. I had Carl Davis, AIA, as a high school drafting teacher. I fell in love with the work immediately. After touring several schools, I chose UF after taking a tour with Dean Dasta. The work in the gallery that day just felt right. I did both undergrad and grad at UF, and I wouldn't change a thing. At graduation, my wife and I swore we would never go back to Orlando. Some family events brought us back, however, and we love it. Orlando is a great city, and I am proud to be part of it, shape it and raise my family here. I worked for several places until 2007, when my now business partner, Joe Morgan, AIA, approached me to join him. Joe and I became partners in 2012 and have strategically grown our office from four to 15 team members.
Can you tell us about your day-to-day responsibilities at your current job?
I am the design director and architect in responsible charge of the office. I am actively involved in all projects and all phases of the profession. From business development, contract negotiations, design research, design, employee satisfaction, life safety and construction administration – I have some pretty varied days.
What clubs or organizations were you part of during your time at UF?
I was active in AIAS throughout my time at UF. I was also a teacher's assistant for Mr. Harold Kemp starting my sophomore year and was lucky to work for him for five years. Additionally, I was the editor of Architrave, taking it from a newsletter to a nationally recognized magazine.
How did DCP prepare you for your career?
DCP has a great pedagogy. It changed the way I think, do, and make. The college never tried to tell me what to think, but ultimately how to think. My time as a student was a fantastic experience.