By: Kyle Niblett (July 11, 2022)
Gainesville, Fla. – The University of Florida College of Design, Construction and Planning announced Monday a significant gift of $200,000 to the William T. Bland Jr., Florida Endowment Fund from Bland's widow, Mary Jane Bland. The fund was established and funded after Bland's passing in November 2016.
"Bill was passionate about preservation of an old Florida," Mrs. Bland said. "He was born in Florida and attended UF before later serving in the Navy on a destroyer. He returned to his beloved family estate and worked on the land surrounding it. He was a lifelong citrus grower and cattle rancher, and this gift continues to honor his legacy."
Described by others as a "Hard Man with a soft soul," Bill Bland was a man of few words with a hard work ethic and a giant heart for philanthropic efforts. His family estate became a project for DCP's Historic Preservation Program to document and nominate for the National Register of Historic Places.
The late Dr. Roy Graham, director of the HP program, was eager to take on the project at the request of Mrs. Bland, who stated, "I knew the estate was extraordinarily special; I had the family history chronicled but needed Dr. Graham and the team to document the home and help facilitate the nomination."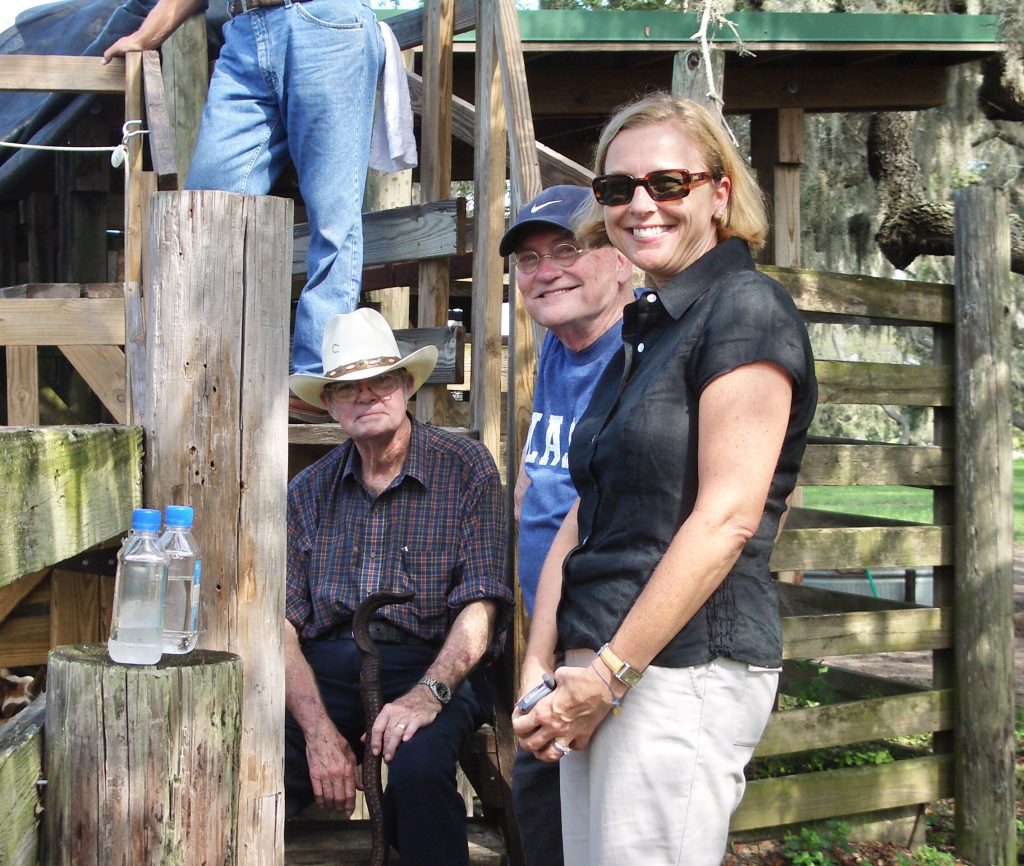 Not knowing what her husband would think about getting the project underway, and his distrust for strangers on his property, she was determined to see it through. A meeting was arranged between her husband, a self-described "Native Florida cracker," and a UF professor originally from Louisiana.
"I had no idea how this meeting was going to turn out," Mrs. Bland said. "Bill could have easily told them to hightail it back to Gainesville and never return!"
As it turned out, both men had stories to share, and Dr. Graham was beyond intrigued at meeting a Florida cattle rancher. It was likewise for Mr. Bland, who heard stories from the world-traveling academician. They became unlikely friends for life and Graham visited the ranch for round-up events. It was suggested that not only was the homestead worthy of the nomination for its one-of-a-kind architecture and setting, but Mr. Bland's father, W.T. Bland, Sr., contributed to central Florida's history as a leader in commerce during the Great Depression and World War II. Bland, Sr. would be included on the nomination as a significant historical person.
The estate of "Blandford," located in central Florida, as it was known, remains private. It was registered as historic by The National Register, and Mr. Bland, Sr. was recognized as a significant historic person officially in November 2007.

"We were very proud and honored that the DCP Historic Preservation Program made this happen," Mrs. Bland said. "I am thankful to this day for their efforts and will continue to fund this important work in preserving Florida's legacies through this special endowment fund with my husband's name."
The preservation efforts for Blandford tie seamlessly with the mission of UF HP Acting Director Cleary Larkin and the program she leads. In 2020, the program was named winners of the Docomomo US Survey Award of Excellence for identifying and prioritizing 50 "Flagship Structures" in Florida for listing on the National Register of Historic Places.
"This is a great gift to the Historic Preservation program in our college, as it will enhance preservation efforts within the state of Florida," DCP Dean Chimay Anumba said. "I would like to express my heartfelt thanks to Mary Jane Bland for this gift and her long-standing efforts to honor the memory of her husband with this endowment fund at UF, his alma mater."