By: Kyle Niblett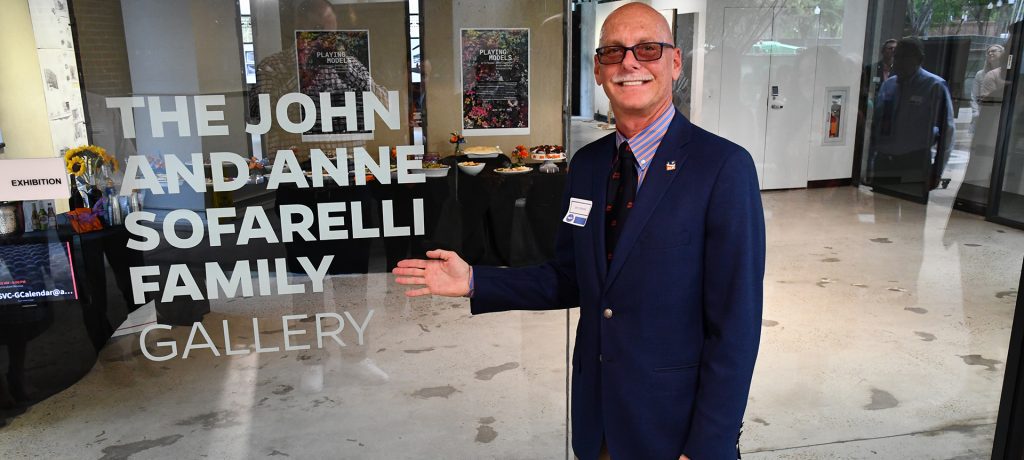 University of Florida College of Design, Construction and Planning Dean Chimay Anumba formally announced the DCP Gallery has been renamed the John and Anne Sofarelli Family Gallery. A public ribbon-cutting ceremony took place April 15, 2022, at the School of Architecture Building featuring the Sofarelli family, faculty, students, staff and friends of the program.
"This Gallery is a wonderful way to honor Anne," said John Sofarelli, a 1981 graduate of the M.E. Rinker, Sr. School of Construction Management. "Anne had a lifelong passion for education, which is embodied in this bright, open space for professors and students to showcase their creativity and talents for years to come."
Thanks to a generous gift from the Sofarelli family, students have recently reaped the benefit of brand-new audio and visual components with conference capabilities, as well as new pin-up boards, walls, flooring and paint.
Currently a member of Rinker's Industry Advisory Board, the 2016 inductee into the Rinker Construction Hall of Fame is currently president and CEO of J. Raymond Construction based out of Longwood, Fla. Founded in 1989 along with friend Russ Suddeth, Sofarelli is responsible for the overall vision and culture of a company that has been a trusted partner for construction needs throughout the Southeast United States for more than four decades. A fourth-generation contractor, Sofarelli is a certified general contractor in the states of Florida, North Carolina, South Carolina and Tennessee. In addition, the man who bleeds orange and blue currently holds a Florida Real Estate license and is a LEED Accredited Professional.
"John Sofarelli is truly an outstanding DCP alum who has given back in a number of ways," Anumba said "We are most grateful for his generosity in renovating and naming the John and Anne Sofarelli Family Gallery."
Representing one of the most visual colleges on the campus of the University of Florida, the John and Anne Sofarelli Family Gallery is the gem of DCP's ever-improving facilities, showcasing the college's award-winning student work that make UF a Top-5 public university.