By: Grace Ballantine
October 5, 2022
The annual M.E. Rinker, Sr. School of Construction Management Fall Career Fair was one for the books this year. In the past, the career fair has taken place on the floor level of the Stephen C. O'Connell Center. This year, there were so many companies at the fair, the venue had to utilize the Tom and Jane Johnson Family Atrium in addition to the main floor level just to accommodate everyone. With a record-high 116 companies, Rinker students had the opportunity of a lifetime to speak with so many great companies.
"The Rinker career fair is like the biggest family reunion we can ever have," Rinker School Director Dr. Robert F. Cox said. "It is the best social event we have. To have an end result where our students are being interviewed and hired by those who have already made their own Rinker legacy just warms my heart."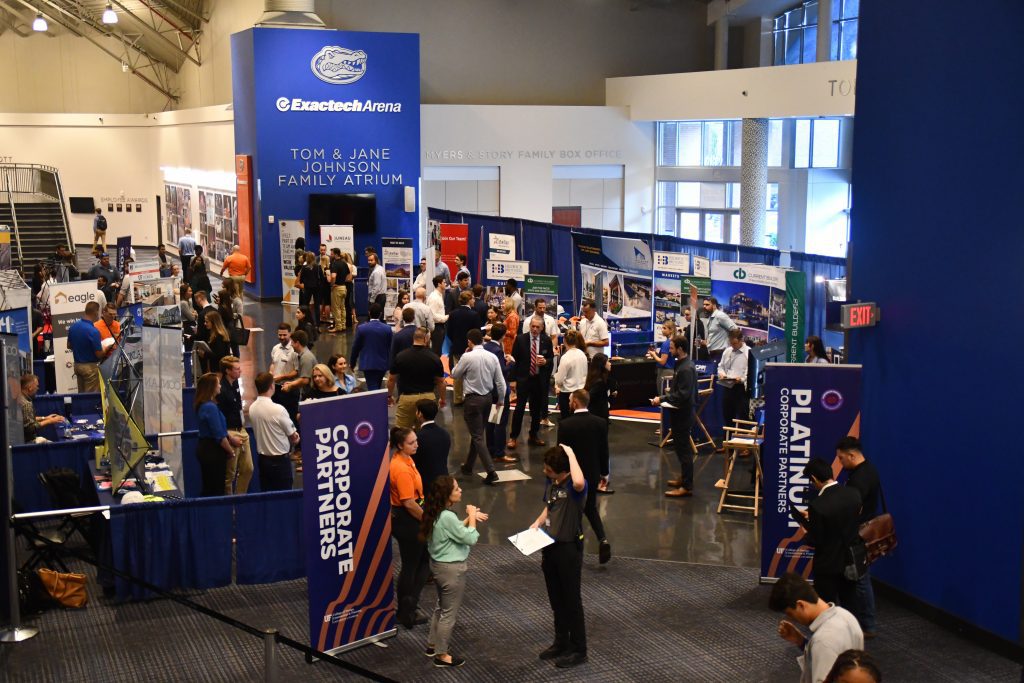 There were a wide variety of construction companies at the fair, including a private real estate firm based out of Tampa, Onicx Group, which was the number-one ranked Gator100 company in 2022. Many members of Onicx's executive team graduated from the University of Florida College of Design, Construction and Planning (DCP), and it has made a great impact on the company. According to Onicx Vice President of Construction Scott Hutchinson, it is one of the reasons they love annually attending the event.
"Our goal is to continue to bring in individuals that would be a key player in helping us succeed as a company," Hutchinson explained.
Onicx wasn't the only company with close ties to the university at the fair. Hedrick Brothers Construction's founder and CEO, Dale Hedrick, was also in attendance. Hedrick is a member of the Rinker Industry Advisory Board, as well as a 2019 inductee to the Rinker Construction Hall of Fame. The Gator alumnus says it is always great to see what the current UF construction students are up to.
"I am always excited, motivated and pleasantly surprised by the students when interacting with the current student population and seeing their energy and desire to move the industry forward," Hedrick said. "What is meaningful to me is that I feel like we will be in good hands for the future."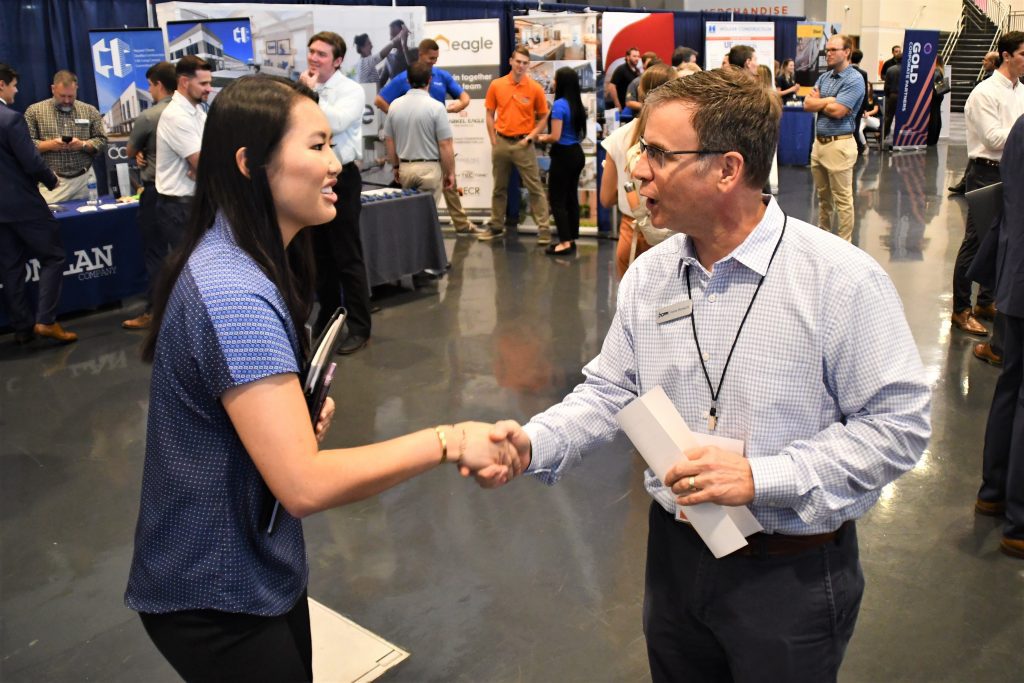 Also in attendance was Stellar, a design, engineering and construction company based out of Jacksonville. In addition to being the project manager for a soon-to-be named 50,000-square-foot addition to DCP, they are also the home to many UF alumni.
"We have hired a lot of excellent interns and entry-level employees from the Rinker program here at UF," Stellar corporate recruiter Eric Anderson said. "We also have a lot of alumni from the school, so this event is always pretty near and dear to our hearts."
It is safe to say that the companies at the event weren't the only ones excited to be there. Samantha Butler is a junior construction management major pursuing a minor in real estate. She said she was beyond honored to have the opportunity to go to the fair.
"I am so thankful for Rinker and all the opportunities they provide us," the Phi Mu member explained with a smile. "As a woman in construction, it is definitely a lot of fun, especially when Rinker is made up of almost 25 percent female. It is sometimes difficult to get respect, but everybody here has been so open. Gator graduates really know how much value a woman can bring to their construction site."
That feeling of gratitude was the same for Jerko Puh Facuse, an international student pursuing a master's degree in construction management.
"Being an international student from Peru, I knew of some of these companies, but I couldn't reach them," Facuse said. "Having all of these companies together in one place is really, really helpful for my professional future."