By: Kyle Niblett (April 22, 2022)

Led by No. 1 ranked Onicx, the University of Florida College of Design, Construction and Planning placed 14 alumni-owned companies on the 2022 Gator100, the UF Alumni Association announced Friday, April 22, in a ceremony inside the Exactech Arena at the Stephen C. O'Connell Center. The annual list recognizes the 100 fastest-growing Gator-owned or Gator-led businesses in the world. Since 2018, DCP grads with successful businesses have made up more than 20 percent of the Gator100.
"We are very pleased that DCP alumni continue to make a strong impact in the business world," DCP Dean Chimay Anumba said.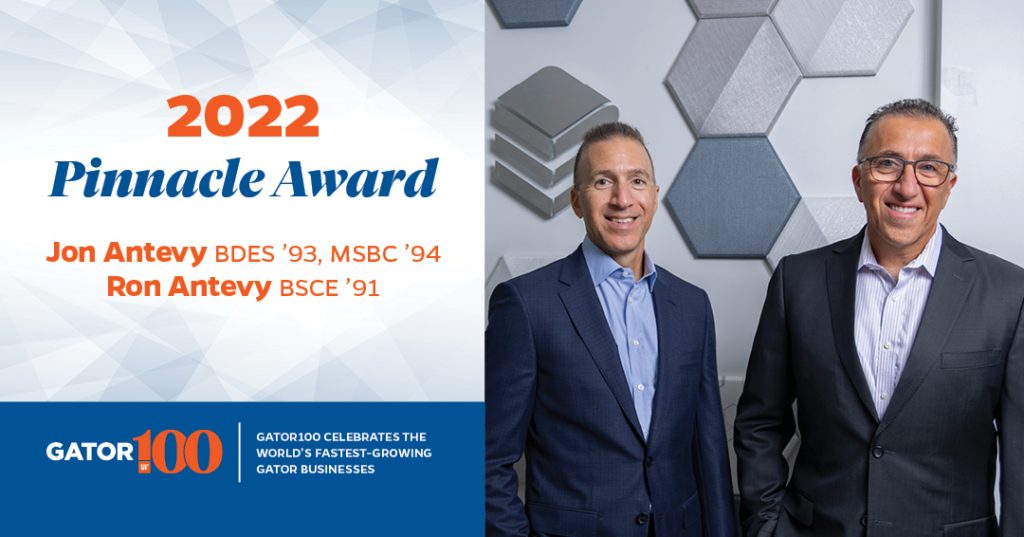 In addition to two honorees in the top three and four in the top 13 businesses overall, M.E. Rinker, Sr. School of Construction Management graduate Jon Antevy (BDES '93, MSBC '94) and his brother Ron were named the recipients of the S. Clark Butler Pinnacle Award, which recognizes an established business leader or leaders who have demonstrated success in their industry. The Rinker Construction Hall of Fame members earned the award by creating the revolutionary company e-Builder, which offers industry-specific construction management software and enables capital project owners to increase efficiency and save money. In spring 2018, the Antevy brothers sold their company to Trimble, firmly cementing Florida as one of the nation's emerging tech hubs. On top of their professional success helping thousands of global companies, governments and institutions save money, the brothers have never ceased to provide expertise and support to Rinker and DCP throughout the years.
Below is a list of all DCP Alumni-led or owned companies that made the 2022 Gator100 list and where they ranked. Many of these companies joined Dean Anumba and college representatives prior to the event at The Social for a reception. Congratulations to all these great companies!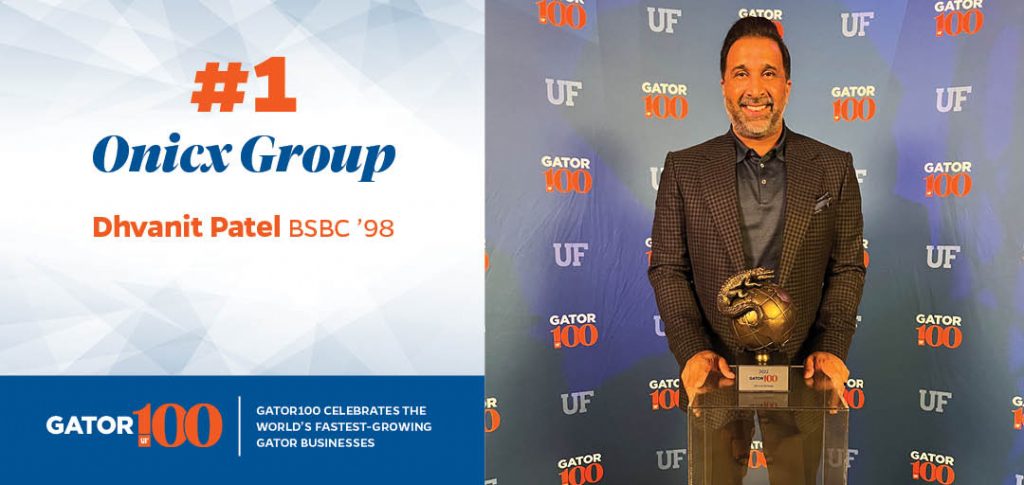 #1
Business: Onicx Group
DCP Leader: Dhvanit Patel, BSBC '98
Location: Tampa, Fla.
Years Honored: 2021, 2022
Onicx is a full-service development and investment company that solves complex real estate challenges through innovative building solutions and creative financial structures. Their services include design, financing, construction, construction management, leasing and property management. The company's expertise in healthcare allows them to deliver the flexible environments their physician clients and partners need to provide optimal care to patients.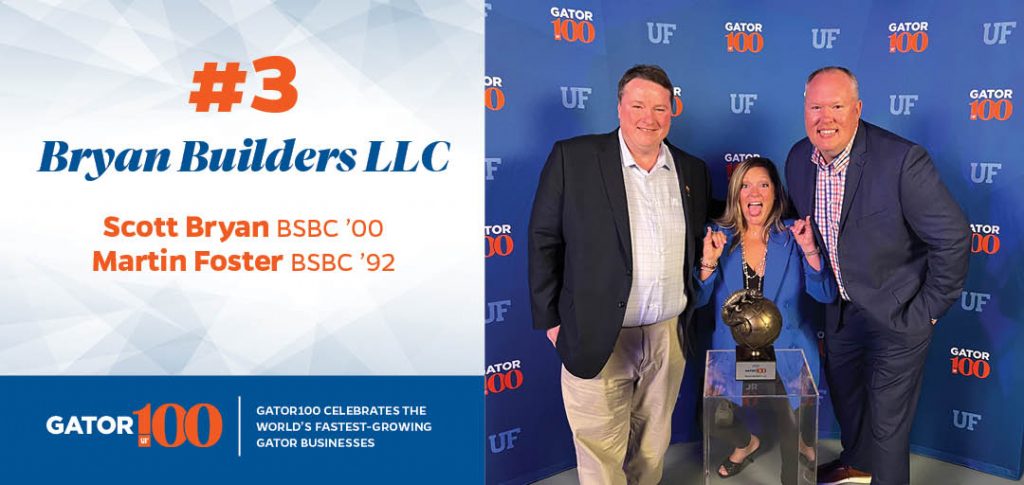 #3
Business: Bryan Builders
DCP Leaders: Scott Bryan, BSBC '00 & Martin Foster, BSBC '92
Location: Longwood, Fla.
Years Honored: 2021, 2022
Bryan Builders, LLC is a general contracting firm that was launched in 2010 by founding member, Scott A. Bryan. They primarily specialize in the commercial and industrial space, partnering with many well-known e-commerce and logistics clients on a national scale. Their team consists of the best and most qualified in the industry, including five additional M.E. Rinker, Sr. School of Construction Management graduates. They pride themselves in their dedication to unmatched customer service and client experience.
#12
Business: Park & Eleazer Construction
DCP Leader: Forrest Eleazer, BSBC '06, MS '08
Location: Clearwater, Fla.
Years Honored: 2019, 2020, 2021, 2022
Park & Eleazer Construction's mission is to develop authentic relationships and have a positive impact on every life they interact with, while timely building exceptional projects and delivering a world class client experience. In its first 10 years, P&E has grown from a small local builder to a regionally recognized commercial construction firm specializing in office, medical, automotive, retail and industrial projects.
#13
Business: Springer Construction
DCP Leader: Jeremy Voss, BSBC '03 & Cole Springer, BSBC '14
Location: Lakeland, Fla.
Years Honored: 2021, 2022
Since 1987, Springer Construction has been building and maintaining quality industrial, retail and commercial construction for more than 30 years. As a third-generation, family-owned firm, they believe in building the community from the inside out through the successful completion of construction projects and their strong philanthropic ties to the community. The company works hard to deliver value to their employees and customers while upholding the following values: loyalty, honesty, integrity and respect.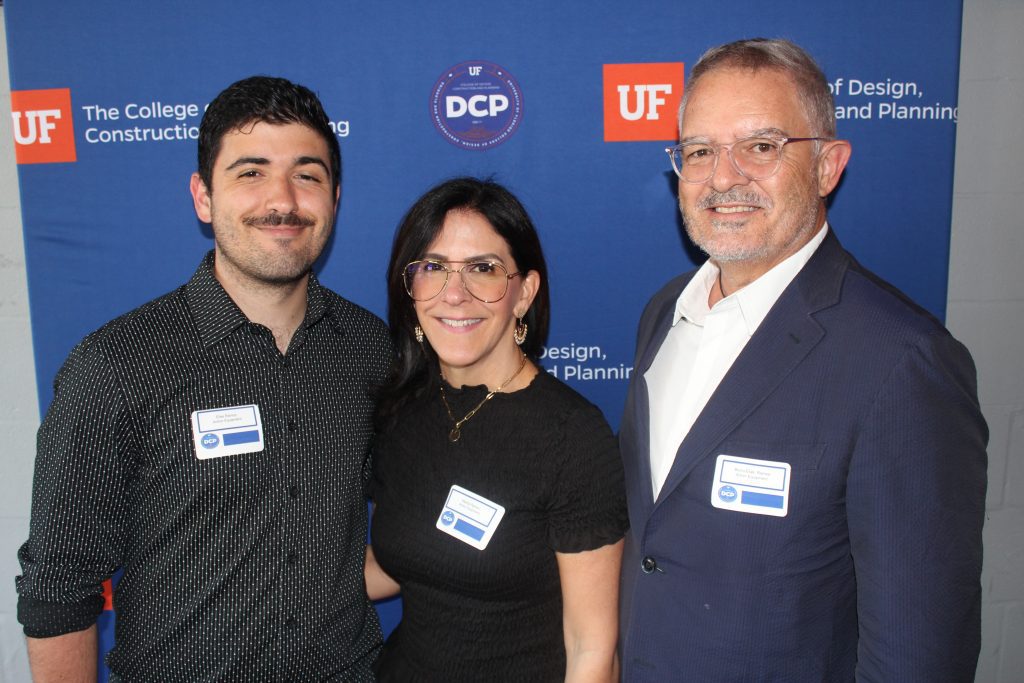 #47
Business: Action Equipment
DCP Leader: Bruno-Elias Ramos, BDES '82, MARCH '85
Location: Miami, Fla.
Years Honored: 2018, 2019, 2020, 2021, 2022
Action Equipment was founded in 2007 by architect and general contractor Bruno-Elias Ramos. The ACTION team has over 100 years of combined experience in the equipment and rental industry and continues to learn every day how to perfect a service plan that keeps customers' needs first.
#58
Business: Miller Construction Management
DCP Leader: Harley Miller, BBC '69 & Brian Sudduth, BSBC '00
Location: Fort Lauderdale, Fla.
Years Honored: 2016, 2017, 2021, 2022
South Florida natives Thomas J. Miller and Harley W. Miller established Miller Construction Company in 1973. Miller is a prominent South Florida design/builder and construction services firm serving commercial, industrial, hospitality, automotive, retail, healthcare and educational markets. Their business has been serving some of South Florida's most influential and successful businesses for five decades, completing more than 500 projects.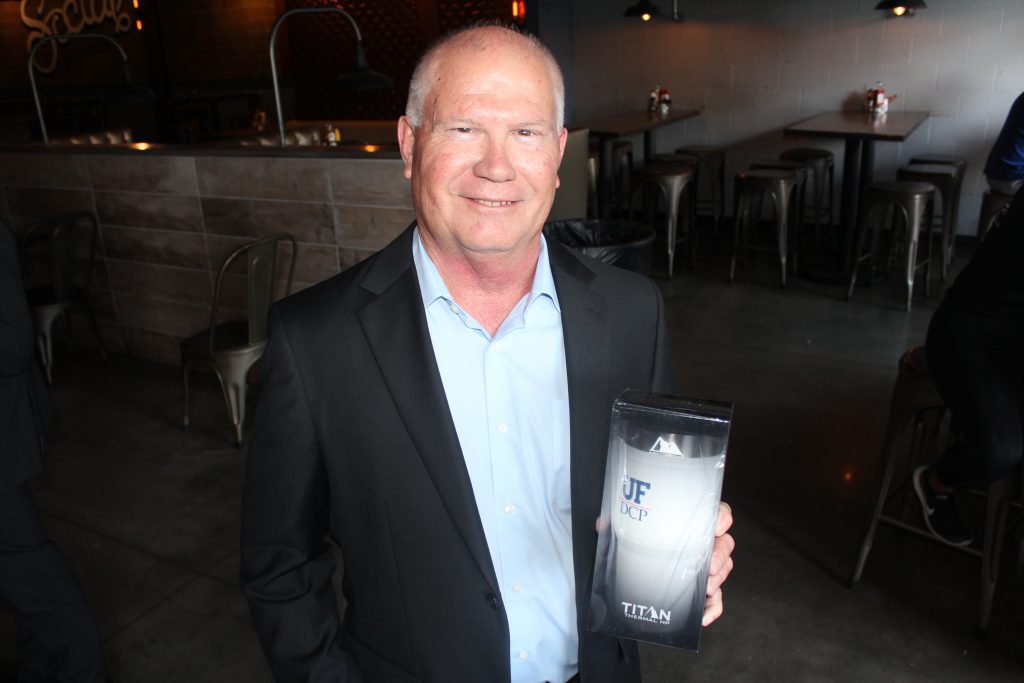 #68
Business: Hennessy Construction Services
DCP Leader: Mark Stalker, BBC '81
Location: St. Petersburg, Fla.
Years Honored: 2022
For nearly a century, Hennessy Construction Services has completed many complicated and unique projects throughout Florida. It has always been the risky and challenging projects that have been the most satisfying and rewarding. Whether the project requires specialized laboratories and surgical suites, large amounts of uniform concrete or LEED certification, Hennessy has the experience to complete the work successfully. Consistency and attention to detail have enabled Hennessy to establish a large client base of repeat business. From Design/Build or Construction Management to your completed building, Hennessy will partner with you for the journey. "Building Trust Since 1920" is more than just a slogan; it is how their clients feel during every step of the process.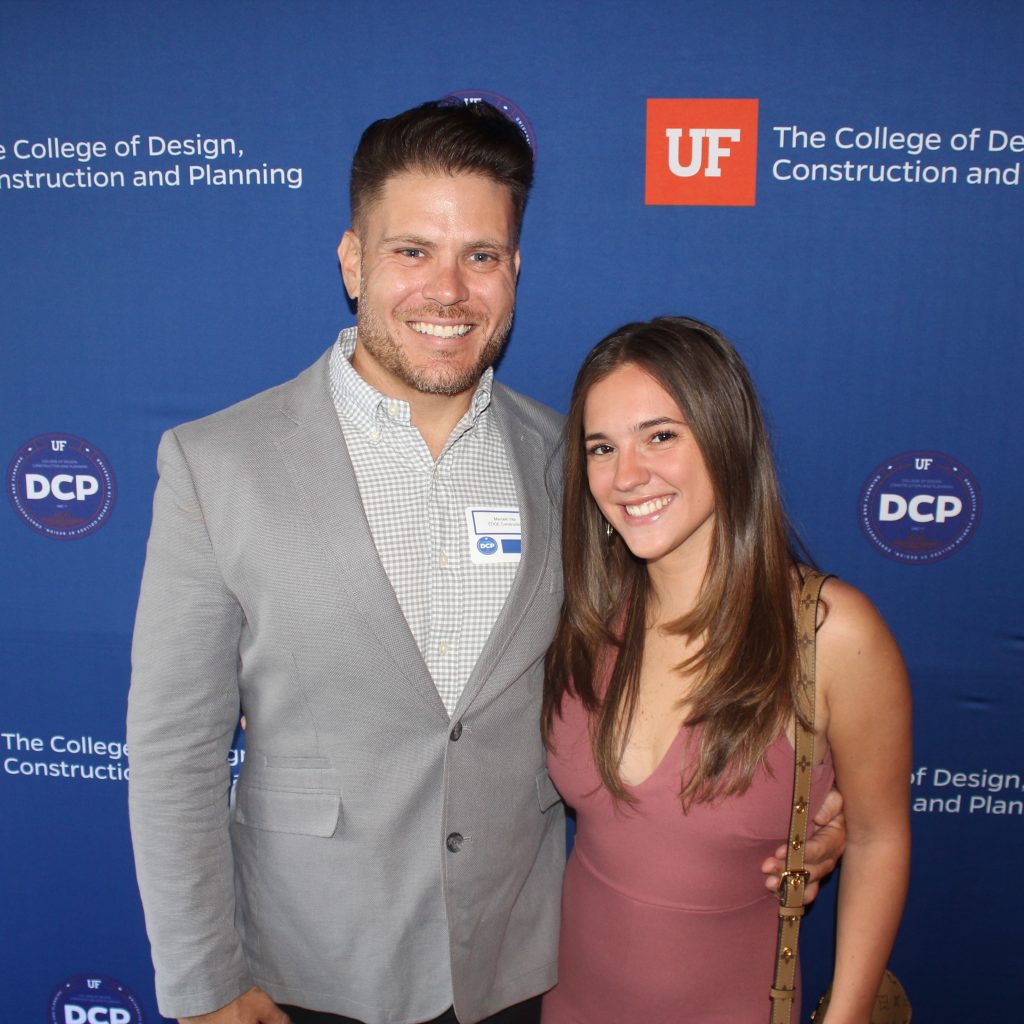 #75
Business: Edge Construction
DCP Leader: Marcelo Vila, BDES '03, MARCH '05; Thomas Manos, BSBC '08 & Eric Weiss, BSBC '08
Location: Fort Lauderdale, Fla.
Years Honored: 2019, 2021, 2022
Edge Construction, a certified general contractor, provides a full range of high-value pre-construction, construction and design-build services to the South Florida market. Their team has expertise in a variety of sectors, including: healthcare, education, commercial, corporate office and more. Edge Construction was founded by three University of Florida DCP Graduates.
#81
Business: Marquis Latimer + Halback, Inc.
DCP Leader: Jeremy Marquis, BLAE '08 & Fremont Latimer, MLA '10
Location: St. Augustine, Fla.
Years Honored: 2019, 2020, 2021, 2022
Marquis Latimer + Halback is an award-winning planning, design and management firm. ML+H specializes in landscape architecture, planning, urban design and project management. Located in the nation's oldest city of St. Augustine, the firm artfully creates authentic landscapes that are historic or contemporary interpretations for each unique place. All three partners of this award-winning team are Gator alumni, and 70 percent of the team members are Gators.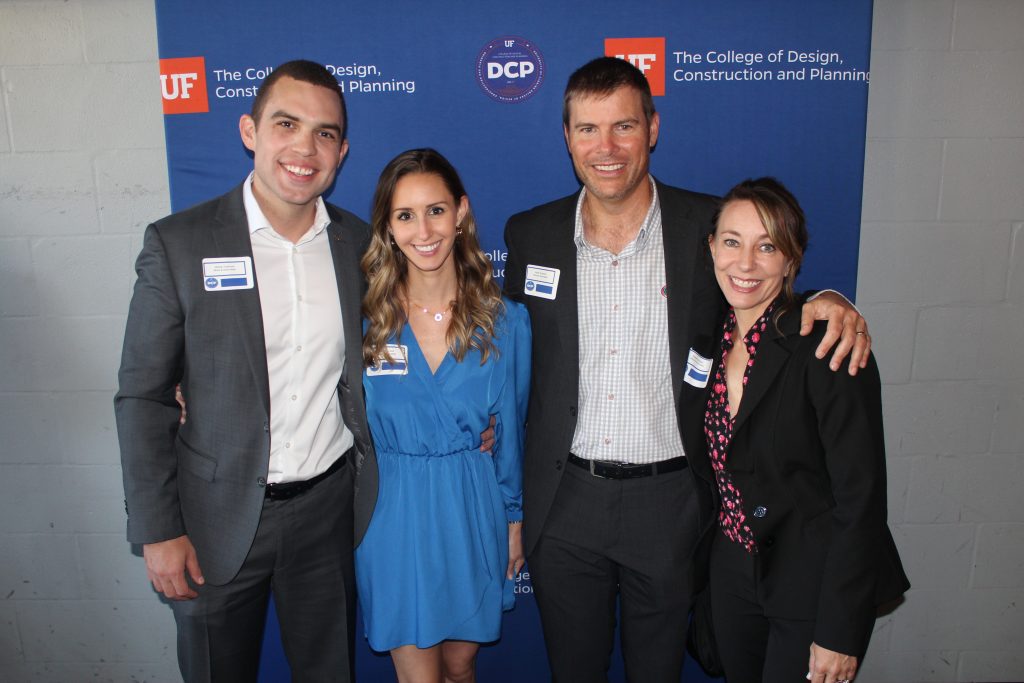 #84
Business: Moss & Associates
DCP Leader: Scott Moss, BSBC '96
Location: Fort Lauderdale, Fla.
Years Honored: 2017, 2018, 2022
Moss brings an honest, positive, and intelligent approach to their business that's not readily found in the construction industry. That approach has not only created recognizable, sustainable, innovative and award-winning buildings, it has helped their company grow to being one of the most transparent, respected, and sought-after companies in the U.S. The Moss team of experts spans the country with offices in Hawaii, California, Texas and Florida. In addition to their Fort Lauderdale headquarters, they also have Florida offices in Miami, Tampa, and West Palm Beach.
Their passion for customer satisfaction runs deep. They are constantly focused on finding ways to exceed expectations at every turn. Their dedication to intelligent solutions is the core of their philosophy. They believe every project is first and foremost about genuine, rewarding relationships with clients, subcontractors, suppliers, and the surrounding community. They have combined their deep expertise with a renowned level of integrity and transparency—serving as the foundation for all they do.
#85
Business: kasper architects + associates
DCP Leader: Erik Kasper, BDES '92, MARCH '94 & Chris Densmore, BDES '04, MARCH '06
Location: Jacksonville, Fla.
Years Honored: 2020, 2021, 2022
kasper architects + associates creates design solutions that produce an efficient building plan, contributing to the success of its clients. The firm is the right size to give personal attention to each client, while the technology it uses gives results that are second to none.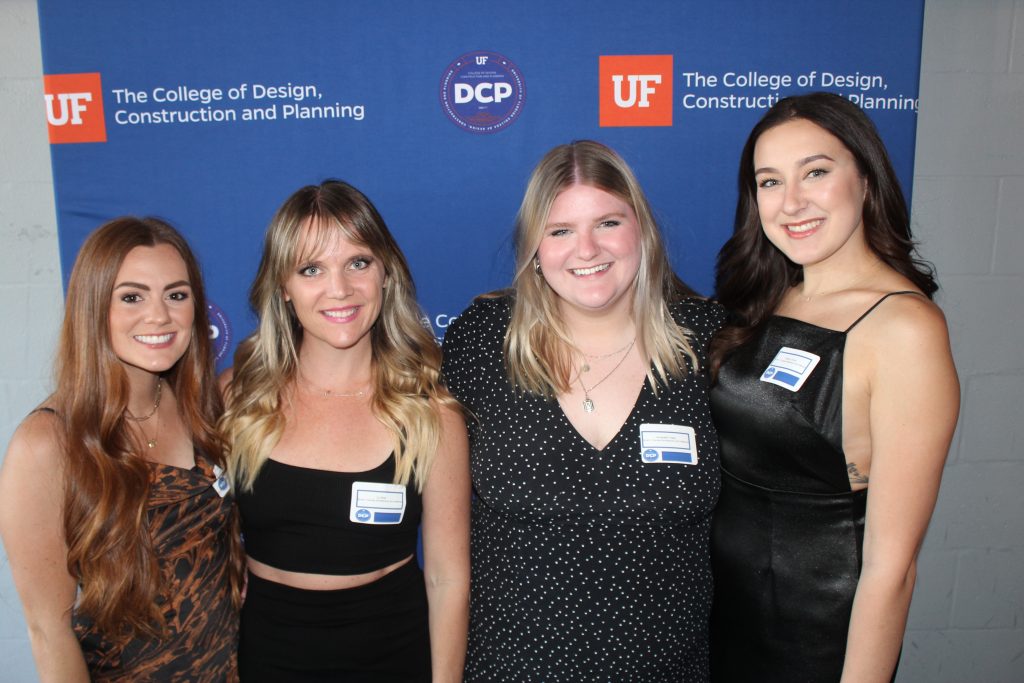 #88
Business: Scott + Cormia Architecture and Interiors
DCP Leader: Kristine Gilmore, BDES '04 & Liz Seay, BDES '06
Location: Orlando, Fla.
Years Honored: 2021, 2022
SCOTT + CORMIA Architecture & Interiors is an international, multi-disciplinary design firm. Recognized for its diversity of experience, creativity and value, S+C intuitively understands the relationship between structure, function and the business of real estate development. Benefiting from a high-energy, visionary and entrepreneurial culture where passion to produce excellence is their fundamental mission, S+C prides itself on delivering results that exceed their client's expectations.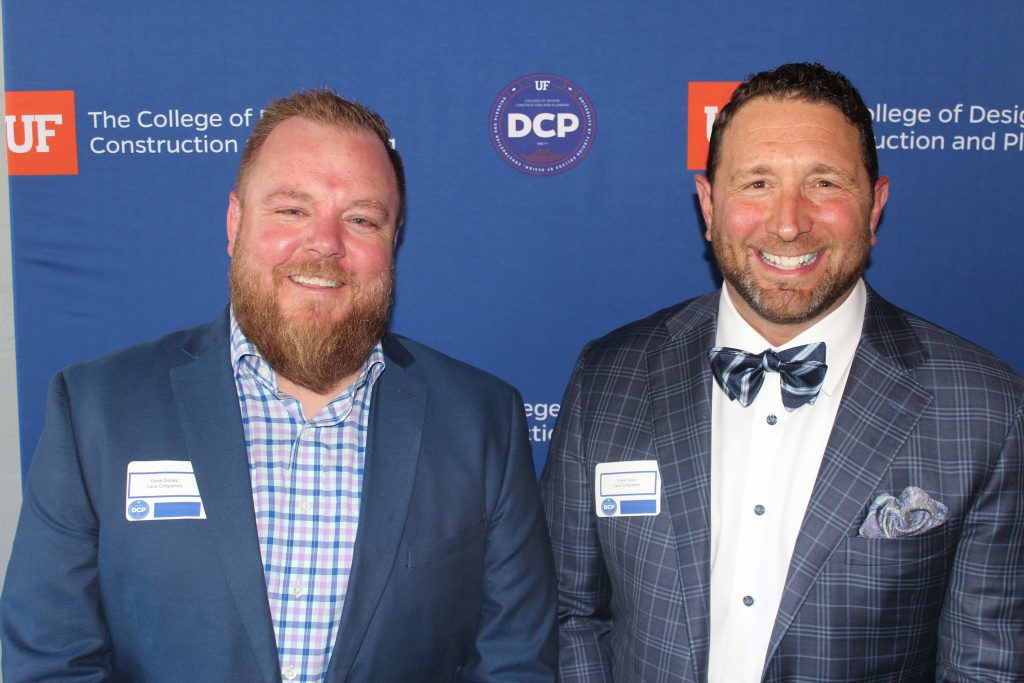 #91
Business: Cava Companies
DCP Leader: Frank Cava, BSBC '98
Location: Richmond, Va.
Years Honored: 2021
Since its inception in 2007, Cava Companies has been involved in thousands of projects across Virginia, while constantly adapting to the changing real estate landscape. With more than 100-plus years of collective professional experience, the Cava team has developed more than 3,000 buildable homesites, constructed more than 2,500 homes, and sold more than 2,000 residences. Cava Companies has a deep local knowledge of the Virginia real estate market with a long track record of success.
#97
Business: BASE Construction
DCP Leader: Travis Bonnett, BSBC '97 & Shawn Willerer, BSBC '08
Location: Orlando, Fla.
Years Honored: 2022

BASE is a client-oriented construction manager, general contractor, and design-builder that brings the expertise of a large corporation with the accessibility, responsiveness, and customer service of a smaller firm. Their goal is to provide innovative solutions from the planning phase through construction, adding value for their customers at every opportunity.