By: Kyle Niblett (April 26, 2022)
Just days from receiving her master's degree in urban and regional planning (MURP), University of Florida College of Design, Construction and Planning student Elisabeth Staten was named the recipient of the prestigious Kermit Sigmon Citizen Participation Award, the Metropolitan Transportation Planning Organization for the Gainesville Urbanized Area announced. Staten (BSSBE '21) accepted the award in person at this past Monday's MTPO meeting inside the Alachua County Administration Building.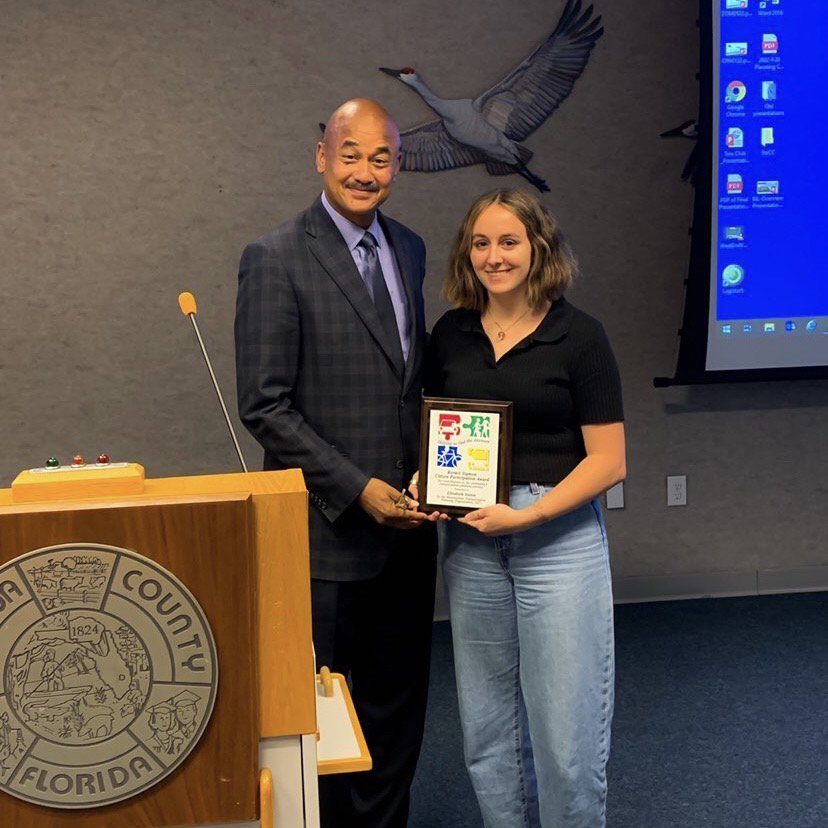 "I am incredibly honored to receive this award," Staten said. "The ability to help improve the safety of my fellow students and residents has been an unbelievably impactful opportunity."
Staten became the first student to ever win the award due to her work with Florida Not One More, a student group that advocates for pedestrian and bicycle safety on the edge of UF's campus. The group was formed in response to several student deaths as a direct result of automobile accidents.
Previous DCP winners include: URP Professor Ruth Steiner, URP Instructional Assistant Professor Thomas Hawkins, School of Architecture Professor Martin Gold and Linda Crider, who was on DCP's research faculty when she won the award in 2003.
"I am incredibly grateful to Florida Not One More for allowing me the chance to serve this community, and for my professors in the MURP department who have consistently educated us on the importance of safety and advocacy planning," Staten explained. "The last five years spent in Gainesville have made me fall more in love with this city."
This past March, Staten was also named the winner of the 2022 URP American Planning Association and American Institute of Certified Planner Student Award. The honor recognized Staten for excelling not only academically in the MURP program with outstanding academic achievements, but for also being active in DCP's Student Planning Association, the WTS (formerly Women's Transportation Seminar) and Florida Not One More.
Staten's master thesis expanded on her rural transportation capstone and provided recommendations for developing transit for low-income workers in Putnam County. Upon graduation, the DCP all-star will continue her work improving pedestrian safety as a Planner II with the City of St. Petersburg Transportation and Parking Management Department.