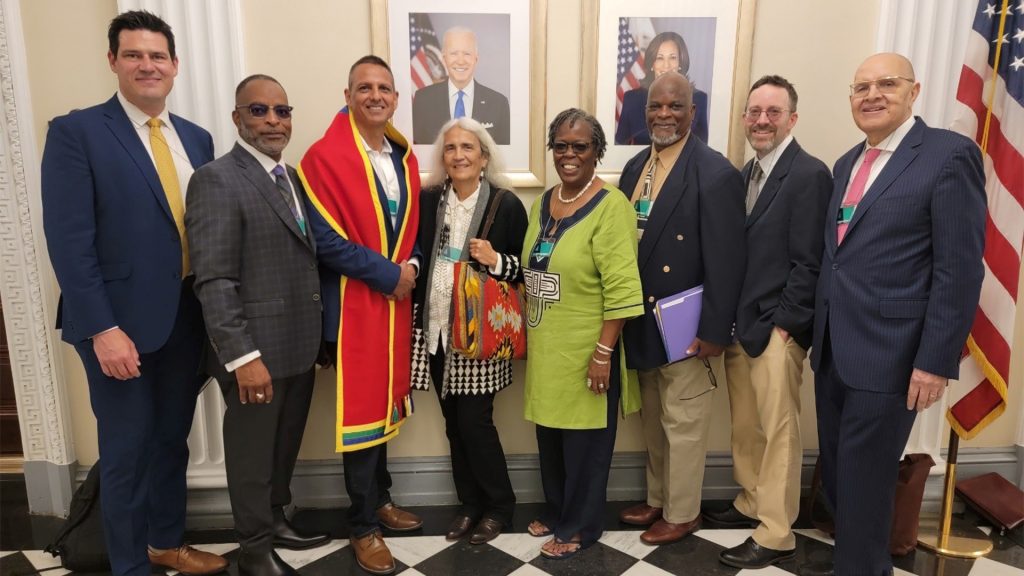 By: Kyle Niblett
May 4, 2022
University of Florida College of Design, Construction and Planning Research Associate Professor Michael Volk, and North Port St. Joe Project Area Coalition community leader Dannie Bolden, were recent guests of United States President Joe Biden for a White House Roundtable for Environmental Justice in Action organized by Harold Mitchell Jr., and a team from the ReGenesis Institute. Mr. Bolden and Professor Volk, the Associate Director for the UF Center for Landscape Conservation Planning in the Department of Landscape Architecture, were invited to discuss the ongoing work in North Port St Joe to address issues of housing, health, economic revitalization and infrastructure within the community. The North Port St. Joe community was asked to participate and discuss its successes in building coalitions and obtaining funding as part of the rollout of a broader Environmental Protection Agency (EPA) initiative focused on environmental justice.
Prior to the release of Biden's new executive order entitled, "Revitalizing Our Nation's Commitment to Environmental Justice for All," Bolden and Volk participated with other invited communities in a roundtable discussion. There they spoke about the important ongoing work and needs in the community, including a University of Florida-led project to develop nature-based solutions to address future climate change. This included the role of the community-university partnership in helping build a coalition that has led to federal, state, and private funding. The roundtable was hosted by the Senior Director for Environmental Justice in the White House Council on Environmental Quality (CEQ) Dr. Jalonne White-Newsome, with other senior administration, non-governmental organizations and community representatives in attendance. North Port St. Joe was one of just a few community organizations invited to participate in the roundtable of senior White House officials and environmental justice leaders.
"This event has reinforced the importance of developing a coalition of partners to address the needs of communities such as North Port St. Joe," Volk said. "Our work with North Port St. Joe has underscored the importance of community-engaged and led work – essential in all communities, but particularly in underserved areas that are working to address historic issues of equity and environmental justice."
The work that DCP has done with Port St. Joe since 2019 is based on a partnership developed through DCP's Florida Resilient Cities Program (FRC), initiated with funding from the Jessie Ball duPont Fund and with additional funding from the Florida Department of Environmental Protection and the National Academies of Sciences, Engineering, and Medicine Gulf Research Program. The program was founded by Florida Institute for Built Environment Resilience Director Jeff Carney, Shimberg Center for Housing Studies Director Bill O'Dell, Center for Landscape Conservation Planning Associate Director Volk, and Historic Preservation Program Director Cleary Larkin. The current project focused on nature-based solutions is led by Volk with the Center for Landscape Conservation Planning's Urban Green Infrastructure Initiative, in partnership with FRC and North Port St. Joe.
Volk's hope is that the partnership will continue for years to come and that DCP will achieve tangible results in the community in terms of infrastructure, housing improvements, and environmental remediation. Due to the scale of need within North Port St. Joe, he sees DCP as having an essential role in advancing this work over the next decade – not only in North Port St. Joe, but in other communities throughout the state.