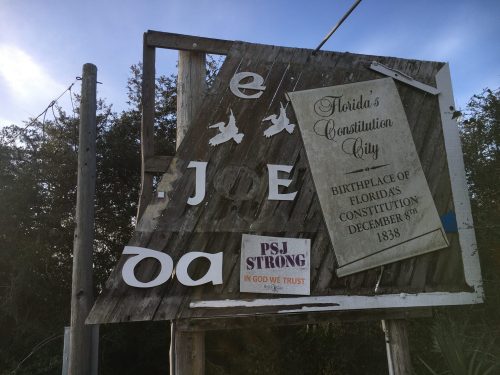 By: Kyle Niblett
With winds ripping at 160 miles per hour and damages estimated at $25 billion, how does a town bounce back from a disaster?
For the resilient residents of Port St. Joe, Fla., Hurricane Michael's 2018 impact on their small-town community will never be forgotten. However, those working in the Florida Resilient Cities Program (FRC) are aiming to make sure the town is better equipped to handle the next catastrophic event.
Due in part to Hurricane Michael and with financial support from the Jesse Ball DuPont Fund, FRC was formed in July 2019 within the University of Florida College of Design, Construction and Planning. A collaborative group made up of members from DCP's Florida Institute for Built Environment Resilience (FIBER), Shimberg Center for Housing Studies and the Center for Landscape Conservation Planning, the program's mission is to help communities across Florida develop the capacity to be more prepared for and more resilient to increased risk.
"This program goes hand-in-hand with the 'One DCP' vision of Dean Anumba," Associate Professor and FRC Program Director Jeff Carney said. "In our first year, the program brought together faculty and students from nearly every discipline in the college and many across the university. This interdisciplinary work is a prime example of how our college can make a difference in Florida and the world."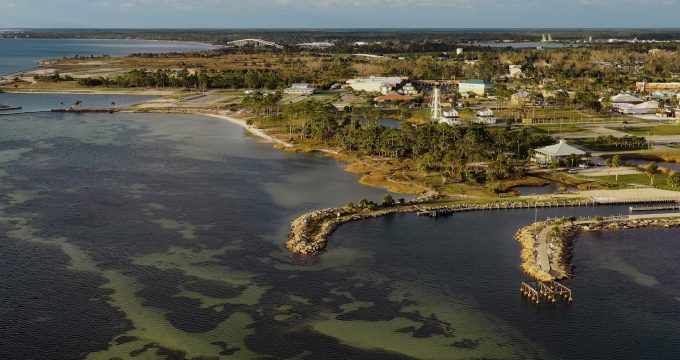 Climate change and sea level rise have left a significant impact on all coastal communities in Florida, with some predicting that by 2100, more than 13 million Americans could be relocated due to inland migration. With most Floridians living along the coast, the FRC is helping these at-risk communities increase their resilience and adapt to a changing environment.
Without greater resilience, disasters will also contribute to many challenges in Florida's inland communities, including congestion, unplanned development and gentrification. FRC is rapidly planning for such growth, development pressure, and environmental challenges caused by climate change and inland migration. And while most people think of big cities like Miami or Orlando when they think of Florida, millions live in unincorporated cities or small rural towns. The FRC program works with communities that do not have the resources of a big city but share the same challenges in terms of being resilient.
However, resiliency means much more to FRC than climate challenges or recovering from a devastating storm like Hurricane Michael.
"Our research is really illuminating the fact that community and built environment resilience also include economic stabilization, reduction of poverty, food security, housing affordability, and access to resources," FRC Program Coordinator Dr. Cleary Larkin said. "Resilient communities take a holistic view of their current challenges as well as their future and understand the collective interactions of these areas that help to define place and build stronger futures."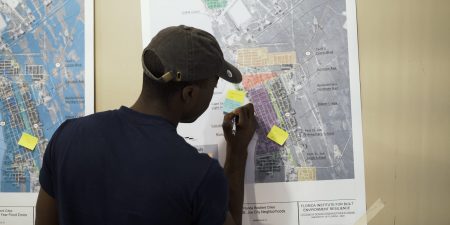 In Spring 2020, FRC was able to support eight different sub-grants totaling more than $50,000 to connect UF faculty and students to the problems faced by Port St. Joe. The projects used a community engagement and design thinking approach, and focused on public health, social capacity, and intangible benefits such as support for and continuity of heritage and culture. The partnerships built with the community have led to a second year of support from the Jesse Ball DuPont Fund.
"Resilience does not have a formula," Carney said. "Over the course of the first year, we worked to develop the partnerships that led to good research projects – not the other way around. In our second year, we are building upon these partnerships and research to provide designs for a new civic center complex, a plan for the park system, and an in-depth study on affordable housing. Each of these could not be possible without the genuine relationships our team and DCP faculty have built throughout Port St. Joe."
The long-term vision for FRC is to form working partnerships with a diverse set of Florida communities. By pioneering design methods and engagement strategies, the knowledge from Port St. Joe can carry over to similar projects, such as those under development in Jacksonville and the Halifax River watershed. Carney and Larkin both stress the importance of building a network of resilient communities that can share resources and relevant ideas, no matter what size differences there may be. This sort of transferable knowledge is centered on public challenges that are pervasive through all areas of the state.
"We hope that FRC can contribute to Floridians communicating, designing, and adapting to their challenges together," Carney said. "Millions of people will be positively impacted if we are able to share one city's lessons and accomplishments throughout the state."