By: Kyle Niblett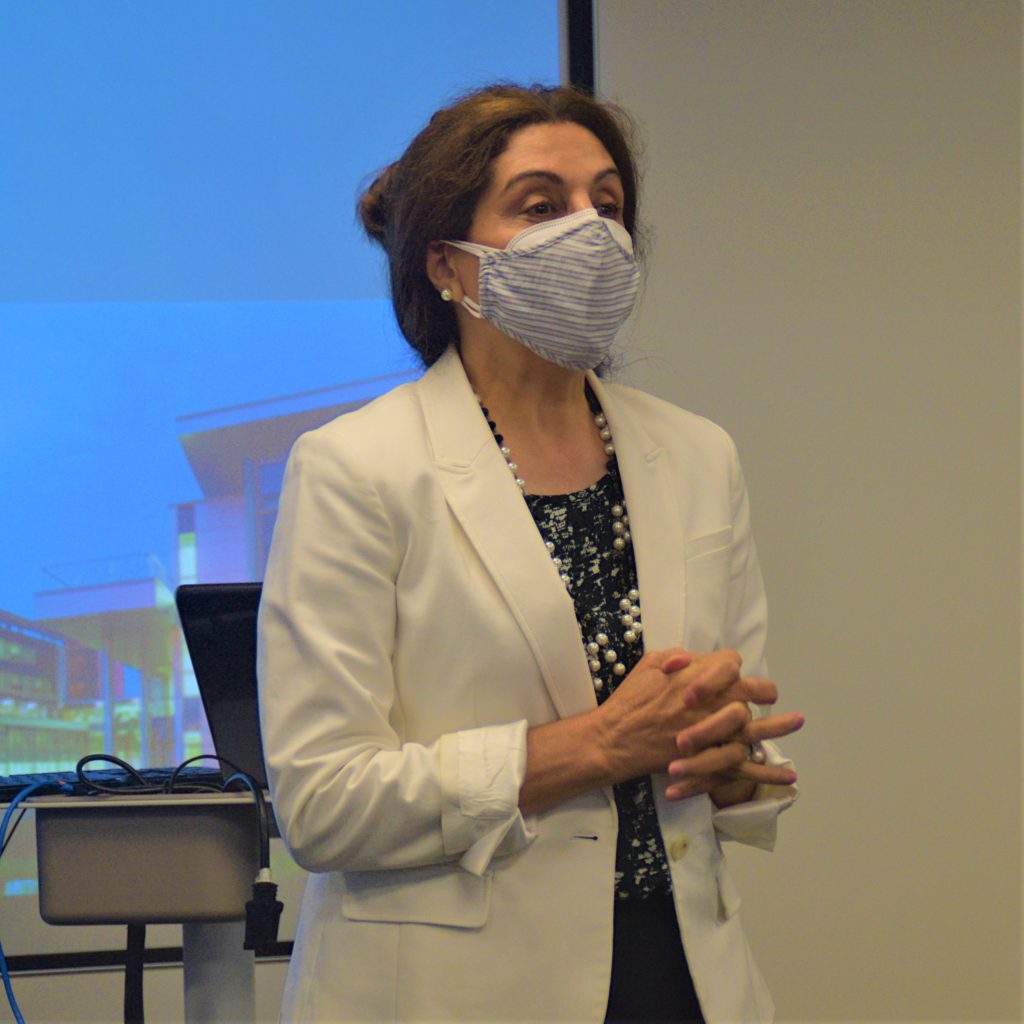 Led by University of Florida Sustainability and the Built Environment Program Director Bahar Armaghani, the UF College of Design, Construction and Planning and the International WELL Building Institute (IWBI) have established the world's first WELL Learning Lab. The project is in collaboration with faculty from the UF Department of Interior Design, Dr. Lisa Platt from the UF Florida Institute for Built Environment Resilience, Epsten Group Principal Lauren Wallace, Jason Hough and the UF Clinical Translational Sciences Institute. WELL is the leading tool for advancing and transforming health and well-being in buildings, organization and communities globally.
"This is a tall task, but I have always believed that health and well-being need to be part of our program. With the pandemic, it became more crucial," Armaghani said.
The hands-on learning lab, which kicked off Monday, Aug. 30, offers an unparalleled opportunity for students pursuing innovative education to apply advanced knowledge in human-centered sustainability through WELL Building Design. The knowledge gained from Well v2 Building Standards for designing, building and maintaining spaces will contribute to human physical and mental well-being through air, water, nourishment, light, fitness, comfort and mind.
"Planning and coordination started earlier this year when I approached IWBI President and CEO Rachel Hodgdon and proposed to offer a first-of-its-kind WELL Learning Lab," Armaghani said. "Rachel was excited for the initiative and collaboration and thought it was wonderful to watch this vision be brought to life."
Located within the Health Sciences District on campus, the WELL Learning Lab will use the Clinical Translational Sciences Institute (CTSI) located within the Clinical Translational Research Building (CTRB). This building combines clinical space, dry labs, research and office space for departments within the UF Colleges of Medicine, Nursing and Public Health and Health Professions.
"While our successful LEED Lab since 2014 has focused on the built environment, its systems and surroundings, we know the people in the built environment are just as important, if not more," said Armaghani, who is also the director of the UF Green Building Learning Collaborative. "WELL Lab is a complement to LEED Lab with the focus on the health and well-being of the people in the building."
The first day of the Lab was highlighted by a speech from Hodgdon, who spoke virtually via Zoom.
"The pandemic has taught us to focus on people-first places and people-first policies," Hodgdon said. "I thank you students for rising to this opportunity as we not only design buildings which are better for the planet, but are better for the people. I am so thankful to the UF community for rallying around this lab, the first of its kind in the world."
In the middle of a worldwide pandemic, Armaghani is now more than ever excited to teach students how to leverage design as a public health intervention tool.
"Our college students are the first in America to understand how to manage, administer, and apply WELL v2 to the built environment."