Sustainability & the Built Environment
Find Purpose in Facilitating Prosperity for People & Planet
Sustainability and the Built Environment (SBE) is one of the newest and fastest growing academic programs within the University of Florida College of Design, Construction, and Planning (DCP). Together, we are building bridges to better human habits and habitats.
Quick Links to Frequently Accessed Content
How to Navigate Our Website
Our web presence answers common questions and sheds light on the why, who, what, where, when, and how that animate our story and lay a pathway for your journey as a change agent. We welcome all weavers as we seek the wisdom and strength to walk through the bottleneck of the Anthropocene to a flourishing place on the other side.
Find purpose in facilitating prosperity for people and planet. SBE the change…
Our Story
SBE Purposeful
Learn why SBE here and now as you explore our purpose and program parameters.
SBE Collective
Follow who makes SBE move as you meet our faculty, staff, students, and collaborators.
Your Journey
SBE Empowered
Explore what SBE offers learners at many levels through empowered educational opportunities across various life stages.
SBE Determined
Determine where to next as you realize your best self through active engagement on campus and within our community.
SBE Connected
Connect with our people and partners as you learn how to participate in, donate to, and collaborate with our program as we celebrate mutual success. Our most ambitious connections take place in our Green Building Learning Collaborative (GBLC).
News, Events, & Insights
When Sustainability and the Built Environment (SBE) happens, we are there for the progress. Explore our present and past posts to follow program news, track events, and glean insights on the path to a better tomorrow, together.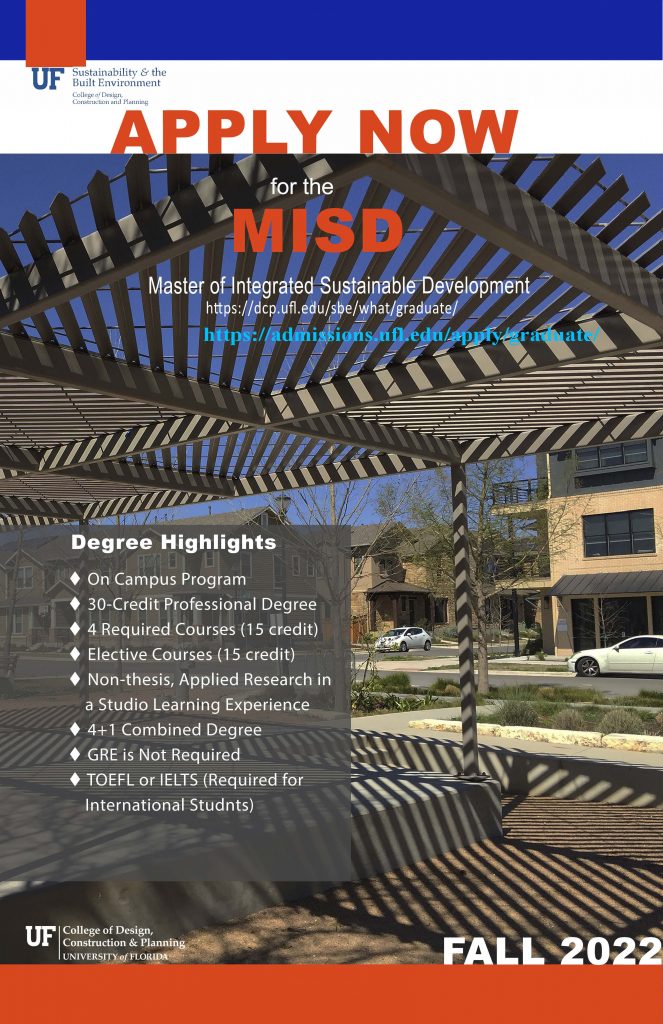 News | Program Update SBE Launches the Master of Integrated Sustainable Development (MISD) Graduate Degree…