Geodesign
M6 Technologies & Tools
Geodesign leverages monitoring, measuring, modeling, mapping, machine learning, and land use managing (M6) technologies to assess and adapt built environments and design scenarios along pathways for a more prosperous and productive future. If you're interested in problem solving and using technology to manifest a more resilient world, the SBE geodesign specialization may be a great option for you.
"Geodesign is a method which tightly couples the creation of proposals for change with impact simulations informed by geographic contexts and systems thinking, and normally supported by digital technology."

Flaxman and Ervin, 2010
SBE Skillsets
Beyond the core curricula, SBE majors pursuing a Geodesign Specialization learn diverse spatial and temporal analytical and decision-support skills, such as the following:
Proficiency with geospatial mapping software
Python scripting
Data modeling
How spatial data influence decisions
Knowledge in data science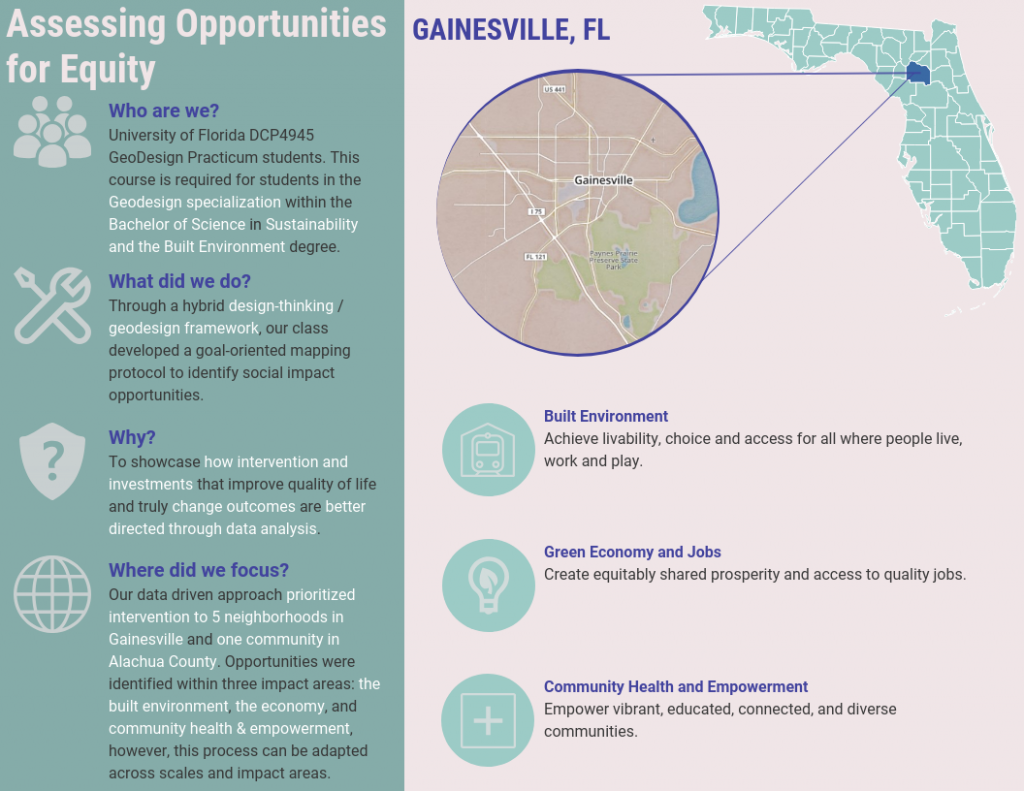 People Powered Projects
These skills are empowered through software and applied research projects affiliated with the Geo-Facilities Planning and Information Research Center, or GeoPlan Center. This prominent entrepreneurial Center, was established in 1984 as a response to local and statewide needs for a teaching and research environment in Geographic Information Systems (GIS). The Center is affiliated with the Department of Urban and Regional Planning, in the University of Florida's College of Design, Construction and Planning. Click the GeoPlan Center logo to learn about their current projects.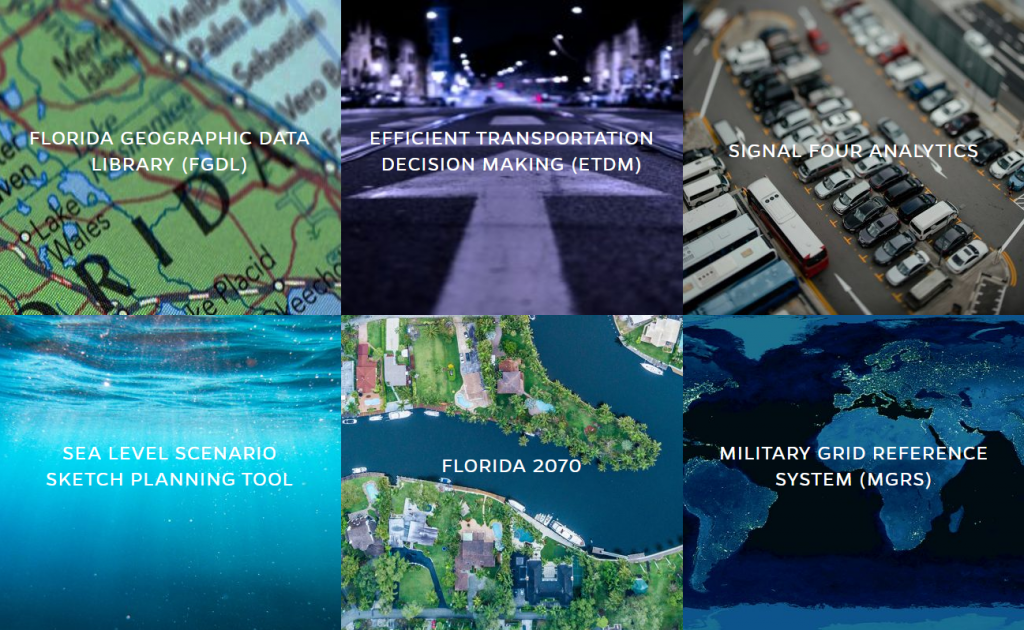 Geodesigners pursue jobs in a variety of professional fields, such as the following:
City Planning and Local Governments
Design Firms
Engineering Firms
Consulting and Corporations
Risk mitigation and planning
Community Development
Design Thinking
Learn More About Geodesign
Geodesign integrates technology and data science to make sustainable decisions for communities, corporations, and nonprofits. Coursework includes several hands-on experiences where students collaboratively build solutions and apply them in energy, natural systems, to improve livability, and business.
Contextual Resources About Geodesign
The Science of Choice & Consequence
Change is the only constant. Cliché, but true, the challenge of change is one of choice and consequence. Uncertainty is inevitable, but the evolving M6 technologies evoke awe and awareness, reveal our reshaping of the Earthly spheres, and renew the reverence necessary to ignite our intention as stewards of our planetary place in space. We choose to SBE, here, now.
Like any species, our collective evolution and individual impacts leave a legacy. While the human story has been millennia in the making, the Great Acceleration of the 20th Century has produced the possibility of something new, a planetary perspective and presence. Launched in the space age through the profound paradigm shift of the overview effect (i.e., the change in consciousness astronauts realize upon seeing the Earth from above), modern information and communications technologies (ICTs) bring it down to those of us stuck on the surface. With head in the clouds and feet on the ground, we see the Earth anew as human perception shifts from me living on Earth, to we are the Earth living.
Explore Google Earth Engine Timelapses (1984-2020)
Meet Google Earth Engine
Launch interactive timelapses
Additional Resources Supporting the Google Earth Engine