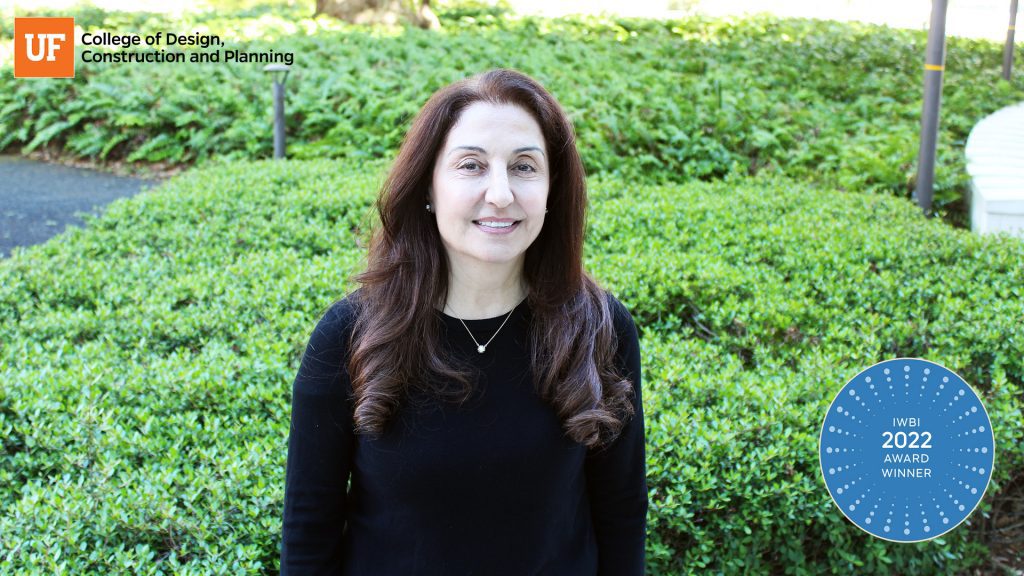 By: Kyle Niblett
March 21, 2023
University of Florida College of Design, Construction and Planning Instructional Associate Professor Bahar Armaghani has been selected by the International WELL Building Institute (IWBI) as a recipient of a 2022 IWBI WELL Faculty Changemaker Award, recognizing outstanding members of the WELL Faculty and WELL Accredited Professional (AP) community. As the director of Sustainability and the Built Environment (SBE) and UF's Green Building Learning Collaborative (GBLC), Armaghani joins a cohort of honorees from around the globe who are leading the charge to revolutionize the impact our buildings, organizations and communities have on health, equity and quality of life.
"I am honored and humbled to receive this award from IWBI and be in the company of other incredible recipients," Armaghani said. "I am very fortunate to be at UF and be able to pioneer the introduction of WELL Building Standard to our students. I believe it is the faculty's responsibility to bring the very latest and best to our students. Sustainability in the built environment is complete with addressing the health and wellbeing of the people too, and that is what WELL provides."
In 2014, Armaghani established LEED Lab, the fourth internationally to teach the application of green building standards and strategies using campus buildings with focus on the skills needed in the green building industry. In 2020, her students delivered LEED V4.1 EB: O+M Gold certification for an on-campus building, the first certified building by students in Florida and the 11th internationally. Nearly 100 students enrolled in LEED Lab have earned their LEED Green Associate (GA) Accreditation upon graduation or soon after to be marketable in the green building industry. Armaghani established UF's LEED program and has managed and administered more than 135 LEED projects at UF and outside including 13 LEED Platinum certified buildings. Armaghani was one of the first three LEED Fellows in the state of Florida and has been active with U.S. Green Building Council (USGBC) locally, nationally, and internationally.
After COVID-19, the health and wellbeing of the people in the built environment became more of an interest to everyone and WELL Building Standard's holistic approach to the health and wellbeing of the people in the building was apparent to be the next new thing.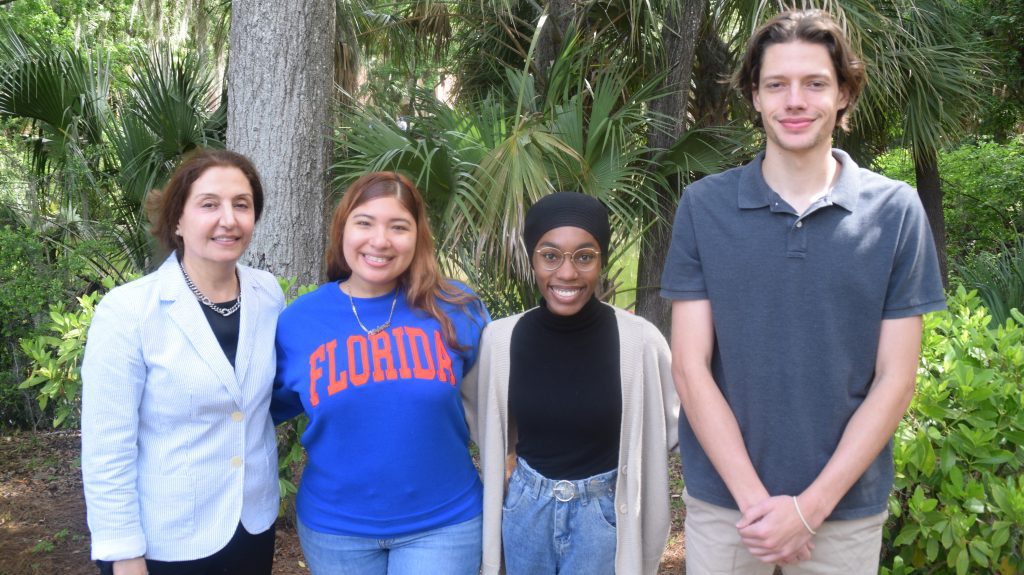 In 2021, Armaghani established the first WELL Practicum/Lab globally to teach students the application of the WELL Building standard using campus buildings in collaboration with Professor Dr. Lisa Platt from the UF Department of Interior Design and with the support of IWBI.
"Students with WELL AP and LEED GA credentials have been recruited by top firms and organizations in the industry," Armaghani said. "The success of the WELL Practicum/Lab is due to the support of our industry partners such as Siemens, which funded all testing equipment through their $50,000 grant, and Epsten Group, which helps with professional services such as funding accreditation exams for our students for WELL and LEED certification."
WELL Faculty and WELL APs—a community of around 11,500 people in more than 100 countries whose professional credential denotes expertise in WELL—have worked hand in hand with companies and clients who have adopted IWBI's WELL programs including the WELL Building Standard, WELL ratings and WELL at Scale, now collectively span nearly 4.6 billion square feet across 125 countries. The 2022 award winners have influenced WELL's progress through action, feedback and proactive support.
"The WELL movement has seen tremendous growth over the past year, as organizations and individuals alike have championed strategies that contribute to health, well-being and people-first places everywhere," IWBI Chief Product Officer Jessica Cooper said. "These awards recognize the standout contributions – the advocacy, engagement and leadership – that the recipients have taken forward to influence this growth."