By: Kyle Niblett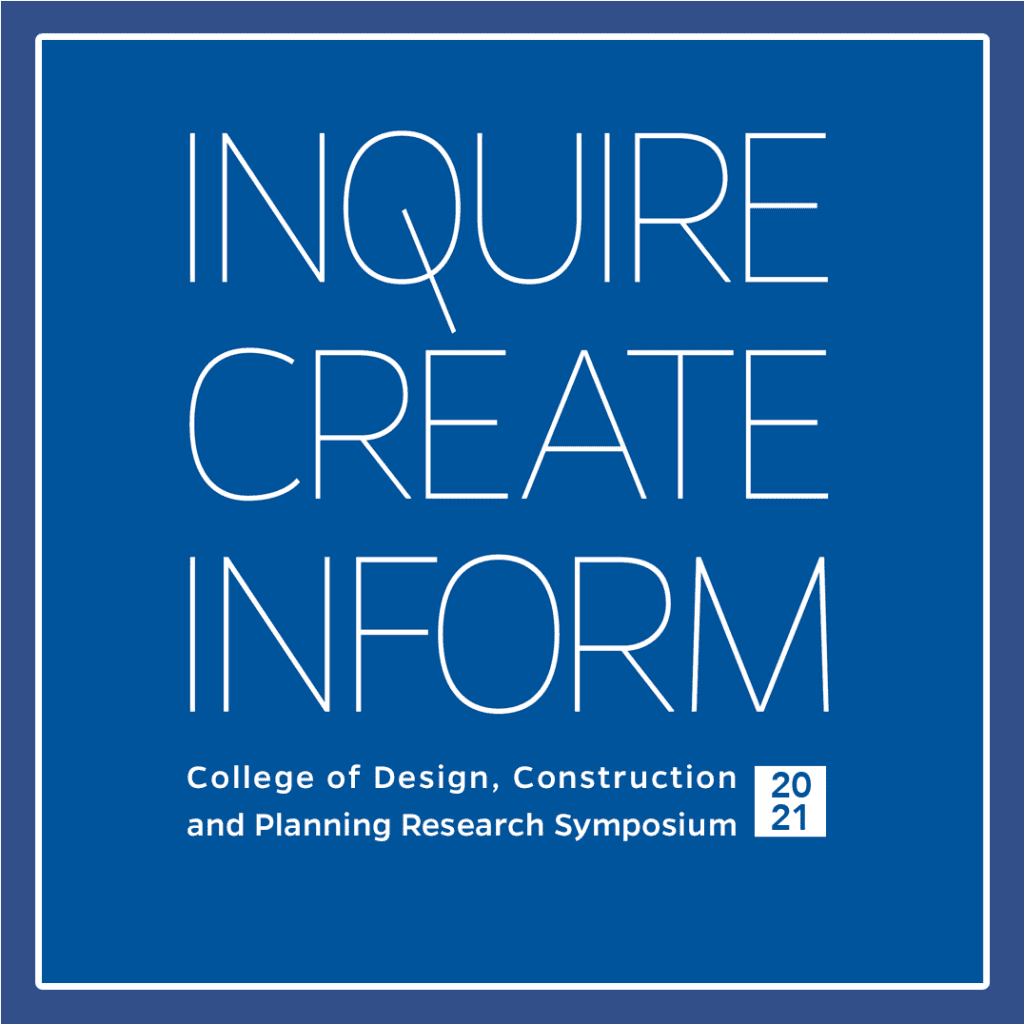 Highlighting cutting-edge research from faculty and students representing a top five public university, the University of Florida College of Design, Construction and Planning will host the 13th Annual DCP Research Symposium this Tuesday and Wednesday, Nov. 9-10. 
"Each year our research symposium allows us to come together as a community of scholars and hear about the exciting research underway in the college," DCP Associate Dean of Research + Strategic Initiatives Dr. Margaret Portillo said. "It is inspiring to hear our faculty, students and research share their work, both in-process and published research. Being able to respond to this scholarship is valuable and this year we have blocked more time than last year for questions and breakout discussions."
The two-day special event begins Nov. 9 at 1 p.m., when original student scholarship will be celebrated in the always-popular poster session. This virtual event will feature graduate and undergraduate students who are ready to present their scholarship, in various stages of completion, to the DCP community and all those attending the symposium.
Following the competition jury panel and awards discussion, day one rolls along with a session entitled, "Future Visioning: Exploring Equity & Resilience." The two-hour highly interactive panel features Dr. Azza Kamal as moderator and a dynamic expert panel including: Sameh Wahba (World Bank), Stewart Sarkozy (Resilient Cities Network), Amy Knowles (City of Miami Beach) and Jeff Carney (Florida Institute for Built Environment Resilience).
On Nov. 10 at 11 a.m., the symposium kicks back up with an exciting six-on-five lightning round discussion with new DCP faculty members Maria Watson, Chaofeng Wang, Karla Saldaña Ochoa, Luis Meija Puig, Julie Mah and Eva Agapaki. Other day two highlights include research sharing and discussion with DCP's research center and institutes, as well as an event-closing discussion on placed-based inquiry.
"So, take a few minutes to register today," Dr. Portillo added. "Sign up for the entire symposium or select a session or two to attend. Show support for our student researchers and come to their virtual poster session. I also encourage you to pass the registration link to others who would be interested in learning about research. Let's continue to expand our sphere of influence."
All interested individuals and the public are encouraged to register for this invigorating meeting of the minds by clicking here. The deadline to register is Monday, Nov. 8, at 5 p.m.
DCP Research Symposium Highlights
Nov. 9: 1-3 p.m.
Student poster session, followed by jury comments and awards
Support Student Researchers:  No doubt students will appreciate your feedback in this interactive poster session
Nov. 9: 3-5 p.m.
Future Visioning: Exploring Equity & Resilience
Be part of a visioning session on Equity & Resiliency in the Environment!
Learn from a Blue-Ribbon panel about societal repercussions and impact 
Features DCP faculty members Dr. Azza Kamal and Jeff Carney, as well as thought leaders Sameh Wahba, Stewart Sarkozy, Amy Knowles and Michael Hess.

Nov. 10: 11-11:45 a.m.
New Voices: Expanding Our Academic Community
Nov. 10: 12-1:20 p.m.
Models of Multi-Disciplinary: Research Sharing & Discussion
What's up? Check out the high impact, multidisciplinary work in some DCP centers
Featuring:
Breakout Rooms (4) with Center Directors 
Nov. 10: 1:30-3 p.m.
Cross-College Research Sharing: Placed-based Inquiry