By: Kyle Niblett
October 19, 2022

Dave Schmit (BBC '83, MSBC '83), Rob Springer (BBC '84) and the late Dr. Charles Kibert were inducted into the M.E. Rinker, Sr. School of Construction Management Hall of Fame Oct. 8 on the campus of the University of Florida. The Hall of Fame honors those who have truly distinguished themselves in the construction profession.
"We have more than 8,000 alumni, so to see how few names are on this wall shows you how prestigious this honor is," Rinker School Director Dr. Robert F. Cox said at the ceremony. "This Hall of Fame is the highest honor that this school can bestow on anyone."
Schmit was inducted as a distinguished builder after founding Schmit + Associates, a Georgia-based company which creates one-of-a-kind town-centered places. From building paper mills to shopping centers to residential communities in the Atlanta Metro area, the Rinker Industry Advisory Board emeritus member has focused on providing quality of life improvements and economic opportunity for people in the communities he serves. To this day, the 2010 Rinker Distinguished Alumni Award recipient and Schmit + Associates principal continues to give back to UF as an annual guest lecturer to graduating seniors, sharing his views on ethics and operations in the development industry.
"Whether it was working on petrochemical plants, paper mills, commercial buildings, houses and now land, Rinker School prepared me for every step." Schmit said. "This school will serve anybody that wants to do anything in our industry. I am honored to be here and could have never dreamed of this."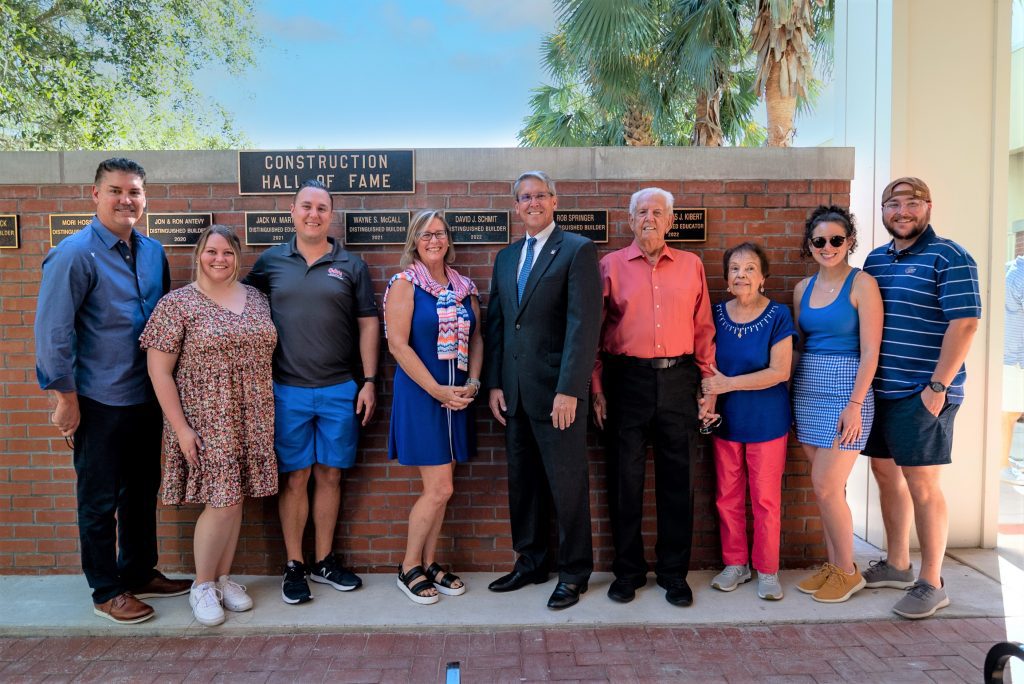 Springer was voted to the Hall as a distinguished builder after a meteoric rise through Springer-Peterson Roofing & Sheet Metal. The first-ever president of the student chapter of the Associated Builders and Contractors Association joined Hubbard Construction of Orlando immediately after graduating, serving as a project manager on several construction projects including Lake Nona Golf and Country Club Community, and the expansion to the Melbourne Airport. In 1985, he joined Springer-Peterson, replacing one of the original partners, Brooke Peterson, and served as the Vice President of Operations until 2006. Upon the retirement of his father Don Springer, the Rinker alum became president in 2006, and continues to serve in that role currently.
"Gators take care of Gators, so when you leave here, it is your responsibility to take care of the Rinker students who are coming behind you,'" Springer said. "When I think about my Rinker memories and how they have affected my life, it has without a doubt created some of the most amazing opportunities that I never thought would come. It has truly changed my life."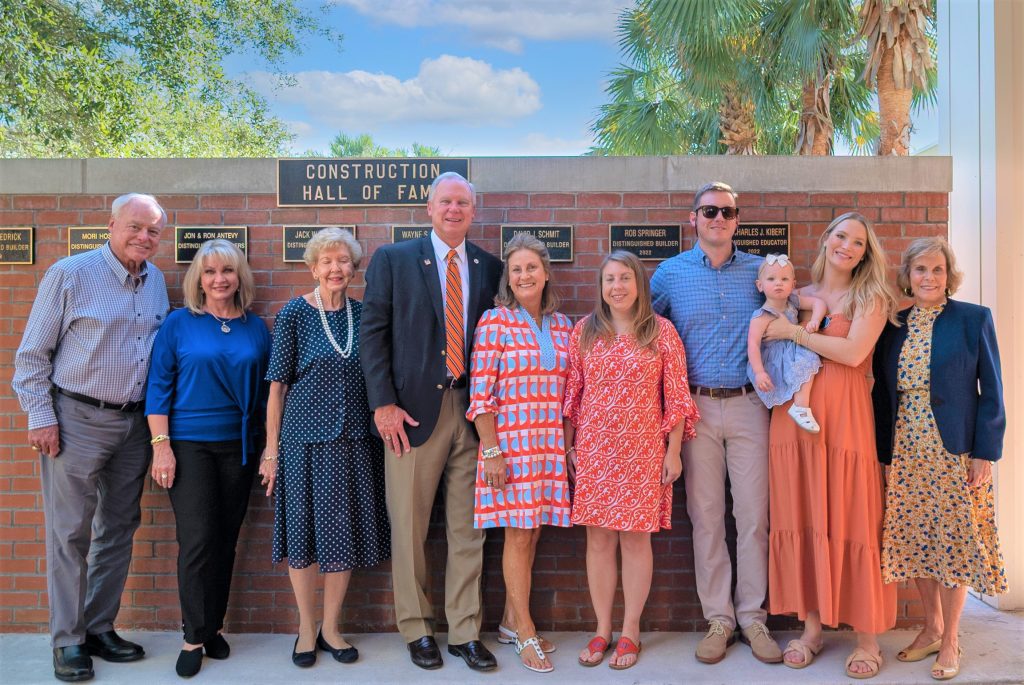 Kibert was enshrined as a distinguished educator after serving at Rinker as a director and faculty member for more than three decades. The former Holland Professor and director of the Powell Center for Construction and Environment played a major part in the design and construction of Rinker Hall, the first green building of almost 80 on the University of Florida campus. He also was the co-founder and chairman of the Cross Creek Initiative, a non-profit industry/university joint venture seeking to implement sustainability principles in construction. In addition to his environmental efforts, Kibert helped in the process of bringing a landmark in Gainesville's African American community back to life.
Tragically, Kibert passed away on Jan. 25, 2021. Speaking on behalf of the Kibert family were former Rinker Directors Dr. Robert J. Ries, Dr. Abdol Chini and Dr. Raymond Issa. Kibert's wife Patricia accepted the plaque on behalf of the Kibert family.
"For more than 30 years, Dr. Kibert provided leading-edge research and instructional excellence to students at the Rinker School," Issa said. "His passing has been a devastating loss to the global sustainability, construction, and net-zero energy communities. My friend's personal impact will never fade, and his legacy will surely live on to inspire many generations to come."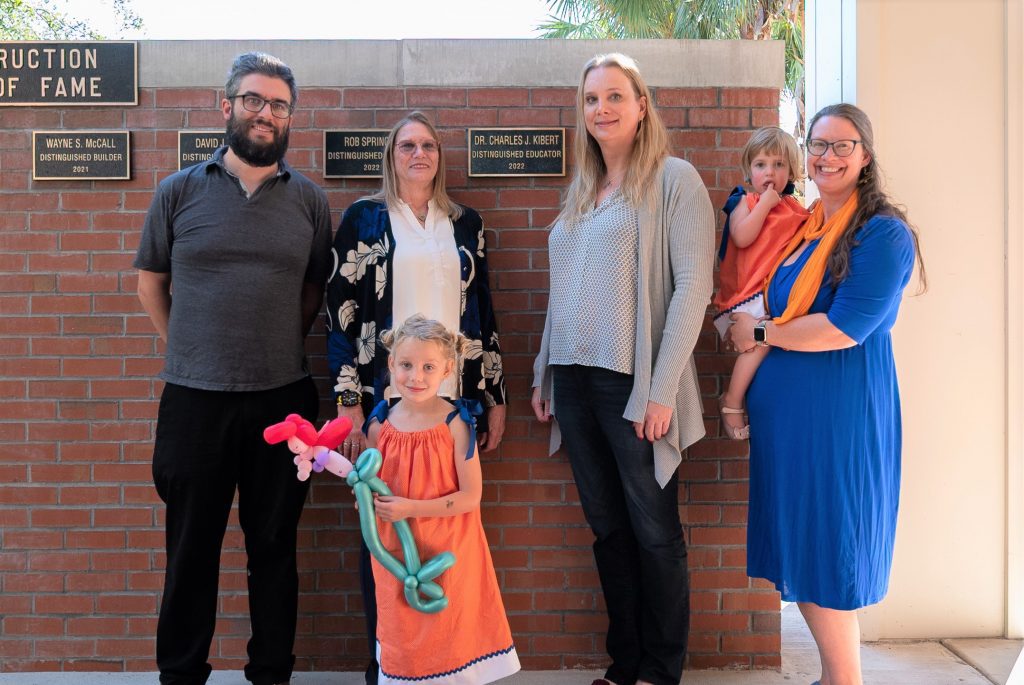 The event was hosted by 2009 Hall of Fame member Steve Palmer and attended by a plethora of other Hall of Fame members, including UF Board of Trustees member David L. Brandon (2016), Curtis Culver (1997), Robert P. Angle (2012) and Dale R. Hedrick (2009).
"Our Hall of Fame is in a highly visible location and serves as a constant reminder to students, faculty, staff and alumni of what greatness looks like as they enter Rinker Hall," Cox said. "Students have told me in the past week their goal is to end up on this wall. This serves as great inspiration to them."
For more information on the Construction Hall of Fame Class of 2022, click here.
WATCH REPLAY