Friday, October 6, 2023
By: Kyle Niblett
With construction beginning on the new Bruno E. and Maritza F. Ramos Collaboratory later this month, excitement was at an all-time high at the Seventh Annual University of Florida College of Design, Construction and Planning Leadership Summit. Thursday's event was held inside the John and Anne Sofarelli Family Gallery and was attended by the following unit advisory boards:
Dean's Advisory Council (DAC)
School of Architecture Advisory Council
Rinker School Industry Advisory Board (RSIAB)
Department of Interior Design Advocacy Board
Department of Landscape Architecture Advisory Council
Department of Urban and Regional Planning Advisory Council
Green Building Learning Collaborative (GBLC)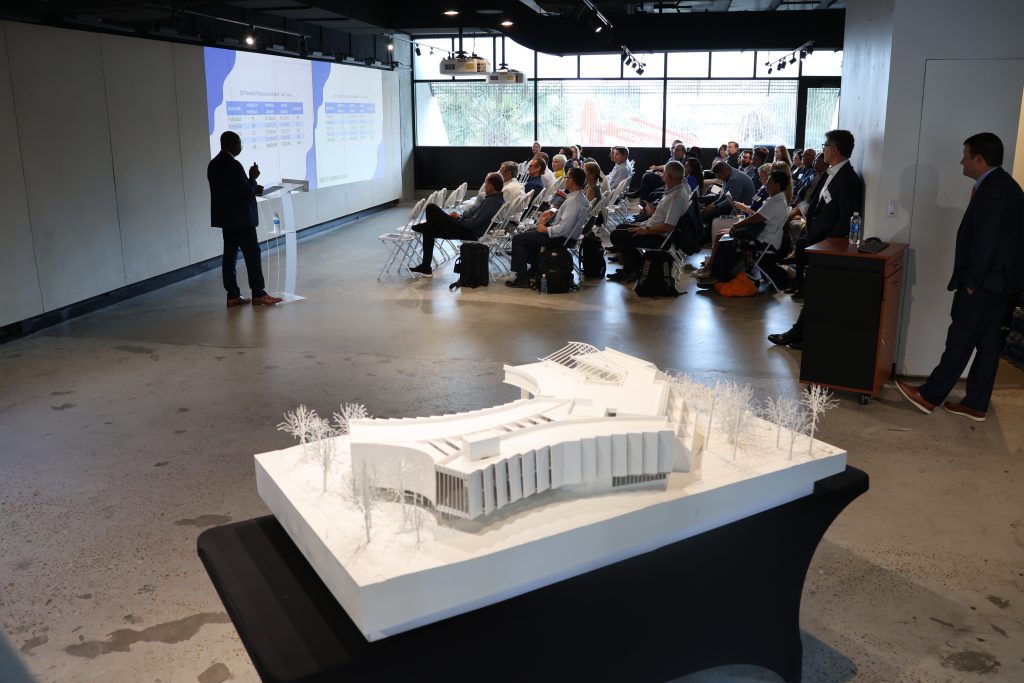 Dean Chimay Anumba opened his "State of the College" address announcing the college's goal of celebrating the upcoming DCP Centennial (2025) in the new Collaboratory. Anumba also informed everyone there had been a 29 percent increase in undergraduate enrollment since he arrived in 2016. In addition, the crowd was told the number of research and scholarship proposals, the value of said proposals and the value of awards all increased from the previous fiscal year.
"We are most grateful to our advisory board members for making this collective OneDCP vision become a reality," Anumba said.
The sentiment for the Dean was the same for those in attendance, including 2023 UF 40 Under 40 Honoree Laurie Hall (BLAE '09) of CHW.
"I think that Dean Anumba has done such a fantastic job of really engaging our professions, appealing to our alumni and bringing maximum exposure to the college," Hall said. "As an alumnus, I think it makes everyone in this room really proud and excited for the opportunities and initiatives that are happening."
Following the dean's address, Associate Dean Nancy Clark updated the boards on the facility improvements throughout the college, including the upcoming renovations to the Architecture Building. Work on getting the building up to code and ADA compliant is scheduled to be completed in the next 10 months. Clark similarly went over the facility enhancements from this past fiscal year.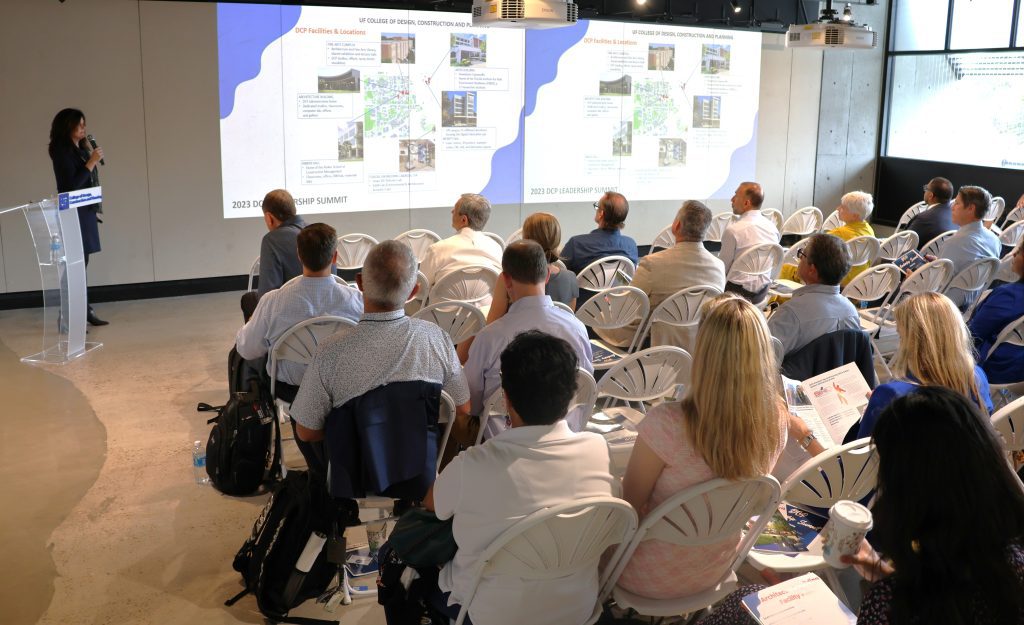 Executive Director of Advancement Seth Watts spoke after, announcing the total amount of giving to the college had risen 274 percent from 2017. Watts also explained how the college has engaged its alumni with trips and events around the world.
Associate Director of Communications Joey Mazzaferro wrapped up the Summit informing the group about DCP's new collegewide marketing and communications plan, as well as the new graduate admissions website.
"After listening to all the presenters today, I believe that DCP has an opportunity to really make an impact not only at the college or the state level, but globally," said Domenic Scorpio (BDES '94, MBC '96), who is the president and CEO at Scorpio Corporation. "What we're accomplishing at DCP is really a model that is going to be used at different schools, communities and industries throughout the nation. Ultimately, our college is going to have a profound global impact on the way we deliver the built environment to the world."