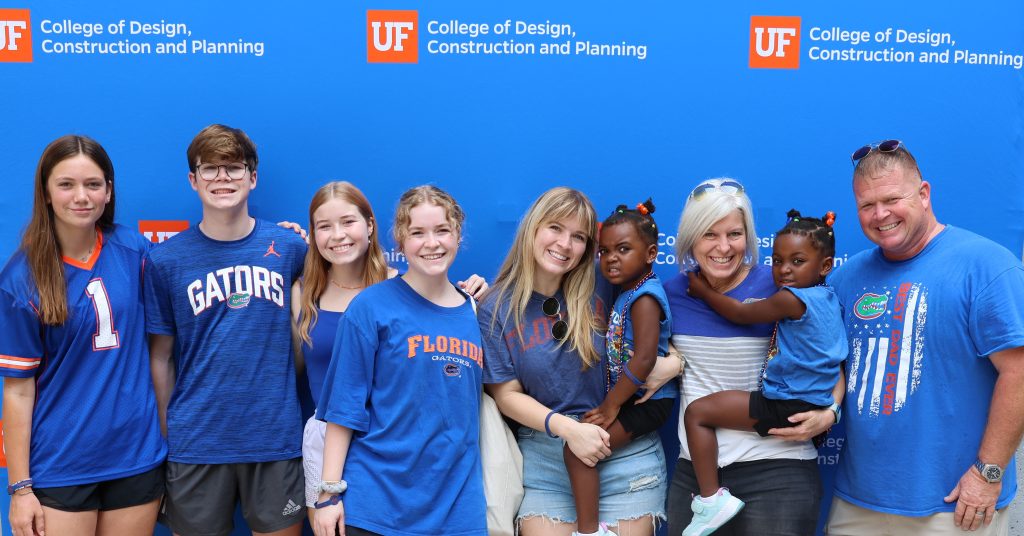 Monday, October 9, 2023
By: Kyle Niblett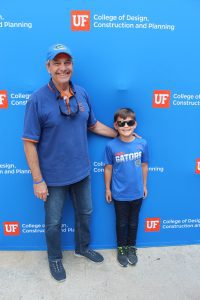 Sponsored by Robins & Morton as well as Hawkins Construction, hundreds of University of Florida College of Design, Construction and Planning alumni descended upon the Architecture Building Atrium Saturday for the annual alumni tailgate. Those in attendance caught up with old friends, reminisced about legendary studio stories and got a glimpse of the future.
For two-time DCP graduate Mario Cartaya (BARCH '74, MBC '75), meeting and inspiring current students was the highlight of his homecoming week festivities, which culminated at the tailgate Saturday.
"My life completely changed when I came to the University of Florida," said Cartaya, who missed coming home so much he eventually moved back to Gainesville following retirement. "Being able to help students accomplish the same dream that DCP provided me is one of the reasons I moved back and am here today."
With football on the brain as it usually is on homecoming weekend, attendees were delighted to see 2003 first-team All-American offensive lineman and current Sonny's BBQ Pitmaster Shannon Snell serving up breakfast and lunch. Attendees feasted on large portions of bacon, eggs and grits, while late arrivals stuffed their faces with a scrumptious lunch spread featuring brisket, pulled chicken and pulled pork. As kids tossed the pigskin and played tailgating games, adults enjoyed the spacious beer garden courtesy of Gainesville's own Cypress and Grove Brewing Company.
Featured in the beer garden were a model, renderings and even a video fly-through of the upcoming Bruno E. and Maritza F. Ramos Collaboratory, scheduled to open in 2025. Many alumni commented on how impressive it was to see Dean Chimay Anumba's dream turned into a reality.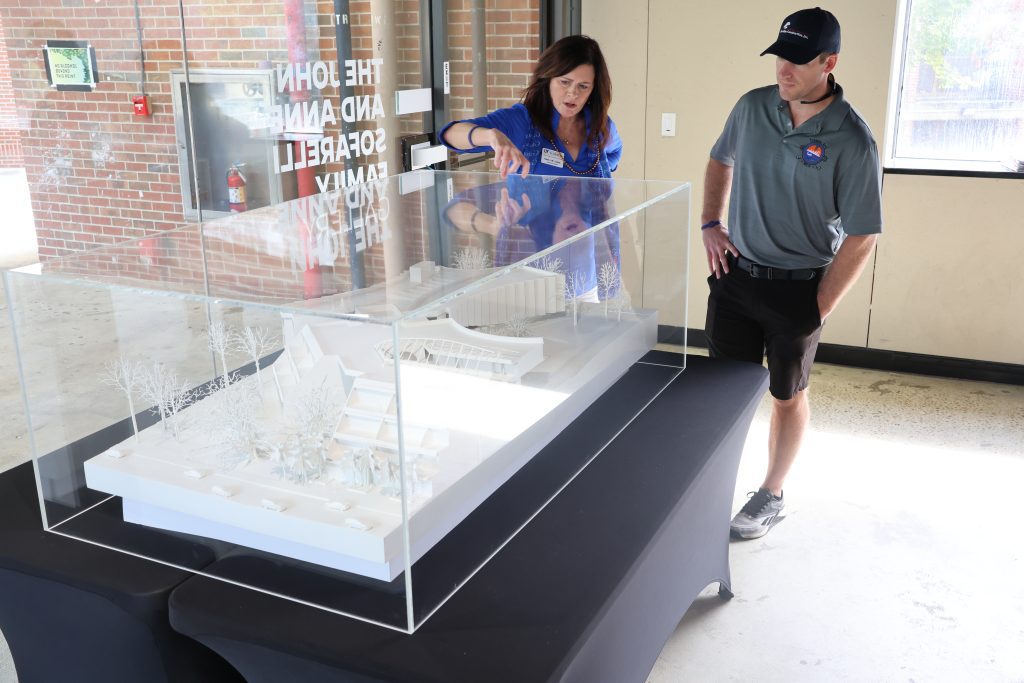 "Dean Anumba's OneDCP vision has transformed the college into something that wasn't here when I was here," Bryan Kornblau (BBC '81) said. "Back in the early eighties, each unit was on its own and every student was on their own. Here we are 40 years later, and we have really come together to truly be one family."
Fellow 1981 M.E. Rinker, Sr. School of Construction Management graduate David Brandon agreed.
"With the Wall Street Journal recently ranking UF as the number one public university in the entire country, I firmly believe that we are in the best position we have ever been as a university and as a college," the current UF Board of Trustees member said.
For more information on DCP Alumni events, follow the college on Twitter, LinkedIn, Facebook and Instagram. You can also email alumnmi@dcp.ufl.edu to sign up for DCP's monthly alumni newsletter, Perspective.