Tuesday, October 10, 2023
By: Kyle Niblett
Mike Santarone (BCN '83) and Jeff Nelson (BCN '90) were welcomed into the M.E. Rinker, Sr. School of Construction Management Hall of Fame in a ceremony Saturday morning at Rinker Hall. The Hall of Fame honors those who have truly distinguished themselves in the construction profession.
"Rinker has 8,000 active alumni with a starting salary of $73,000 and a 100 percent job placement, and so what happens in this program is emblematic of what we want to have happen more broadly across the whole university," said UF President Ben Sasse, who was on hand to honor both men's contributions to the University.
Thanks to Santarone's service as vice-chair and president of the Rinker School Industry Advisory Board (RSIAB), a new generation of Rinker students are beginning to reap the benefits of the Rinker Renovation Project. His leadership resulted in modernized facilities and enhanced the student experience in Rinker Hall. The 2022 Rinker Distinguished Alumnus Award winner is the executive chairman of Jacksonville-based Stellar, where he has served as the lead executive driving the company's strategic vision and is responsible for its direction and growth. Stellar is an industry-leading AEC firm, with more than 750 employees worldwide across nearly 50 support locations throughout the United States, China, the Middle East, and North Africa.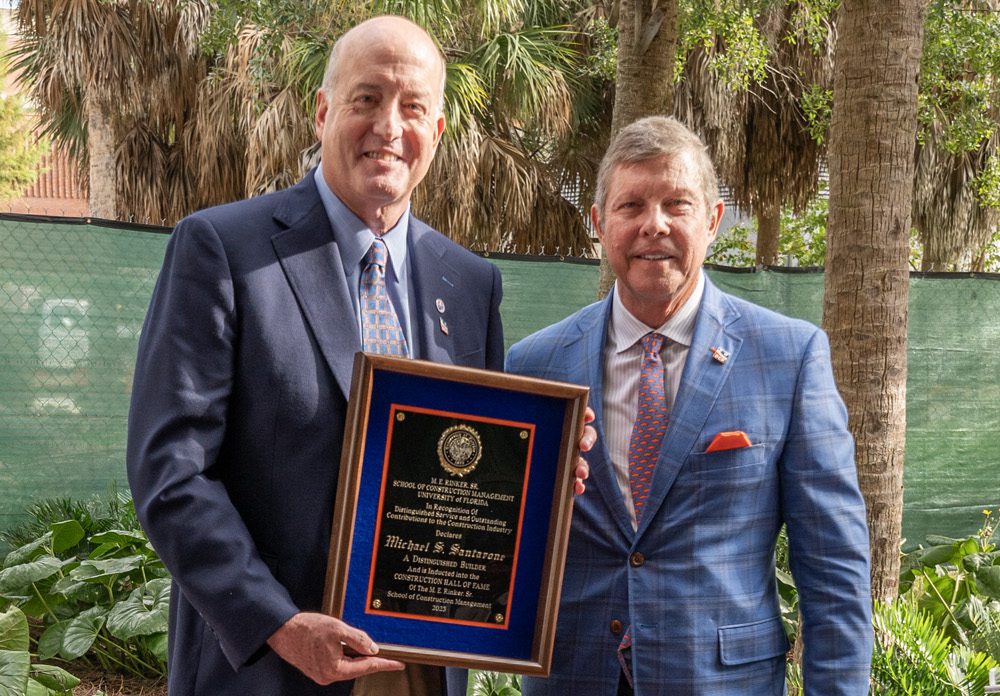 "I want to thank the Hall of Fame committee, especially Steve Palmer and all the Hall of Fame members," Santarone said. "I am humbled to be sharing this space on the wall with you today. Having personally visited five of our peer schools recently, I can honestly say we are the best construction program in the country. There is nobody even close."
Nelson, a 2012 recipient of the Rinker Distinguished Alumnus Award, also served many years on the RSIAB, while continuing to be a major supporter of the Rinker School. Since 2006, he has personally sponsored the award-winning Heavy Construction Student Competition Team. The Gator great has been president of David Nelson Construction since 2008, and is actively involved in several organizations, including: Associated Builders and Contractors, Associated General Contractors, Suncoast Utility Contractors Association, and Florida Transportation Builders Association (FTBA).
"This induction is quite a stunning honor that I never expected to happen," Nelson said. "I never imagined my name would be associated with so many prestigious names on this wall."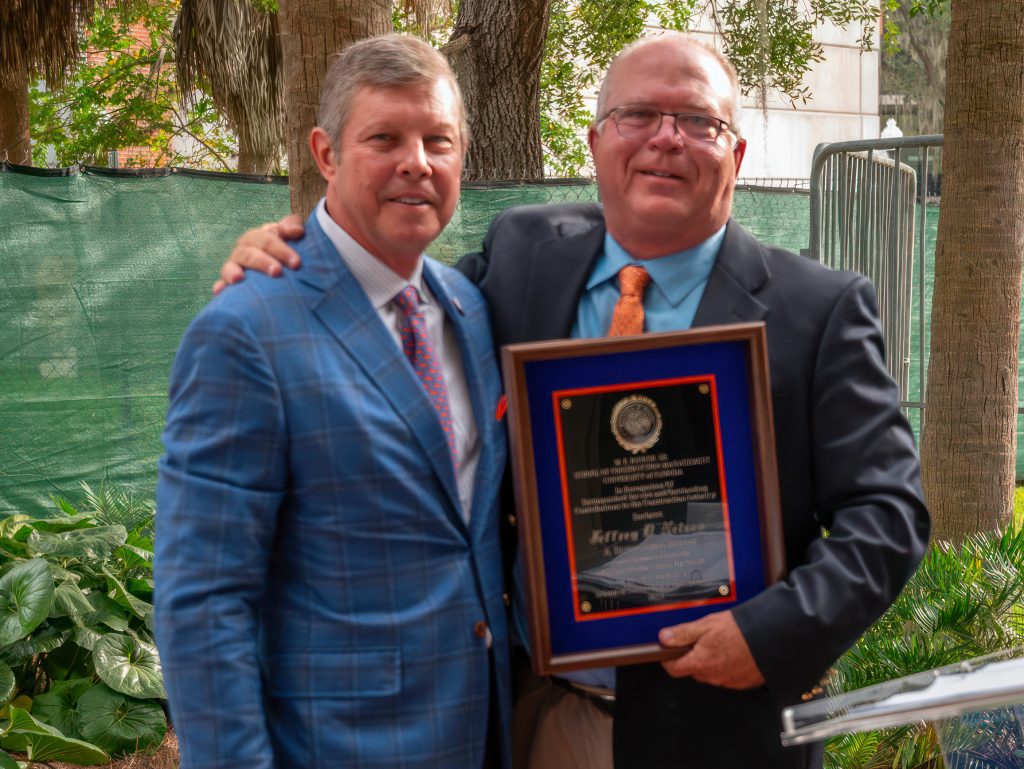 Due to Rinker having more than 8,000 alumni and only a handful of names in the Hall, the two Rinker legends each received standing ovations in front of fellow members of the Hall and a plethora of Rinker faculty and alumni. One of them was 2016 inductee and event host David L. Brandon (BCN '81), who serves as member on the UF Board of Trustees and Rinker Industry Advisory Board.
"I firmly believe, that with the continued leadership of Dean Chimay Anumba and Rinker Director Robert Cox, the support of our Hall of Fame legacy members who have come before, and the support and legacy of the great leaders we have inducted here today, that the Rinker School is blessed with an extremely bright future," Brandon said to wrap up the event.