Wednesday, October 4, 2023
By: Kyle Niblett
More than two dozen University of Florida College of Design, Construction and Planning students gathered inside the John and Anne Sofarelli Family Gallery Thursday morning, hearing from some of the brightest and most successful business owners in the built environment at the annual DCP Entrepreneurship Summit.
Students soaked in the knowledge and advice from keynote speaker Jon Antevy (BDES '93, MSBC '94), who created this event five years ago to give back to his college. Antevy, alongside his brother Ron, famously used his master's thesis from the M.E. Rinker, Sr. School of Construction Management to build a $500 million company. His message to those in attendance were lessons from his own journey as one of the most triumphant entrepreneurs in UF history.
"Chase what you love to do, tap into your passions, make bold moves early in your career and focus on your efforts," the two-time DCP graduate said. "Those things can help you have a satisfying career for yourself as well as those around you."
Following the keynote, Antevy hosted a panel with some DCP alumni who were featured on the 2023 UF Gator100. Among those giving back to the college were Bruno-Elias Ramos (BDES '82, MARCH '85) of Action Equipment, Eric Kleinsteuber (BDES '02, MARCH '04) of KMF Architects, Matt Carlton (BSBC '02) of Carlton Construction and Anthony Virzi (MBC '14) of East Coast Construction Group. The quartet spoke frequently of the work ethic and determination required to be successful as a startup, and how adversity should not define you as you push yourself forward.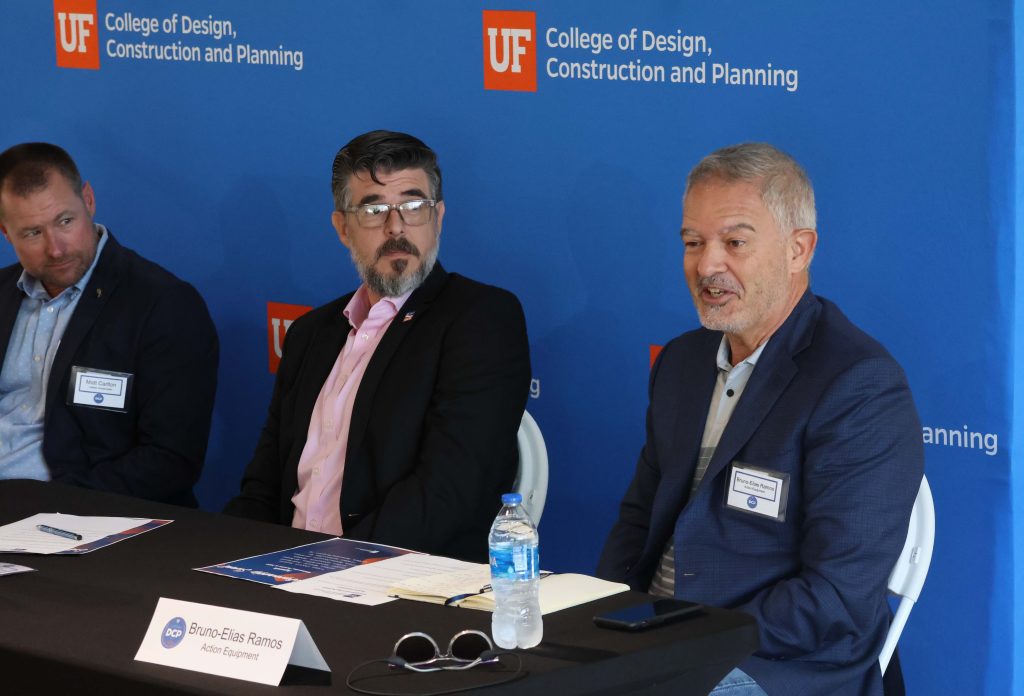 "You have to be all in," said Ramos, who recently made a transformational gift to the college resulting in the new Bruno E. and Maritza F. Ramos Collaboratory scheduled to open in April 2025. "As students, you spend endless nights here working on school projects. There were nights when we first started our business where we did not sleep. However, that pressure is what turns coals into diamonds. Embrace the pressure – don't be afraid of it or walk away from it."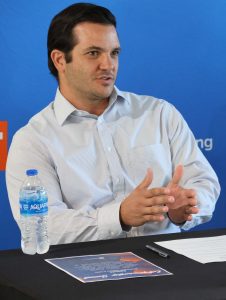 One person who wasn't afraid of it was Virzi, who told a story of how he took the advice from his wife of, "If you are going to do it, do it, but do 110 percent." By working three jobs when he first started, he learned the value of heart, grit, and grind.
"When you decide that being an entrepreneur is something you want to do, you must have a vision and find out how to fulfill it," Virzi said. "When you feel that push, you have to seize the moment."
DCP Entrepreneurship Club President Francisco Martell hosted the event and was blown away by what he heard from the guests of honor.
"The biggest takeaway for us as students was that no matter what path we choose to go down as future business owners, we must have an 'All In' mindset," Martell said. "We are extremely appreciative of all of the speakers for taking time out of their busy schedules to be with us today."