By: Kyle Niblett
April 14, 2023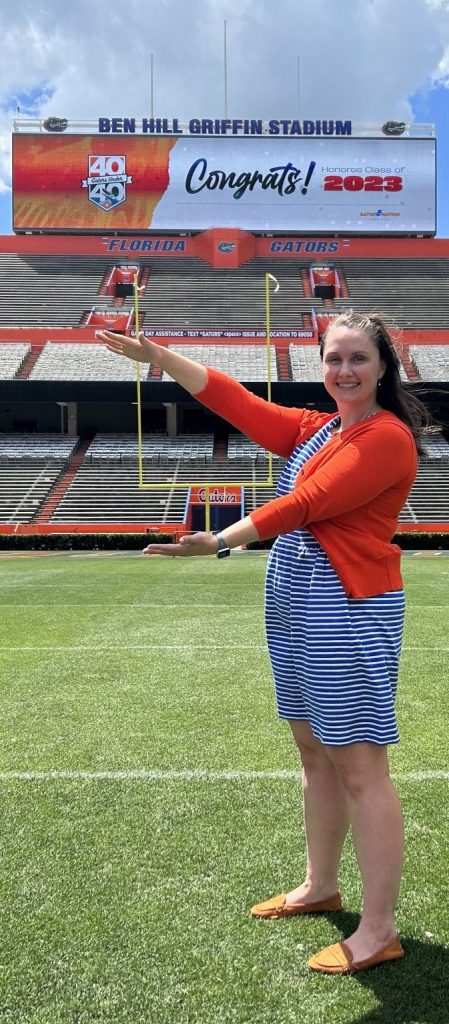 University of Florida College of Design, Construction and Planning graduate Laurie F. Hall (BLAE '09) was one of a select group of UF graduates selected to this year's prominent "40 Gators Under 40," the university announced Friday.
Presented by the UF Alumni Association, the annual awards program was established in 2006 to recognize alumni under the age of 40 whose achievements positively reflect The Gator Nation. Criteria for the competitive award include making a significant impact on the candidate's industry and having civic or professional accomplishments at the state, national or international level.
As a landscape architect, Hall goes from spaces large to small, and from interiors to exteriors, in her work as principal with CHW Professional Consultants in Alachua, Florida. The firm specializes in planning, surveying, engineering, landscape architecture and ecological and construction services. With her work being local, Hall has continued to give back to DCP, representing the college at national conferences, participating annually in the college's Women of Influence event, and routinely coming to campus for studio reviews and lectures.
"I am grateful for those who have supported me in my career, and I take any opportunity to support those coming along, especially UF students," Hall said. "My advice to DCP students is to always have a mentor and be a mentor." During her career, Hall has worked on a wide range of award-winning projects throughout the southeastern United States. Her extensive portfolio includes campus design and planning projects for the University of Florida, UF University Athletic Association and UF Health. The current American Society of Landscape Architects (ASLA) Florida Chapter President is an advocate for sustainable community design and is passionate about creating places that provide opportunities for people to live, work and play.