By: Kyle Niblett
Three University of Florida College of Design, Construction and Planning students were recognized as part of the 2023 Metropolis Future 100, the organization announced April 10. The Future 100 list honors the top graduating architecture and interior design students in the United States and Canada, with part of the competition process including the submission of their design portfolios. As a popular architecture and design trade publication, recognition from Metropolis puts these design students in the sightline of a lot of top architecture and design firms.
Dana Shores and Moises Villanueva represented DCP's School of Architecture, while Lafayette Bonner was recognized from DCP's Department of Interior Design.
"The college is so proud of these three extraordinarily talented graduate students," said Nancy Clark, DCP Associate Dean for Undergraduate Education and Facilities. "They are all very deserving of this national recognition, and we look forward to their future success."
For more than four decades, Metropolis has been the architecture and design industry's most compelling storyteller. Each issue contains stories that link design to evolving cultural trends, from big data to the maker movement. In their print and digital editorial coverage, virtual and in-person events, awards programs, and advocacy initiatives, they speak to the future of architecture and design. These 'Future 100' are going to be the change-makers of tomorrow.
ABOUT DCP'S HONOREES
Lafayette Bonner
"Lafayette is a graduate student in our program and has demonstrated excellence in his studies during his time at the University of Florida. He came to us with an undergraduate degree in health sciences and it didn't take long to realize that he had found his passion in Interior Design. Lafayette is interested in healthcare design as a potential path. He is a well-rounded student with excellent skills in pre-design, space planning, design visualization and construction documents. He has received prestigious student scholarships both internally (James McFarlane Endowed Scholarship) and externally (Hospitality Industry Network, Sunshine Chapter). This past summer he put his research skills to practice during his internship at Gresham Smith, with whom he still holds part-time employment. Lafayette has a strong commitment to the profession and holds memberships at ASID and NEWH. He also has an entrepreneurial spirit and started a small design firm from which he has completed several projects, some of which are included in his portfolio. I see a great future ahead for Lafayette. He is talented, driven, and a pleasure to work with." – Roberto Rengel, Chair, UF Department of Interior Design
Dana Shores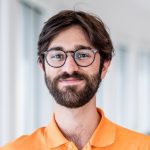 "Dana is a gifted designer who has built an impressive portfolio of work both as a student at UF and as a practitioner. His talent as a visual artist is evident in professional work that includes sculptural installations and infrastructural projects that act as public art. Dana worked with me as a Graduate Research Assistant on an exhibition of contemporary architecture in Ethiopia that will be exhibited at the Venice Biennale and impressed me with his design skills and dedication to his craft. He is an exceptional student." – David Rifkind, Director, UF School of Architecture
Moises Villanueva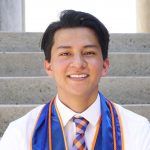 "Moises is a gifted designer whose work has been recognized by our faculty with multiple honors. He is an exceptional student who was selected for a highly coveted position as a Graduate Teaching Assistant in our undergraduate design studios. He has also held several volunteer positions in student organizations, which illustrates his commitment to service. Moises has distinguished himself as a student, teacher, mentor, and colleague." – David Rifkind, Director, UF School of Architecture