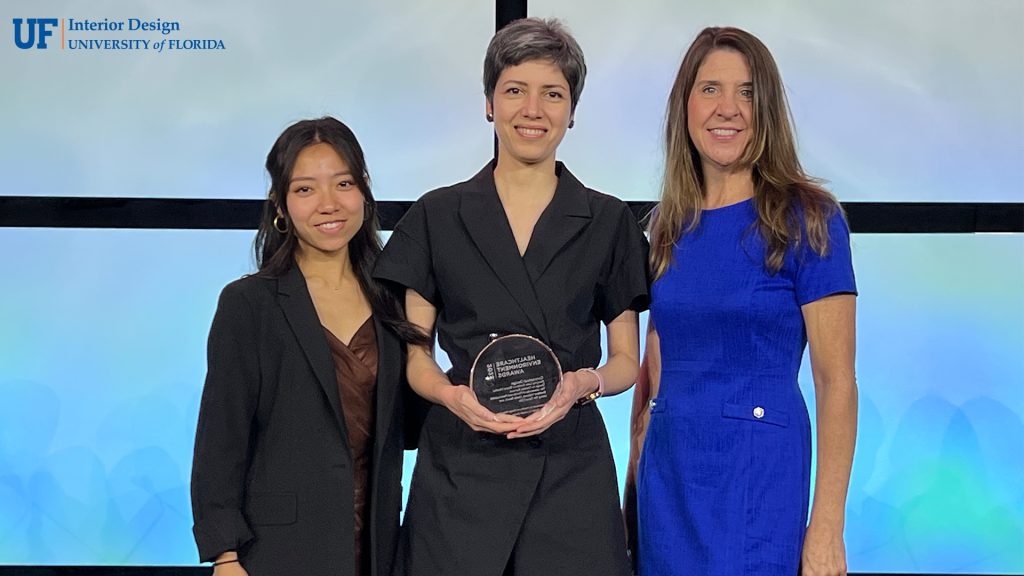 Wednesday, November 8, 2023
By: Kyle Niblett
With jazz music playing and beignets flying off hot plates inside the 2023 Healthcare Design Conference & Expo in New Orleans, University of Florida College of Design, Construction and Planning Associate Professor Sheila Bosch, Assistant Professor Shabboo Valipoor and recent graduate Tanya Chiu (BDES '20) arrived to a festive atmosphere Monday afternoon at the New Orleans Ernest N. Morial Convention Center to accept the 2023 Healthcare Environment Award.
An elite panel of jurors representing the Center for Health Design awarded the trio's project, entitled, "Reviving Care: Evidence-Based Mindful Design to Combat Burnout," with the nation's top healthcare and design award after agreeing that the project demonstrated high achievement in innovation and design excellence. In addition to the awards ceremony where they received a beautiful crystal award in front of their peers and colleagues, the Gators also received recognition in the Healthcare Design Magazine and on the Center's website.
Their award-winning research, initially funded by a seed grant from the DCP Dean's Office, and later one from the American Society of Interior Designers, focused on using design interventions to alleviate healthcare professionals' stress and burnout. The team's efforts continue to be ongoing, aiming to address critical needs within the healthcare system.
"It was so long ago that we first had the discussion about design for mindfulness, so to see the research-informed design win the nation's top award is so rewarding," Bosch said. "We had great leadership from Shabboo and tremendous design execution by Tanya. Our team has been honored to work with UF Health emergency medicine clinicians to conceive a staff-supportive emergency department that enhances the well-being of healthcare heroes on the front lines of emergent care."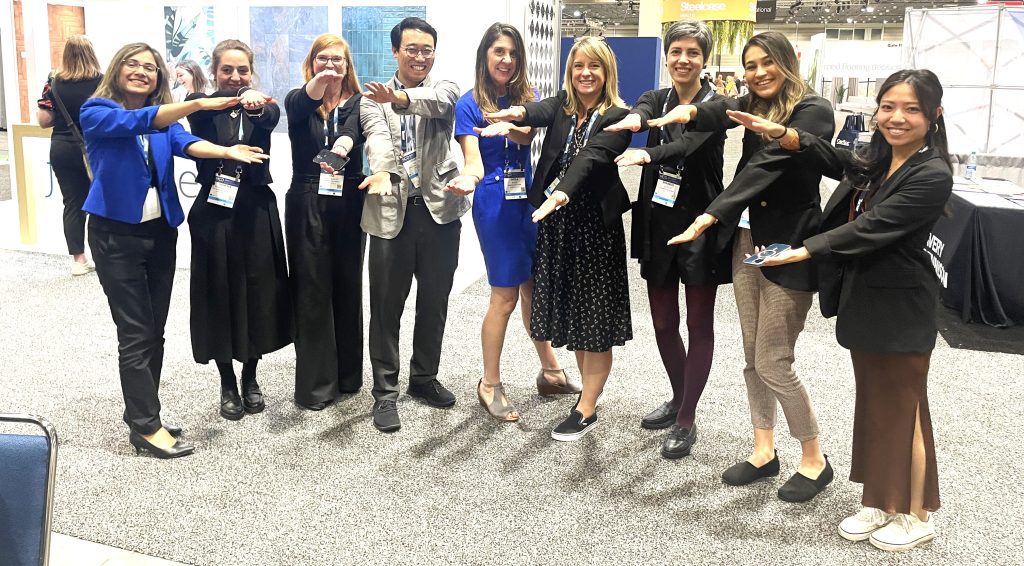 Not only was DCP recognized at the event, but the entire senior class from its Department of Interior Design was on hand to take part in the expo and network with colleagues around the world.
"Our students have been able to experience firsthand how the top design firms are applying research to create some of the most amazing healthcare projects around the globe," Bosch explained. "They can touch and feel the latest and greatest finishes and furnishings while also enjoying the sights and sounds of this historically beautiful city."