Friday, November 3, 2023
By: Kyle Niblett
On Thursday, Nov. 16, the University of Florida College of Design, Construction and Planning will get one step closer to the 50th Anniversary of the Department of Urban and Regional Planning (URP) in 2025 with its annual Ernest R. Bartley Memorial Lecture. The keynote speaker will be Florida Housing Coalition CEO Ashon Nesbitt, who received his master's degree in urban and regional planning from DCP in 2005.
"I am extremely honored to be selected as the keynote," said Nesbitt in advance of his upcoming speech. "Dr. Bartley had an enormous impact on the field of planning in Florida directly as a professional, and as an inspirational professor to students for many years. It is fitting to have such a lecture series in his honor so that we can continue his legacy."
Dr. Bartley is considered one of the founding fathers of URP at UF, having participated in the formation of the department in 1975. He retired formally from UF in 1992 but continued to teach until his death. During his 59 years of association with the University, he received seven teaching awards from two colleges for his outstanding teaching. The retired Lt. Colonel in the United States Air Force was on the graduate faculty and served as a member of several University-wide committees. Nesbitt's hope for students Nov. 16 is that they use the profession to positively impact people the way Dr. Bartley did.
"Though planning is highly technical, it impacts lives for generations and reflects our values," Nesbitt explained. "I hope students can make that connection during my speech."
Since its inception as a department, the entire URP community has played a part in how cities and towns in the Sunshine State have changed. Planning has always been intended to be forward-looking, with those in the profession imagining the world they want to see. What people see in Florida cities today is largely the intention of plans of the past – concentrated poverty, entrenched racial and economic segregation and representative of the values of society at the time reflected in our built environment. None of this has been done by accident.
"Now more than ever, we understand how planning impacts real estate development, housing affordability, physical health, and social interactions," the former UF Student Planning Association member said. "I am excited to emphasize to students that they have the opportunity to imagine world and use planning with intentionality and be remembered as a generation that valued justice."
If anyone knows about planning with intentionality, it's Nesbitt. He has worked in housing his entire professional career, starting first as a housing program administrator for Alachua County before moving into affordable housing finance and development. Currently, he leads a statewide organization supporting Florida's housing ecosystem through training, technical assistance, and consulting on best practices to produce and preserve housing affordable to everyone. Nesbitt credits URP Professor Dr. Kristin Larsen with his passion for housing.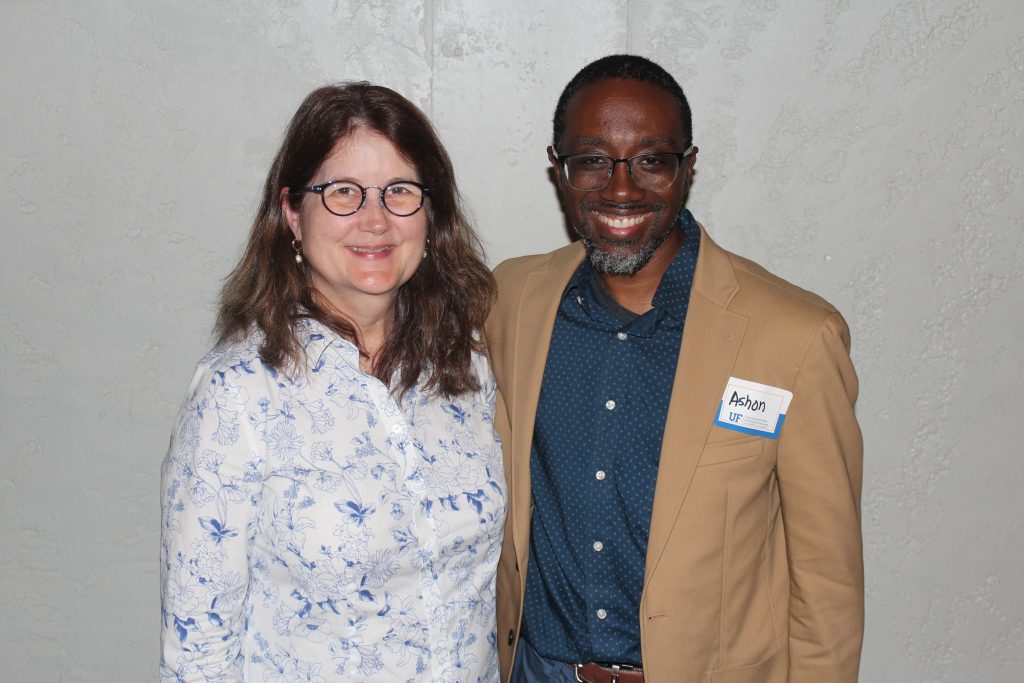 "My favorite course at UF was Housing Policy Debate with Dr. Larsen, who is a phenomenal professor," Nesbitt said. "I also really appreciate Dr. Larsen helping secure a scholarship for me to attend the Florida Housing Coalition's conference in 2004 as a student. That was the first time I met so many "housers." Who knew at that time I would one day have the honor of leading that organization?"
Currently based in Tallahassee, the former leader of the Florida Community Land Trust Institute as well as the Center for Racial Equity continues to rave about the strong foundation URP provided in both theory and practical skills. In addition to classes with Dr. Larsen, Nesbitt spent time at UF learning the foundations of our land use regulatory regime, GIS, and statistics. All these things he has drawn upon in his professional career. Knowing there will likely be some future planners in the crowd for his speech, the face of housing affordability in the state of Florida offered some valuable insight for those coming to his speech.
"There is a lot of opportunity in the field, both in the public and private sector," the 2023 URP Distinguished Planning Alumnus of the Year said. "Research the field, figure out what most interests you, and plan your education from there. Being situated at UF, a comprehensive research institution, I see URP taking advantage of the opportunity to draw daily from experts in all these areas to serve as a national leader in the field."