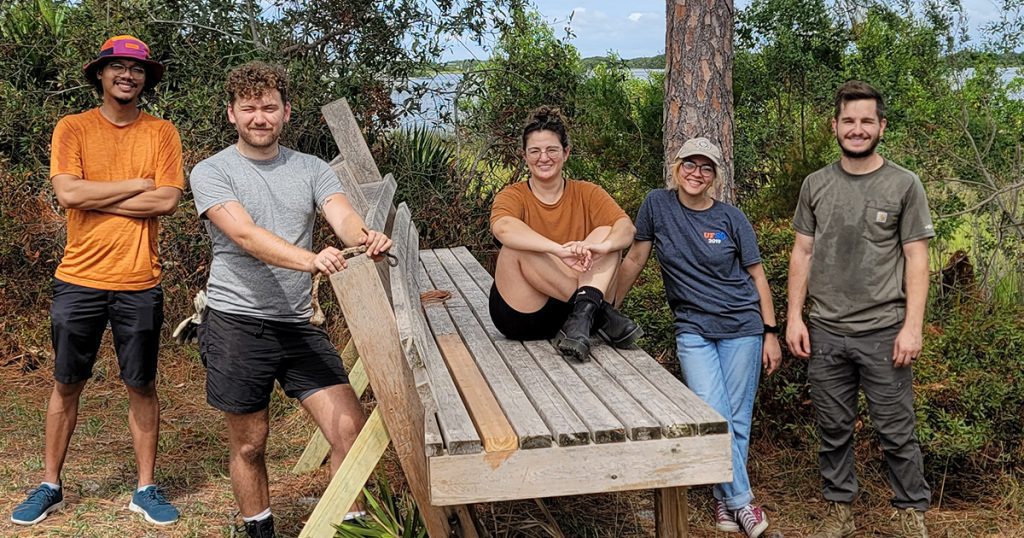 October 20, 2023
By: Kyle Niblett
Following the damage from Hurricane Idalia, University of Florida School of Architecture professor Charlie Hailey received word that many structures in Cedar Key designed and built as part of his architecture studios were damaged. The projects, named Earth and Sky (2016), Muir's Rest (2017) and Drift (2018), were built to be resilient with the coastal environment in mind. Despite the best work though, they all needed repairs due to the power of Idalia. That is when Hailey sent the word out.
"It means a lot when students return and dedicate their time and effort to maintaining and repairing past projects," Hailey said. "Their work—and the care they bring—continues university-community bonds and makes positive impacts, pointing toward a bright future."
Within minutes of contacting former students, the SoA faculty member had mobilized a small army, featuring Cameron Buck (BDES '15, MARCH '17), Kristel Bataku (BDES '13, MARCH '18), Clay Martin (BDES '19, MARCH '21), Caleb Generoso (BDES '13, MARCH '20) and Catalina Castano Urrea (BDES '23). As a result of their efforts this past month, the gathering spaces are back up and running.
The projects built by SoA students between 2016-18 were service-learning and experiential-learning projects, where architecture graduate students designed the project with community input, and then actually built the project. Not only are the projects ingrained in the community thanks to sustainably-sourced cedar wood, but these recently new UF alumni are as well thanks to their restoration efforts.
"It was great to reconnect with my students while also being reminded that experiential learning never stops," Hailey said.
Drift (2018)
Located in Cedar Key on a site that one hundred years ago was marsh, the design/build project Drift responds to both seascape and landscape, the coastal conditions and the downtown context, the wet and the dry. Traditions of boat-building and boat structure inspired the design of Drift, creating a strong link to this place so that the memory of the shoreline is pulled back into the town's center, and a conversation is cast with local boat-builders, including those at the nearby Cedar Key Arts Center. The project's structure resists strong winds while its capacity to float adapts to storm surges and tidal fluctuations. Drift ultimately responds to Cedar Key's desire for a flexible community space. Come to this space to read a library book or access the library's Wi-Fi, to enjoy an outdoor movie on a summer evening, and to relax in solitude or together with friends.
Drift was designed and built in Fall 2018 by the Advanced Graduate 3 Design Studio in the School of Architecture at the University of Florida. All three projects were a collaboration with visiting instructors Sami Rintala, architect in Norway, and Philip Tidwell, architect in Finland and now a professor at McGill University.
FALL 2018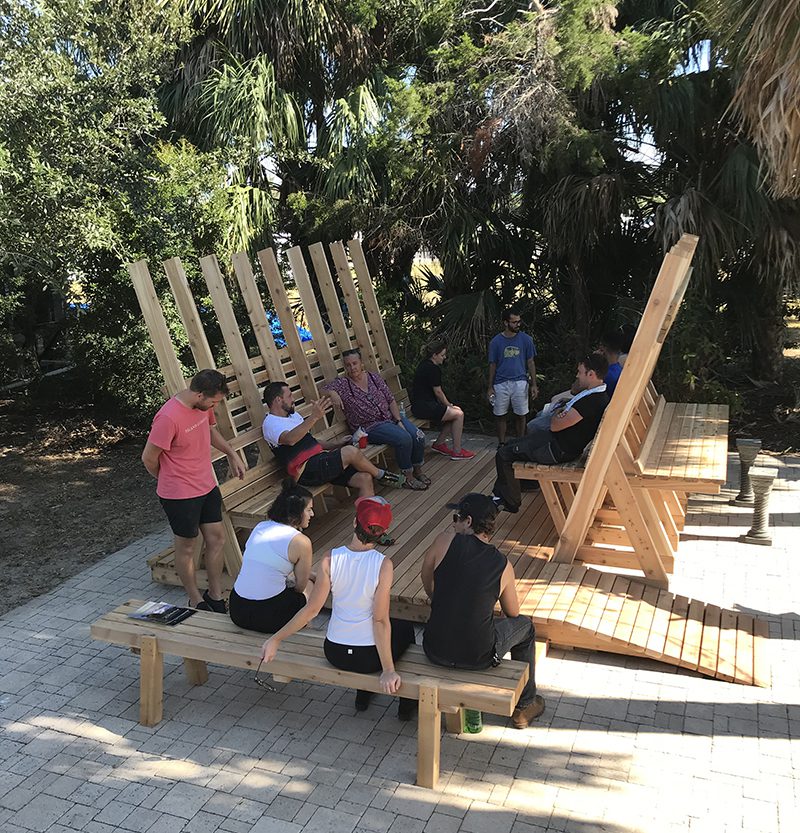 SEPTEMBER 30, 2023
Muir's Rest (2017)
On October 23, 1867, naturalist John Muir wrote: "Today, I reached the sea!" With these words, Muir concluded his thousand-mile walk to the Gulf of Mexico here in Cedar Key. 150 years later, to the day, fifteen architecture students from the University of Florida completed this project to commemorate Muir's journey and his legacies.
On his journey, Muir carried a tin cup, bread, a journal, and his walking stick. These artifacts inspired the project's design, and the cedar wood constructions provide places to drink, eat, read, write, and tell stories of past and future explorations.
Muir wrote: "Between every two pines is a doorway to a new world," and this project is meant as a resting area, an outdoor room among the pines where members of the community can gather to recollect Muir's legacy, share their own adventures, and talk about what this place means now.
In a sense, this modest construction awaits Muir's return and, in the meantime, offers a resting place for all those who also feel the breeze, watch the birds, and smell the sea.
This project was designed and built in Fall 2017 by the Advanced Graduate 3 Design Studio in the School of Architecture at the University of Florida.
FALL 2017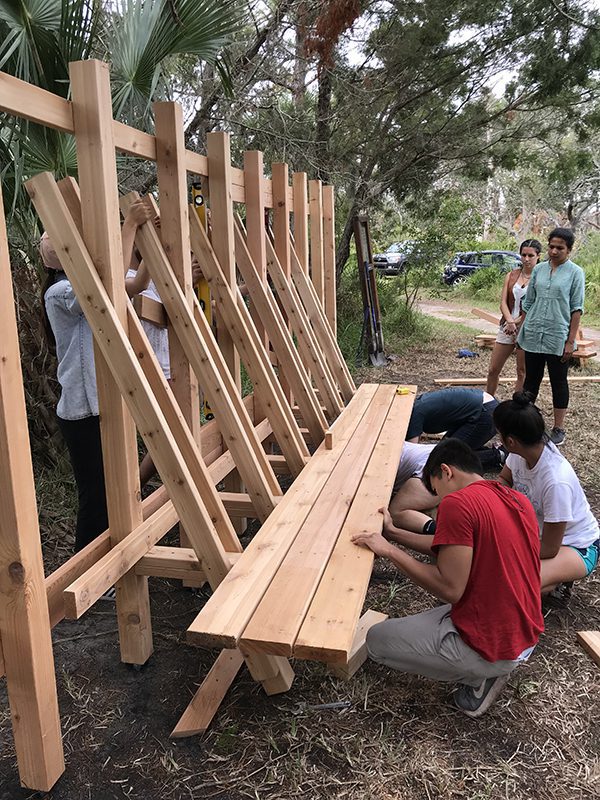 SEPTEMBER 30, 2023
Sky (2016)
Sky (Fall 2016): On their first visit, students were inspired by the November sky and the salt marsh. Deep azure and bristling grasses. After discussions with members of the community, students developed two approaches (and two working groups): sky and earth. The "sky" team explored ways to connect sandy ground to horizon and upward into the air. "Sky" provides a cathedral's seats to link ground to sun-filled air. (Four years later, the cedar wood has weathered to a silver patina.)
FALL 2016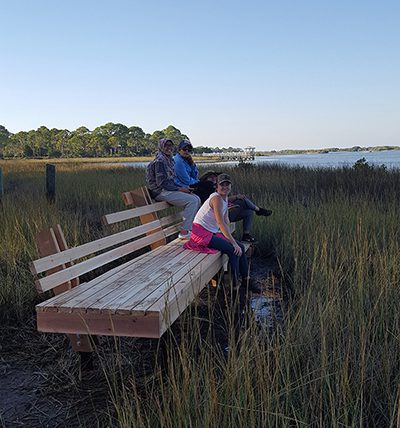 SEPTEMBER 30, 2023
Earth (2016)
Earth (Fall 2016): After that first visit and conversations with Cedar Key residents, the "earth" team worked on a horizontal project that hovered over the ground. It lifts you just above the marsh's sensitive ecosystem. Like the nearby "sky" project, this construction has certain associations: a ship's hull, a weather vane, or an animal's skeleton.
FALL 2016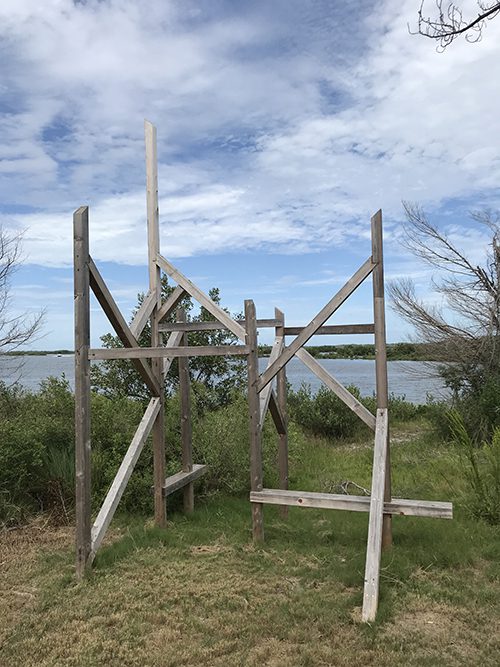 SEPTEMBER 30, 2023