2023 BARTLEY LECTURE INFORMATION
Please RSVP by Monday, November 15th.
Note: this event is eligible for 1CM credit for AICP through the Florida APA Sun Coast section.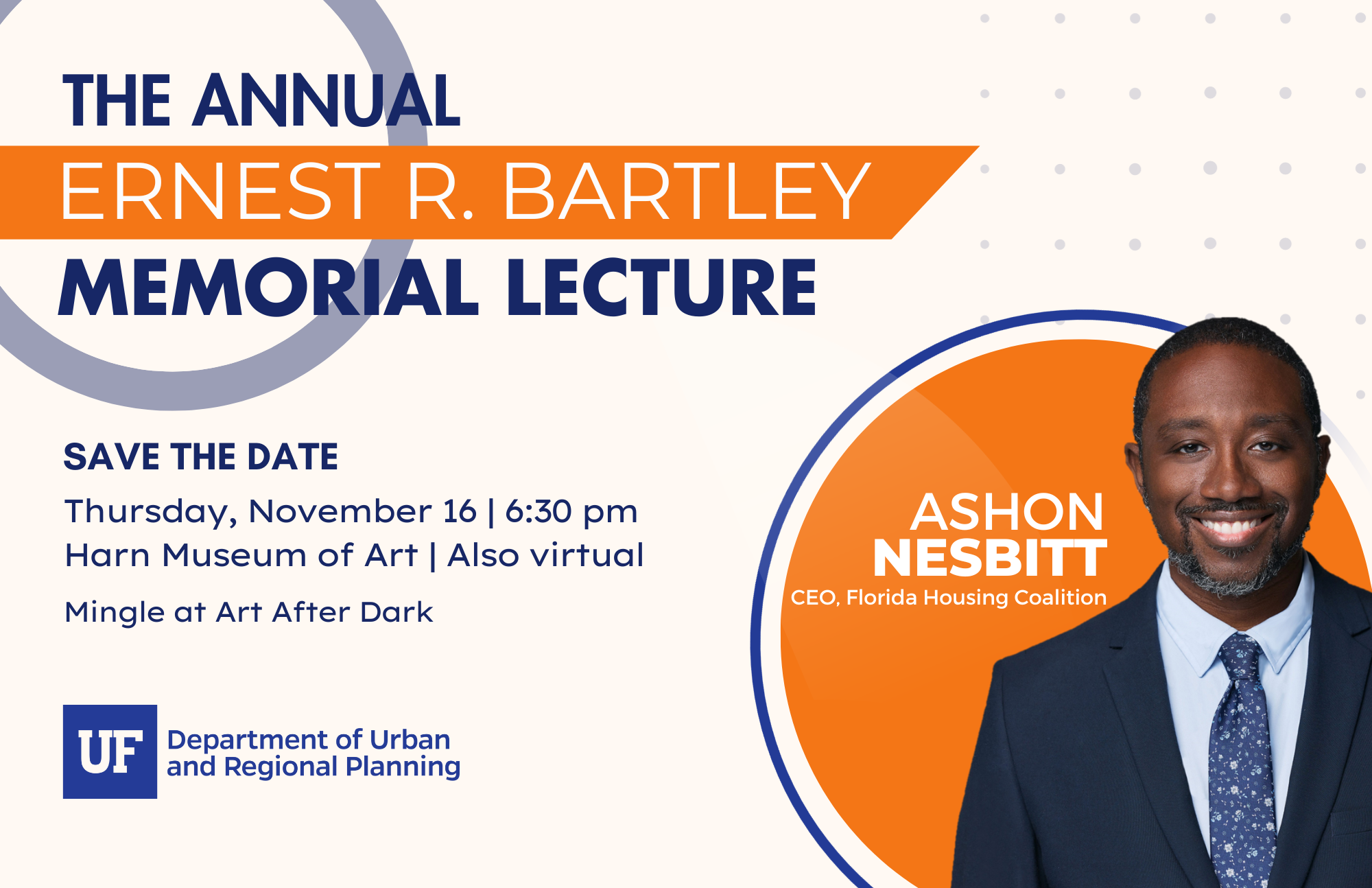 2023 KEYNOTE SPEAKER: ASHON NESBITT, CEO OF THE FLORIDA HOUSING COALITION
From The Florida Housing Coalition:
"Ashon Nesbitt is CEO of the Florida Housing Coalition. A respected community and nonprofit leader, Mr. Nesbitt was previously Chief Programs Officer and Technical Advisor with the Coalition where he has led the Community Land Trust Institute as well as the Center for Racial Equity. During his tenure at the Coalition, Nesbitt has championed an expansion and professionalization of Community Land Trusts throughout the state, overseeing the development of nationally recognized and first of its kind the Community Land Trust Certification Program, which in 2021, led to six nonprofits receiving their Certification. Mr. Nesbitt is the author of the Coalition's innovative guidebook: Eyesore to Asset: A Guidebook for Adaptive Reuse of Vacant Retail, designed to aid local governments and business leaders in their search for new models for local economic development. Mr. Nesbitt has two Masters Degrees from the University of Florida; a Masters in Urban and Regional Planning and a Masters in Real Estate. He also holds a Bachelor of Science in Architectural Studies from Florida A&M University. As CEO, Mr. Nesbitt leads all of the Coalition's housing affordability production and preservation initiatives."

---
The Ernest R. Bartley Memorial Lecture Series
ABOUT THE LECTURE:

Every fall in honor of Dr. Ernest Bartley, the UF Department of Urban and Regional Planning holds a special memorial lecture and social. The lecture brings inspiring speakers in the field of planning and social justice to speak about public service and about working together to achieve common goals.

PREVIOUS SPEAKERS:

The Honorable Alan S. Gold
Dr. Robert Knight
Senator Bill Nelson
Senator Bob Graham
Thomas G. Pelham
Bob Rhodes
Professor Earl Starnes
Ernest R. Bartley, FAICP, Professor Emeritus (1919 – 2008)
Dr. Bartley came to Gainesville in 1949 after receiving his Doctorate from the University of California in 1948. He served for some twenty-four years as a member of the faculty of the Department of Political Science. He participated in 1975 in the formation of the Department of Urban and Regional Planning. He retired formally from the University in 1992, but he continued to teach until his death. During his fifty-nine years of association with the University of Florida, he received seven teaching awards from two colleges for his outstanding teaching. He was on the graduate faculty and served as a member of several University-wide committees.
After obtaining his Baccalaureate degree from Nebraska Wesleyan in 1940 and his Master's Degree from the University of Nebraska, in June, 1941, he joined the United States Air Corps as an aviation cadet. Commissioned as a second lieutenant, he was retained in the Air Corp training command for two years. At his request, he was then assigned to a combat unit. As a Captain he flew aerial combat as a captain on the first B-29 sorties from Saipan to Japan. He was transferred to the headquarters of the 21st Bomber Command where he served on General Curtis E. Lemay's war plans staff. Upon his return to the United States, he continued to serve in the Air Force Reserve from which he retired in 1979 as a Lt. Colonel. Dr. Ernest Bartley was a member of the 73rd Bombardment Wing Association.
Commencing in the 1950's, Dr. Bartley served as a consultant in land use control planning and regulation. He was a consultant to the Alaska Statehood Committee, the Alaska constitutional Convention, and was active in Washington, D.C. during Alaska's struggle for statehood. At the 50th anniversary of the Alaska Constitutional Convention, Dr. Bartley was honored for the significant role he played in the writing of the Alaska Constitution. He was an active member, supporter, draftsman and spokesman in support of efforts in Florida for the enactment of planning and growth management legislation. Dr. Ernest Bartley served as consultant to numerous cities, counties, and private clients in Florida and other states. He qualified in state and federal courts as an expert witness in some eighty cases involving urban and regional planning. He drafted numerous zoning ordinances and subdivision regulations for municipalities and counties in Florida. He was sought as a speaker at numerous planning conferences and conventions.
His professional associations included the Florida Planning and Zoning Association, American Society of Planning Officials (now The American Planning Association), The American Institute of Planners (now the American Institute of Certified Planners) and other groups. In 2000, Dr. Bartley was honored in New York by election to membership in the College of Fellows of the American Institute of Certified Planners. He was appointed as a member of the State of Florida's Planning Commission by (then) Governor Robert Graham. He held numerous offices in the organizations to which he belonged. In 2007, Ernest R. Bartley received the Lifetime Service Award from the Florida Chapter of the American Planning Association for "Outstanding Achievements in the Field of Planning."
He was author or co-author of many books, monographs, pamphlets, and papers. Dr. Bartley's Tidelands Oil Controversy, originally published by the University of Texas Press, was republished as one in the series of Classics in American Land Law. National and State Government textbooks, written with the late Dr. John M. Swarthout, were published by Oxford University Press. His Text of a Model Ordinance written with the late Frederick H. Bair, Jr. and published in several editions by the American Society of Planning Official, was a standard work on the subject for many years.
In 2007, an annual life-time of achievement award was established in Dr. Bartley's name by the Department of Urban and Regional Planning. The first recipient of that award was the former Florida Governor, Reuben Askew.