By: Grace Ballantine
November 2, 2022
Dozens of students from the University of Florida Sustainability and the Built Environment (SBE) program filled up the John and Anne Sofarelli Family Gallery October 6 to hear from UF graduate Stacy Mahler, Siemens' United States Head of Sustainability Solutions for Smart Infrastructure. The subject of the lecture touched on the culture of sustainability and how solutions can be made faster, especially when people work together.
Mahler told the group she was thrilled to be back in Gainesville and that a major component to success is collaboration. The Gator graduate gave kudos to DCP for its multidisciplinary approach as she shared her past experiences with the students.
"I think the academic programs here at UF, specifically here at DCP, are really going to be critical to sustainability in the world," Mahler said. "If I can get out there and help students better prepare, then I am most happy to do it."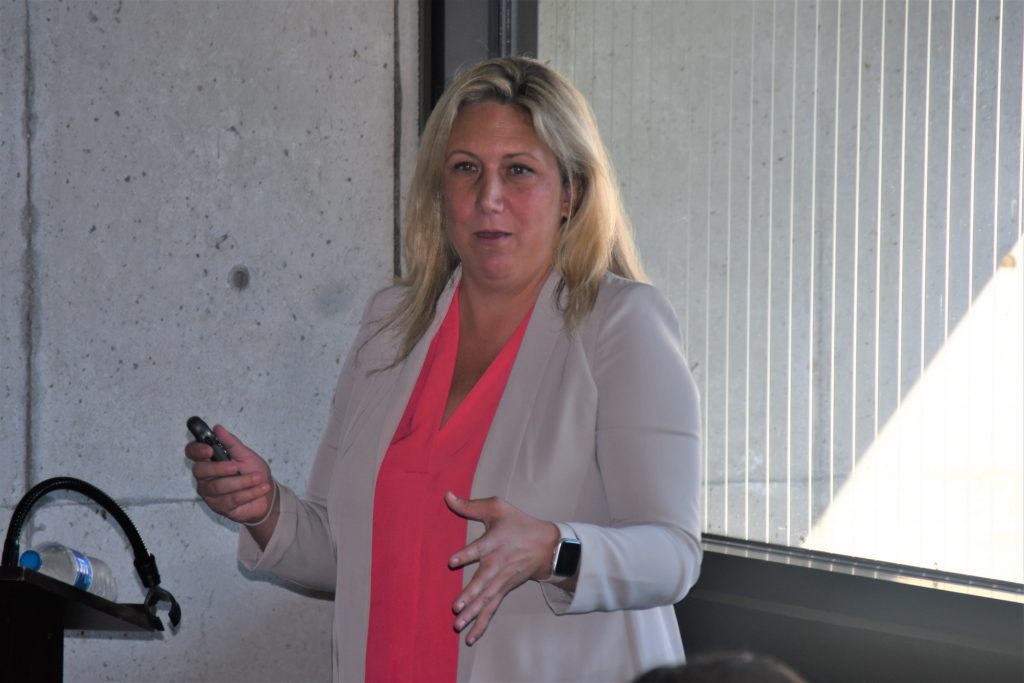 Siemens has been a great partner to UF for a long time, and Mahler said the worldwide organization was very excited to support the new Bruno E. and Maritza F. Ramos Collaboratory being built. Mahler excitedly announced they are also looking forward to continuing their support with the SBE curriculum.
Hosting the event was SBE Director Bahar Armaghani, who said she could not be more proud of how far the program has come since its inception in 2008. When the program began, there were only nine students, and now there are 177 students enrolled, making it one of the fastest-growing programs on campus.
Armaghani went on to say that one of the reasons why the program has been such a success is because of industry leaders like Mahler, who regularly come back and talk to students about the current trends within the industry and what they can expect once they graduate.
"They are ready to go out there and make a change and make a difference," Mahler said. "That's the most self-satisfying thing that we get out of this. Seeing the passion and drive these students have for sustainability daily is inspiring."