By: Grace Ballantine
October 31, 2022
Before everyone walked over to Ben Hill Griffin Stadium to watch the University of Florida football team defeat Missouri by a score of 24-17, hundreds of UF College of Design, Construction and Planning alumni reminisced and caught up at the annual alumni tailgate October 8th in the Architecture Building Atrium. The event was sponsored by Hawkins Construction, Inc and Robins & Morton, with drinks being provided by Cypress & Grove Brewing Company.
Reminiscing about capstone projects and discussing legendary stories from time spent in studio, old friends reunited, former faculty members laughed together, and everyone was reminded why the college that made such an impact on their lives.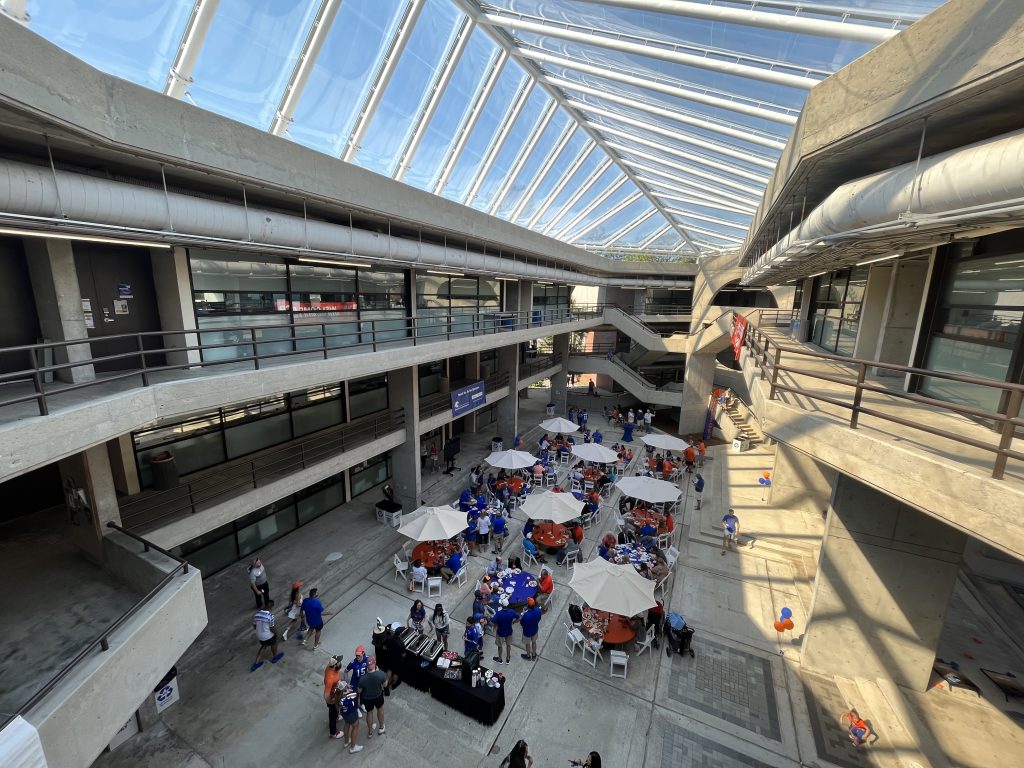 With families coming together, Sonny's BBQ being served, and games being played, 1967 architecture graduate Charles Toner has always made it a point keep close ties on DCP and mark the event on his calendar.
"We have been attending this event the last five years," Toner explained. "Just attending this tailgate at 79 years old makes me so happy!"
Randy Fitkin, a graduate of the M.E. Rinker, Sr. School of Construction Management, said he would never miss an opportunity for a Gator game in The Swamp. As the current vice president and regional manager at Charles Perry Partners, Inc., he took his daughter to the tailgate to show her his original stomping crowds.
"I actually ran into one of my classmates," the 1985 Rinker School graduate said. "I am not sure who else I will run into today, but I just wanted to come back and come see the upgrades to my school."

Another alumna, Darcy Brown, said the tailgate is a special experience for past and present students at the college. A 2018 School of Architecture graduate now working at BRPH in Melbourne, Florida, she explained how glad she was that DCP puts on an annual tailgate.
"It is so cool to be here because I have been able to catch up with a few of my old professors that I have not seen in a long time," Brown said.
Rachel Mandel graduated in May 2020 with her master's in urban and regional planning and now works for UF. Mandel said she thought this year's tailgate was extra special and exciting.
"To be back in the atrium when this is probably the last tailgating event we'll have before construction trucks show up for the new Ramos Collaboratory is really exciting," the UF alumna explained. "I feel like this program really set me up for success, especially working on campus now and getting to look back and see other students going through the same program and being able to mentor them."