August 22, 2023
By: Kyle Niblett
In her years of researching gas emissions and climate change, Dr. Azza Kamal has seen a rapid increase in loss of life, biodiversity, and infrastructure. Knowing the need for addressing circularity and the protection of cultural and built heritage, the University of Florida Sustainability and the Built Environment (SBE) professor took a pair of students halfway across the world this summer in an attempt to ensure the sustainability of historic churches built between the 19th to 20th century in several German municipalities.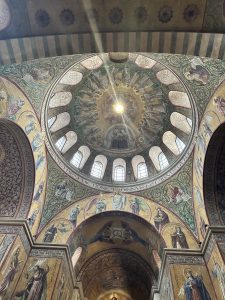 Thanks to a Research Tutorials Abroad (RTA) Award from the UF International Center and the Center for European Studies, Kamal and her team partnered with Technische Universität Berlin (TUB) in Germany to create a visualization dashboard for documenting and sharing tangible features related to these historic churches. This web-based platform for data analysis resulted in a Design Support Systems (DSS) tool that will help to prioritize improvement and resource-efficiency decisions.
"This STEMS-focused research not only equipped students with the know-how to apply their Geodesign knowledge in a real-world project on the global level, but enhanced their cross-culture experience and communications," Kamal explained. "When they graduate, students can apply this knowledge to retrofit various building typologies in the United States, especially as the resources through the Inflation Reduction Act (IRA) allows this type of expenses for building adaptation to climate change."
For UF SBE students Hayes Duggan and William Olson, who are being trained in Geodesign Specialization, this trip helped them further utilize various advanced geotechnology platforms, including dealing with historic data and maps. Through a mix of educational, cultural, and engaging tours across Germany, the duo was able to understand how culture and materials impact decisions for building improvement to preserve tangible cultural heritage.
"Over the course of the work, I learned a lot about the various construction materials and styles that can influence the cost-efficiency and sustainability of structures," Duggan said. "Ultimately, it was a great feeling knowing that we were contributing to a real-world project in an impactful way."
It was a unique challenge to work on a project that was entirely in another language. In order to accurately represent the data, it took a lot of translation and re-translation. The students immersed themselves in the German culture while appreciating how much history Berlin has woven into its built environment. In fact, Berlin's commitment to living sustainably was eye opening to the Floridians.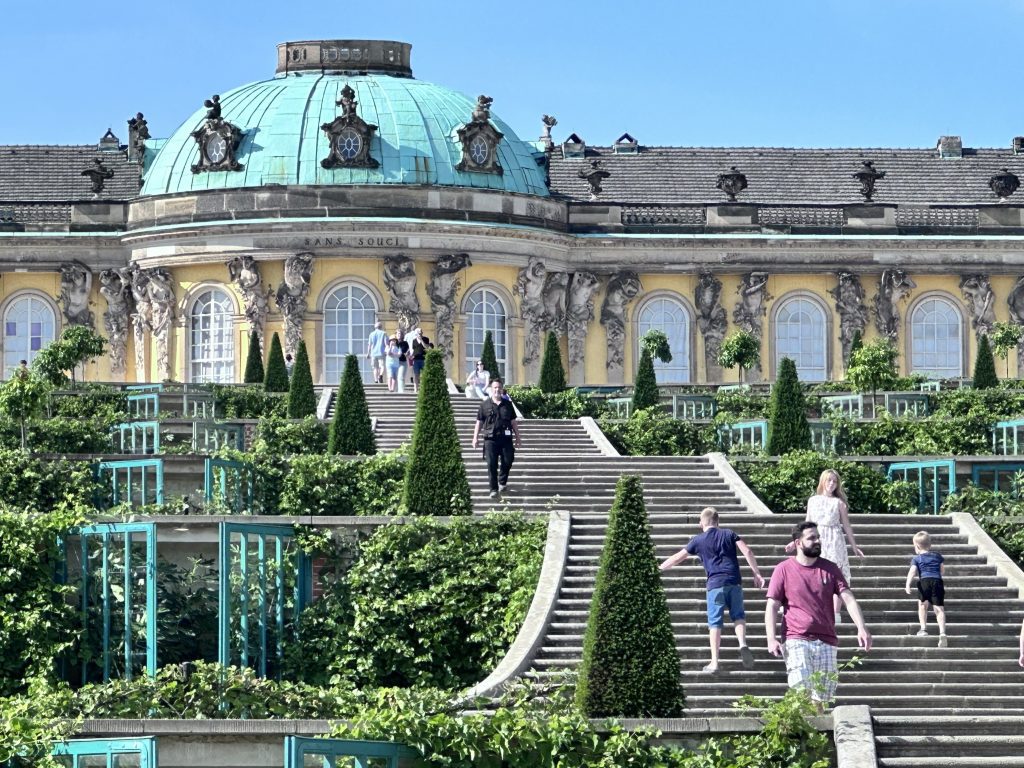 "From public transportation to the green spaces, it is clear that the city places a high importance on the preservation of the environment," Olson said. "This research experience made me realize just how important it is to step outside your comfort zone. Embracing the experience of Berlin and being exposed to many different cultures and people led to personal growth and broadened my perspectives. I am grateful for the opportunity to have been a part of this enriching program."
The trio of Gators communicated research results through advanced tools with the German research teams, while applying global standards adopted in 1992 by the Council of Europe for dealing with architectural heritage to Historic Buildings. They weren't the only ones to benefit from the partnership as they visited sites and structures on field trips throughout the country. The team at TUB gained a unique perspective from Kamal and the students on different climate zones and the impact of climate change on sacred historic places that are challenged by the complex funding availability to bring them up to the code.
"New insights arise through joint collaboration at the interfaces of disciplines, so it was a great experience to join forces with Azza and her team from UF on our research project regarding churches in Berlin," said Dr. Kristen Wellner, a professor of planning, construction economics and real estate management at TUB.
Echoing her sentiments were Dipl.-Ing. Elena Pavlidou-Reisig, a TUB research associate.
"This research visit brought a great methodological addition to the project as well as a new medium through which to communicate content and has for sure planted a seed for further collaborations and joint experiences. It was an excellent opportunity for cultural exchange not only through the academic work but also through the on-site interactions and visits."
As the two groups reflect on the research quantification measures and contribute to the ongoing research, their integration of both historical and visual data was used on 38 churches. Their assessment of each structure's performance and its potential vulnerability to climate change will be vital going forward for sustainability purposes.
"My students' involvement in this rigorous research provided a new perspective for their hands-on experience using bilingual communications for geospatial applications in resource management," Kamal explained. "Such skills are in high demand by employers and admission to graduate programs in the areas of urban analytics, geoscience, historic preservation, and urban planning. This opportunity will afford Hayes and William the opportunity to excel in the global job market and increase their competency in their sustainability and resilient design and planning careers."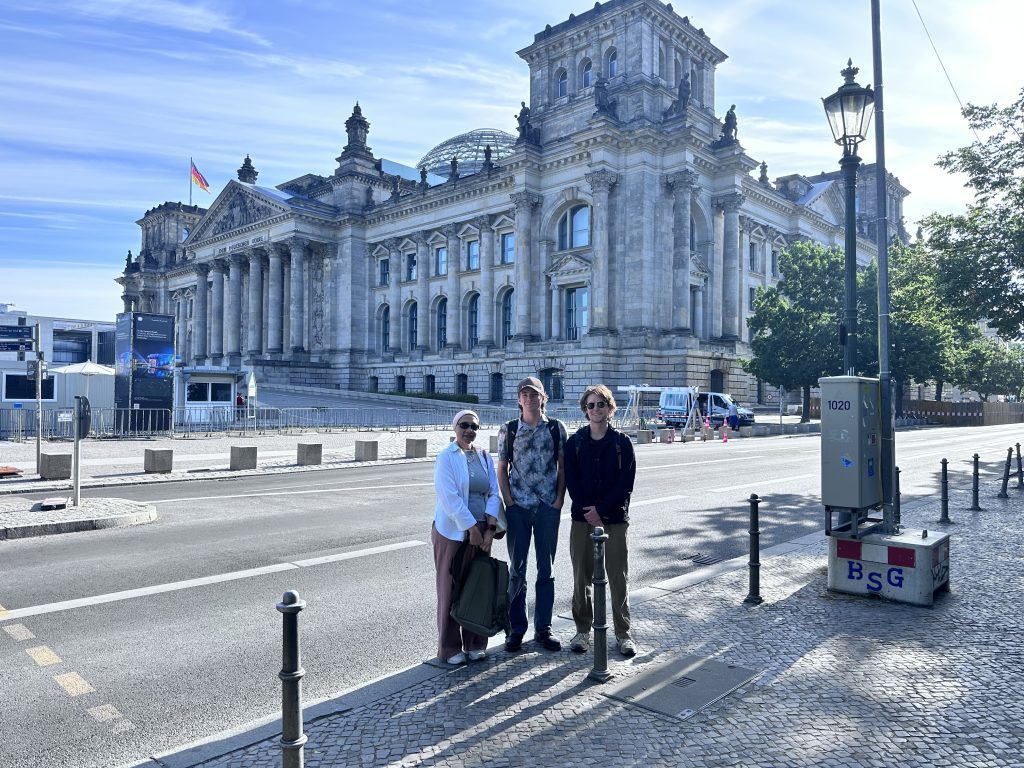 MEMORIES FROM THE SUMMER…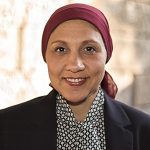 "The train trip to the 'Kornsberg' sustainable and resilient district in the city of Hannover was an eye opener on the different transects. We saw sustainable buildings, infrastructure, and open space come together with equity and social sustainability measures." – Dr. Azza Kamal, UF Instructional Assistant Professor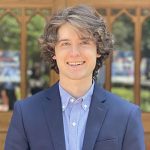 "It was really engaging to apply the technical skills we've been learning in the classroom, while at the same time becoming immersed in a different culture. I appreciated the balance we struck between working on campus and taking time to explore the city, as well as the other places we visited such as Potsdam and Hannover." – Hayes Duggan, Sustainability and the Built Environment Major (Geodesign Specialization)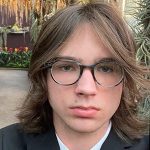 "One of the highlights of the trip was visiting Museum Island in Berlin. Seeing artifacts from ancient cultures and learning about their history was unforgettable." – William Olson, Sustainability and the Built Environment Major (Geodesign Specialization)
SPECIAL THANKS TO UF DCP…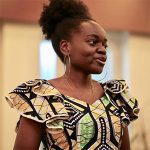 "It was a great experience to welcome Dr. Azza Kamal, Hayes Duggan and William Olson at our Department at TU Berlin. The research project we worked on together includes buildings that have great economic, architectural, and cultural value to the city and people of Berlin. The expertise in ArcGIS the group from UF brought over and their professional input contributed in a great way to visualize and map key data of the project. Moreover, they did a great job of sharing their knowledge and putting it into the regional context." – Johanna Sadiki, M.Sc., Technische Universität Berlin Research Associate