By: Kyle Niblett
November 7, 2022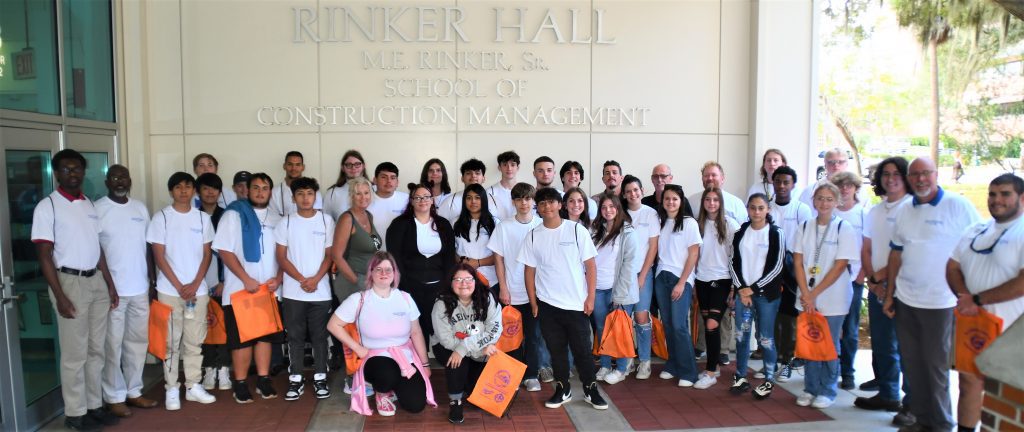 As it does every year, the University of Florida College of Design, Construction and Planning hosted the Bartow Academy of Architecture, Construction, and Engineering (ACE) Nov. 4 at the M.E. Rinker, Sr. School of Construction Management. Sponsored by Polk County Public Schools, the ACE Academy focuses its educational efforts on the teaching and interconnectivity between architectural drafting, construction management and electrical engineering. More than 45 students from Bartow High School were able to learn, connect and network with several DCP faculty members and staff.
"The Rinker School was more than happy to open its doors to students from Polk County," said Sallie Schattner, the admissions officer for Rinker School. "Seeing the ambition and drive from these teenagers inspire all of us each year they visit Gainesville."
The tour began early in the morning at the Sante Fe College Charles R. Perry Construction Institute, named after the 1983 Rinker Construction Hall of Fame inductee. From there, the group traveled to Ben Hill Griffin Stadium, where they had a question-and-answer session with UF track and field student-athletes Serena Brown and Cameron Mahorn. Brown is a discus thrower and a graduate student at Rinker, while Mahorn is a sprinter who majors in mechanical engineering.

After a catered lunch sponsored by 2022 Rinker Hall of Fame inductee Rob Springer and Polk County-based Springer-Peterson Roofing & Sheet Metal, Inc., current Rinker students and former ACE Academy graduates Jason Coil and Doug Parker spoke to the group. Lunch was capped off with a brief overview of Rinker from Director of Undergraduate Programs Dr. James G. Sullivan.
"As someone who graduated from Rinker, went on to build buildings and then returned to UF as a professor, let me tell you the best feeling in the world is returning somewhere decades later and seeing a building you helped build," Sullivan said.

With a full belly and an open mind, the students were then treated to a fascinating informational session on unmanned aerial vehicles (UAV) from Rinker Assistant Professor Dr. Masoud Gheisari, a campus expert on drone research.
"Along with agriculture, construction is the number one industry when it comes to drone technology," the leader of UF's Human-Centered Technology in Construction (HCTC) Research Lab said. "If you know how to fly a drone and process the data, you will have a super easy time finding a job in the construction industry."
Following the drone seminar, the ACE Academy moved over to Dr. Mark Russell's classroom to learn about heating, ventilation, and air conditioning. Russell emphasized the success one can have in the HVAC industry provided they focus on effective ways to reduce building energy, water, and resources while promoting a healthy indoor environment.

The day ended with an informational session on the UF School of Architecture from registered architect and professor Judi Shade Monk. The LEED accredited professional highlighted safety in her speech to the students.
"The primary job of an architect is to protect the health, safety and welfare of the occupants of the project you're building," Monk said. "The building has to last for a long time, which means we respond to the community, local codes, and environment as we try to be thoughtful, ethical and sustainable in the work we do."