By: Kyle Niblett
Dec. 1, 2022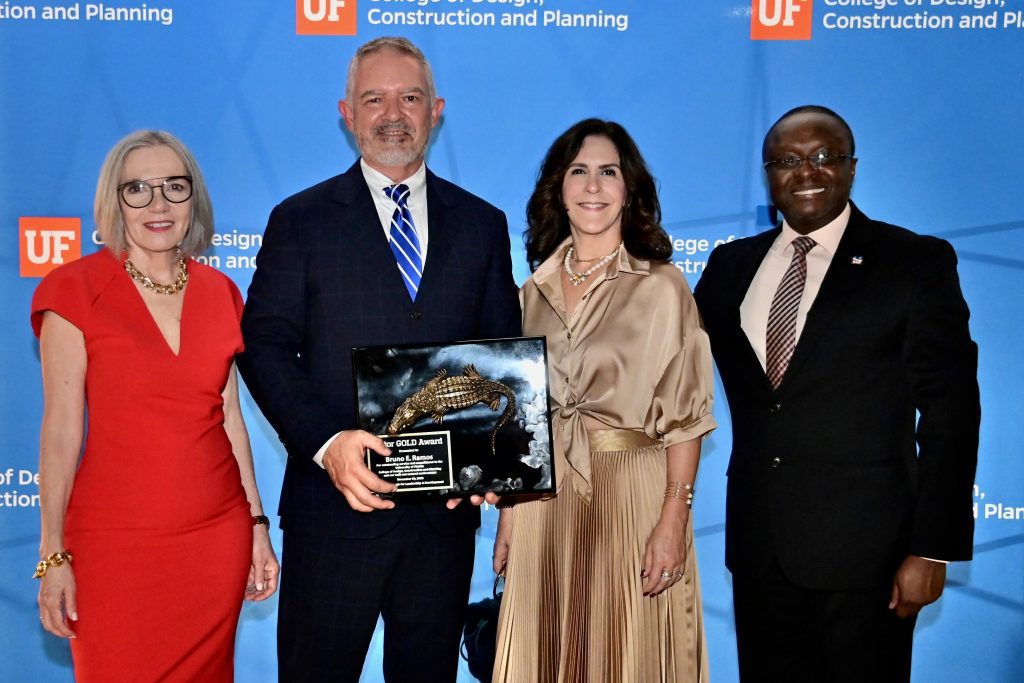 MIAMI – Held on a breathtaking rooftop terrace overlooking Miami's Design District, two-time University of Florida College of Design, Construction and Planning graduate Bruno-Elias Ramos (BDES '82, MARCH '85) was awarded the DCP Gator Outreach for Leadership and Development (GOLD) Award Wednesday night at the Second Annual Gator Gold Gala. Distinguished alumni and friends of DCP attended the event sponsored and hosted by industry leaders Sub-Zero, Wolf, and Cove.
The GOLD Award is presented annually to someone who creates a standard for the work DCP alumni and friends do to support the college and students. Not only does the award recognize a distinguished individual, but it is also an avenue for those who no longer live in Gainesville to support DCP students in their academic careers and future endeavors.
"Many have questioned me on how an architect or design professional can contribute financially in a meaningful way, and I immediately respond, 'Why shouldn't architects or design professionals contribute?'" Ramos asked. "The stereotype is that we should not be economically successful as design professionals. Having invested six years into my higher education, this has always bothered me, and as a young architect, I set out to break that stereotype."
Ramos took home the award due in part to him and his wife Maritza making a game-changing gift to the college, resulting in the groundbreaking of a new Collaboratory named after them. This 50,000-square foot state-of-the-art facility will bring generational change to UF and will position the College, its faculty, staff, and students for success over the next 100 years.
"Bruno's dedication and giving to DCP has been instrumental in our mission to consistently deliver a rich and high-quality learning experience to our students," Dean Chimay Anumba said. "Tonight's fundraising is critical in serving our students and giving them the resources needed to help shape the world we live in."
Overall, the cocktail-attire affair was a reunion between DCP faculty, staff and students and members of the beloved OneDCP family. All proceeds from the event went directly toward supporting DCP student travel to conferences, study abroad programs, research, and scholarships. The event ended with Ramos asking those in attendance what they could do to give back to UF while helping future generations of Gators break the financial stereotype of design professionals.
"What we do in this life has an echo throughout eternity," Ramos said.
For more information on DCP Alumni events, follow the college on Twitter, LinkedIn, Facebook and Instagram.
DCP GOLD Winners
2022 – Bruno-Elias Ramos
2021 – Bonnie Burnham