By: Rebekah Browne (BSSBE '24)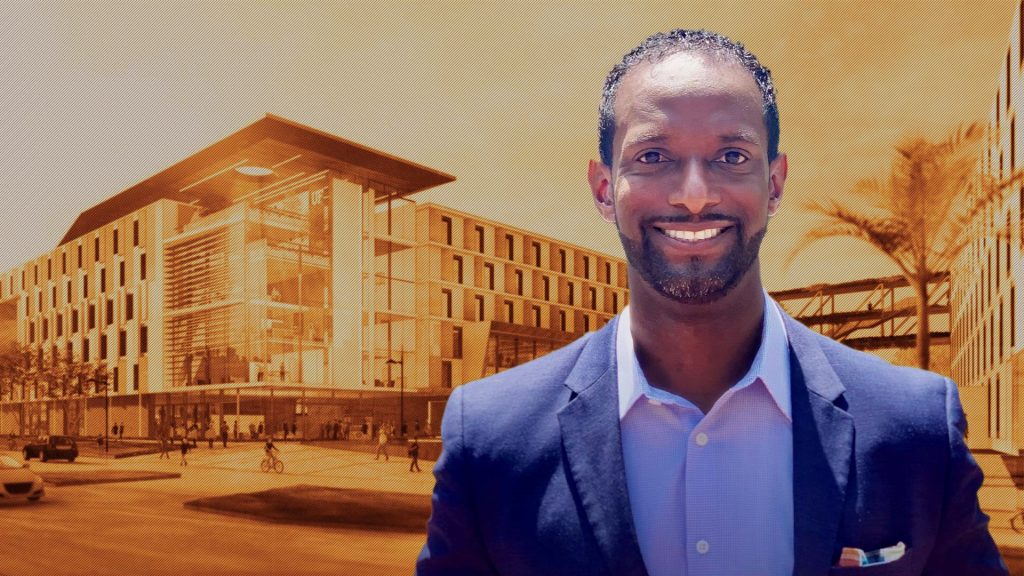 Do architecture students dream?
This question is what I asked myself while hearing of Tahir Edwards' most formidable undertaking to date: the design and integration of the new baggage handling system inside Kansas City's newest international airport terminal.
I had asked him of the highest stake in his career yet. Edwards graduated from the University of Florida in 2005 with his bachelor's degree in architecture, before getting his master's degree in both architecture (2007) and building construction (2009). Three degrees from the UF College of Design, Construction and Planning alone do not achieve greatness. It is possible they help though. And, at the very least, a UF degree gives a graduate a great town to come back to.
Under Edwards' leadership as design manager, the Weitz Company is design-builder of UF's brand-new Undergraduate Residential Complex. Composed of five modern buildings and set to house 1,415 undergraduates, the complex has a completion date of July 2023 and an opening date of August 2023.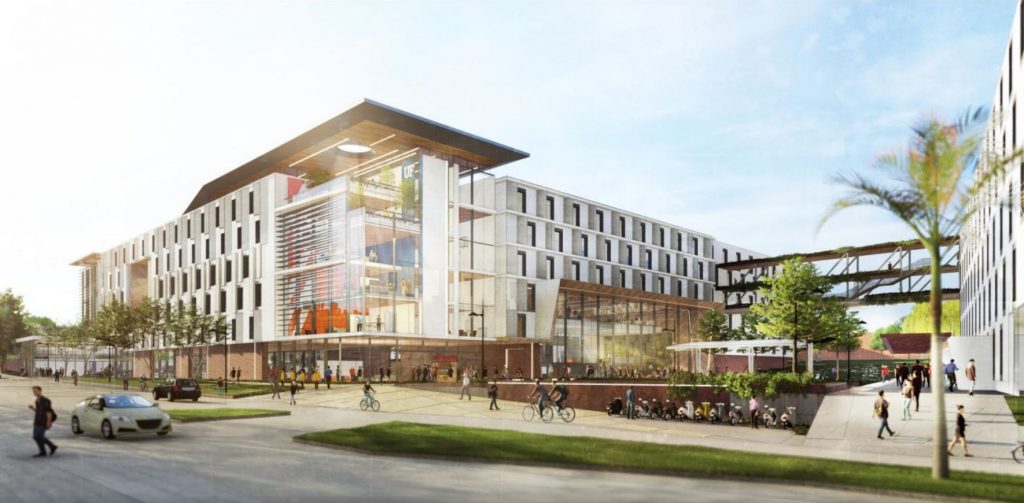 The full-service construction company subdued his initial apprehension towards joining their team with a question, forthrightly declarative of a prized intention: "What do you want to do?" They were not merely hiring the Gator graduate—they were offering him room to run.
The experience Edwards earned at the UF School of Architecture was a gateway for understanding more than design. When asked what the most valuable takeaway from DCP was regarding his professional journey, Edwards thought for a moment, then responded, "How to really set up a problem and take mindful steps to work your way through it. And then, at the end of it, being able to communicate the solution visually and verbally with a group of people."
The UF School of Architecture welcomed Edwards in 2001, with the late Michael Kuenstle being his first teacher. Following Kuenstle, Nina Hofer introduced him to the power of the pencil.
"They were both wonderful and influential," Edwards reminisced. "They set the stage of how to think, and really, how to put your thoughts to a model and thoughts to paper."
This stage has never, and will never, put on a smooth show. In practice, hurdles must be accounted for and faced, not avoided. Edwards places high importance on the support of the right team—being surrounded by, not those recommending you turn your back, but those who will jump with you.
Edwards learned alongside DCP peers just as well; notably while participating in competitions with fellow members of UF's NOMAS (National Organization of Minority Architecture Students) chapter. He recalls the way every voice was encouraged to speak and heard when pulling a project together as a graduate student, saying, "It's exciting to allow undergraduates to run wild with design and creativity, but I felt like we were always mindful of what the undergraduates brought to the table in terms of ideas and process—it only enriched the project."
After all, voices earn recognition for as long as they are present, and accomplishments earn cheer just the same.
Now with a career's worth of experience working in teams, Edwards calls for professionals everywhere to give themselves some credit. Time to reflect upon and honor work that is completed is not only deserved, but capable of maintaining creative ventures above the status of just another checked box. The right team supports one another long after their job is done. The Weitz Company recently commemorated him on LinkedIn, promoting his spot on the ENR Southeast's Top 20 under 40 list. Industry leaders joined in on the celebration, allowing him the chance to step back and feel satisfaction and pride.

Edwards' role with Weitz demands fluency in the languages of design, but more so, the ability to navigate its outskirts and crossings. The goals of clients are made known, as are the values and priorities forming them, to hire compatible design firms and develop feasible schedules, deliverables, and budgets. In this way, he describes it as "similar to how someone working on the construction side would manage various subcontractors." Edwards believes the industry's need and desire for design managers is bound to grow as "more and more clients and builders see the value of integrated project delivery."
Two summer internships in 2006 and 2007 with Jacksonville-based Haskell unveiled the industry's direction to him. It was moving towards integration, and architects needed to collaborate with builders. Afterwards, a decade of full-time experience with Haskell showed him how they could. He worked along-side construction managers, granting him a non-traditional perspective into both sides of the industry. The same intuition which motivated his dual master's pursuit was the very grounds in which visions of systemic collaboration could take root and grow.
With more than 450,000 UF alumni in more than 150 countries, Gators truly span the globe. For Edwards, it feels as though he knows another Gator at every major firm in the United States. Having run into one in every major city, he said, "that speaks volumes to the quality of students that DCP produces. And really, that quality is limitless."
Success stemming from the School of Architecture is diverse. While attending, Edwards met Michael Schmidt (MARCH '08), who was undergoing the Core Program. At some point in the 2010s, Edwards saw the man he knew as Mike in published photographs showing the owners of Jacksonville's award-winning barbeque joint, The Bearded Pig. Edwards admires the beauty of someone attending architecture school and going on to succeed in industries beyond design and construction. He remarks about his fellow UF alumni, "You see his design passion and flow into what he's doing as a restaurant owner, positively impacting his community."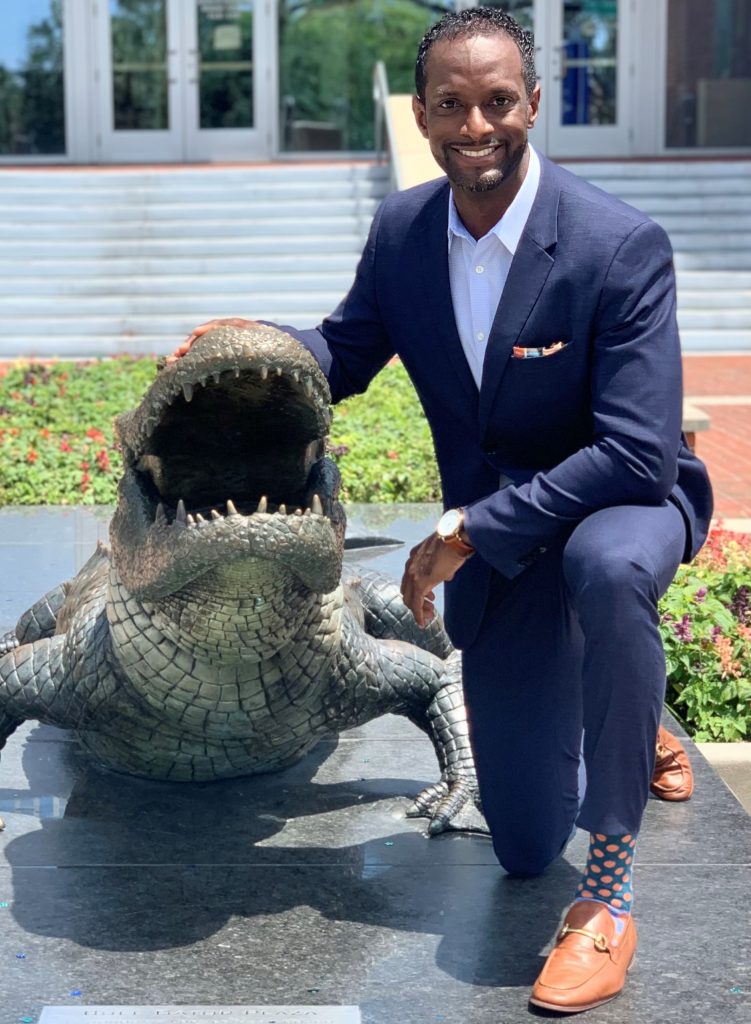 The Weitz Company has taken the three-time DCP alum to Texas, Missouri, and back to The Swamp. Weitz's joint venture in the Kansas City airport project entailed collaboration with the global leader in design, SOM. Unknown to me was the horror story of Denver's baggage handling system renovation of the early 2000s, which Edwards had no luxury of being a stranger to. It turns out that ensuring a baggage handling system that can meet the needs of an airport and future passengers only scratches the surface. As design manager in the Kansas City project, he had to make sure the baggage handling system could primarily fit inside the building.
Nicholas "Nick" Roose considers the time he spent under Edwards as "a pivotal moment" in his career. Edwards accepted Roose as an intern one summer while fulfilling his "unique role" managing SOM in Kansas City. He advised his potential intern that because Weitz was not conducting the design, but managing the design process, the internship would be atypical and potentially outside of Roose's sought-after experience. But the apprentice must have heard Edwards was great to work. He accepted the challenge, and the two developed a unique curriculum that summer from which Nick generated a small portfolio of hand sketches and computer-generated drawings inspired by their work in Kansas City.
Edwards' application of transparency is uniform. From interns to stakeholders, as a professional, he upholds it as the most valuable quality. For trust between the builder, architect, client, or any involved, to flourish, there can be no question on the backend. And in the occurrence of inconvenience or disappointment, he is willing to speak up and have those conversations.
The start of a design management process is threaded with transparency. A strong initial framework is built from understanding the client's priorities, supporting, and expediting decision making, and reducing changes. Edwards calmly stated, "only so much can fit into one design…and one budget" Once the client defines what they must have and cannot live without, it is his job to account for all scales of a project. He and the client start from the top and work their way down from there, comparing priorities and exploring the ways in which they will be addressed.
The needs of clients fuel most markets in our economy. The building industry is swamped at present, but The Weitz Company stands resilient in the midst—in part due to its diverse and reliable builds accumulating since 1855. Weitz has one other build in Gainesville apart from the massive project across the street from DCP: Oak Hammock at the University of Florida. This Senior Living Facility was completed in 2004 and awarded the City of Gainesville's Outstanding Achievement Award for Excellence in Landscaping.
Much like Oak Hammock, Edwards' homecoming and work on the new Undergraduate Residential Complex will bring a plethora of awards back to Weitz. Inner Road will symbolize the bridge between DCP and Edwards' work that will stand the test of time. The practices of design, construction, and planning join within the UF campus, all around outside of it, and back again.
It appears architect students do dream after all.