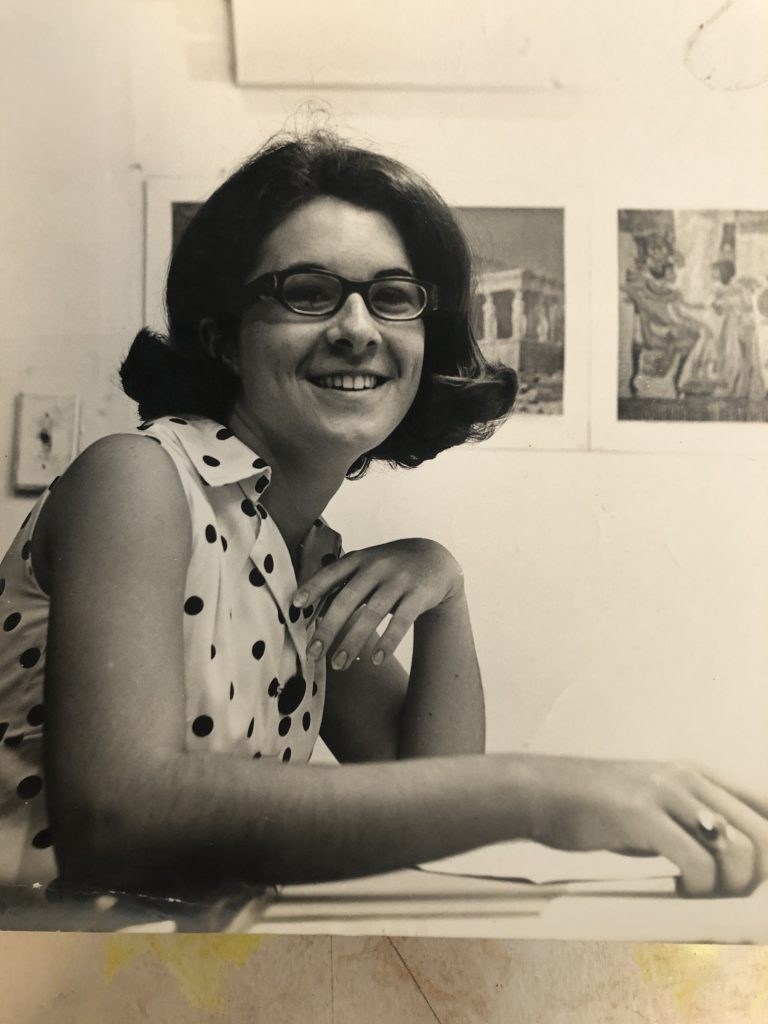 By: Grace Ballantine
Lydia Rubio is a world-renowned artist with art projects displayed in museums and galleries all over the world. She also happens to be a University of Florida College of Design, Construction and Planning graduate (BDES '68).
Rubio is originally from Cuba, and until she was 18 years old, had never lived away from her family. That was until she got wind of what an excellent architecture program UF had. With the guidance and encouragement of her family, Rubio moved to Gainesville to study architecture.
"I had two influences that were in opposite fields: my father an engineer and my grandmother, a painter," Rubio explained. "Architecture kind of blended the two."
Rubio came to UF focused and ready to succeed. At the time, there were roughly 60 men in the architecture program, and Rubio was one of two or three women in a very competitive program. By the end of her time in the architecture program, there were about 25 people in her graduating class.
Despite Rubio's dedication to her academics, early morning mechanical classes were still a struggle for her, just like any college student.
"I hated one of the classes that was at 7:30 a.m.," Rubio laughed as she reflected.
Although the class was early, Rubio sat in the first row of the class, read all her readings, did all her assignments and, of course, passed with flying colors.
Rubio said some of her fondest memories in Gainesville were spent in Grove Hall. Grove Hall was a building for 4th and 5th-year architecture students, and they all had their own offices that they could decorate however they wanted. Rubio said it was a great way for the students to express themselves, especially because they spent so much time there. Rubio said she and her classmates would be there anywhere from 3:00 a.m. to 5:00 a.m in the days leading up to submissions. Rubio said people would throw extra papers into the hallways, and she would have to walk through "mountains of white tissue paper" to get through sometimes.
"It was really fun there at that time," Rubio said. "That building was memorable."
The arts had an influence on Rubio during her time at UF. She would visit various artists, workshops, and studios in the area during her undergraduate years.
Rubio says her architectural background still affects her paintings to this day. She says the elements of geometry that she learned are still very relevant when she does landscape paintings, and she credits that to UF.
The Gator grad said her time in the architecture school was very intense. Still, she is very grateful for her time at UF and for receiving a great education and getting the full American university experience.
"It was a wonderful, wonderful time," Rubio said.
Rubio went on to graduate, get her master's from Harvard University and work as an architect for the next 10 years. She has taught architectural design at various universities, including Harvard.
But Rubio always loved art and eventually decided she wanted to work on it full time. Some of her proudest pieces are public pieces that can be found in the Raleigh Durham Airport, "The Gate of Earth," and "The Gate of Air."           
Now Rubio lives about two hours north of Manhattan in Hudson, New York. Rubio is still working on her art and hopes that when people look at her work, they feel calm and an inner peace, something Rubio thinks the world needs a lot more of. To this day she works a lot with constellations, warm colors and natural elements to help achieve this goal.
Rubio reflects on her time on campus with great fondness and the 76-year-old would love to get back to campus to see what it's like now. Spoken like a true Gator alumnus.