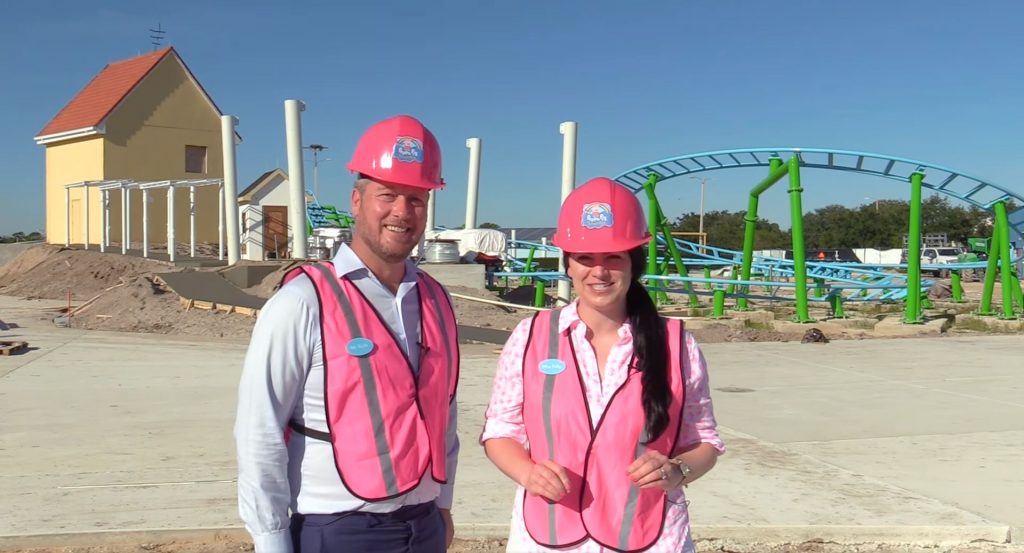 Peppa Pig might have said, "It's impossible!" but for University of Florida College of Design, Construction and Planning alumni Keith Carr (BSBC '07), Timothy Wagoner (MARCH '95) and Steve Boyington (BDES '79), building the world's first Peppa Pig Theme Park is becoming a reality.
According to Daddy and Mummy Pig, the Winter Haven, Fla., amusement park opens on Thursday, Feb. 24, 2022. Ticket options vary from $30.99 one-day tickets to $159.99 three-day tickets for parents and their preschoolers.
"The demand has been strong and the Central Florida market is a perfect place to roll out these types of themed attractions," said Carr, who is the director of design and construction at The America's Merlin Entertainments and was responsible for finding the pigs a home and executing construction on the theme park.
In addition to the Peppa Pig Theme Park, Carr has worked on themed entertainment projects such as LEGOLAND. "They're usually about three years from start to finish," Carr said, explaining the timeline for projects of the Peppa Pig magnitude. Although the construction process is similar across all projects, the themed entertainment piece for Peppa Pig is unique when considering how to place a 15-foot tall pig on top of a building.
Carr studied construction management at UF and graduated from the M.E. Rinker, Sr. School of Construction Management in 2007. According to him, the program provided a good foundation of what to expect in the real world, as well as an important foundation in communication and understanding contracts.
"Everything I learned at Rinker is all still very applicable to today," Carr said.
During his time with the design build team at UF, he gained valuable knowledge through working with students from different DCP programs. For example, when working with the architecture students, he learned what their challenges and constraints were and with this perspective, learned how to form relationships to work together.
In his current role, Carr loves working with other Gators. "Every project that we do across the Americas, we tend to have some representation from DCP graduates," he said. "They are the best in the business, and we want to work with them."
Timothy Wagoner, a 1995 master's graduate from the UF School of Architecture, is one of those Gators. As the principal architect at The Lunz Group, Wagoner has practiced both themed entertainment design and higher education design for many years. For projects like the Peppa Pig Theme Park, guest experience is paramount, he said.
"We really helped bring it to life in this location," said Wagoner, explaining his firm's involvement after the park has already been envisioned. "I think the architectural side is to make it a reality do it is not just a cool drawing, but actually something we can build."
When building a theme park in Florida, there is a lot to consider regarding the theming elements, including making sure they are hurricane proof. Wagoner and his associates have to consider everything from sunshine and heat to mold and mildew. For the Peppa Pig Theme Park, Wagoner helped advise the project with local codes and how to build in Florida. However, before joining the project, Wagoner had to become as familiar as possible with the Peppa Pig brand.
"When I started out, I asked myself, 'What is this British pig and why does she need her own car?'"
However, Wagoner knew it was paramount to look at the park from the perspective of its patrons, which are mostly children and parents. He even went as far as considering where shade would fall on the rides, so that they would not be too hot for children during the day.
Wagoner credits his ability to see the world as both an architect and an artist to his educational background at UF, where he also received a bachelor's degree in fine arts. It is why his daughter graduated from UF and works at a interior design firm in Tampa. It is also why he chooses to frequently work on projects with Gators like Carr and Boyington.
"They are both consummate professionals who are great at what they do," Wagoner said.
Boyington also received an interdisciplinary education from UF as a 1979 School of Architecture grad. "Architecture involves you studying engineering and the humanities," he said. "Life is not a linear thing; it is made from connections between other things where the value is created."
Boyington was involved in the early planning stages of the Peppa Pig Theme Park. At The Lunz Group, he helped start the Themed Entertainment Group, which Wagoner eventually took over.
When he was an architecture student, Boyington made sure to prepare himself for a broad range of projects. "Not only did I take the architecture curriculum, but I took classes at the art school, in ceramics and painting, and business courses in the business school," Boyington said. The education is available at UF, but students must avail themselves, according to him.
Boyington, along with Carr and Wagoner, have honorably represented DCP both during their education and professional careers. The different majors under DCP shape the world we live in, even the world inside of Peppa Pig's Theme Park.