LIVE STREAM: Fall 2020 DCP Virtual Commencement Ceremony (Saturday, Dec. 19 at 5 p.m. ET)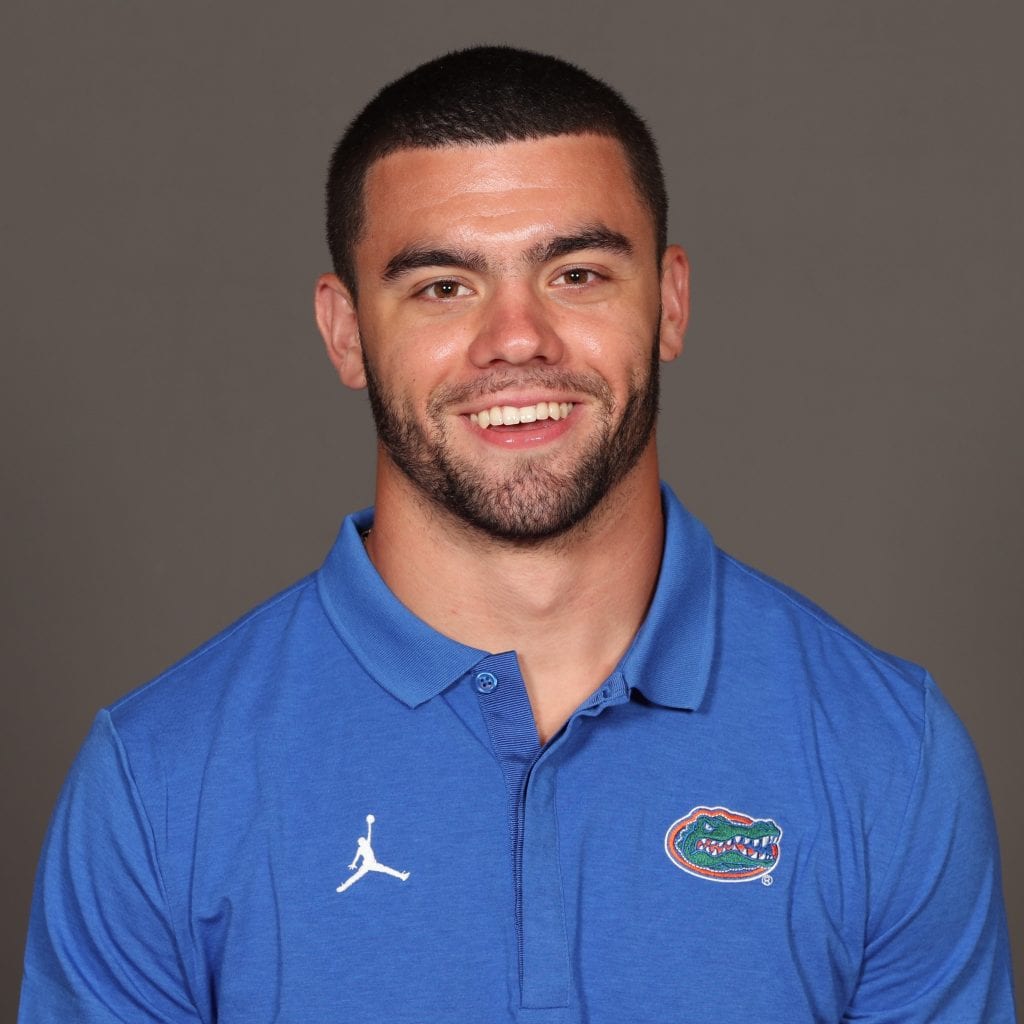 By: Kyle Niblett
Running onto the football field, Nick Oelrich is willing to smash through a brick wall to help his No. 11-ranked University of Florida football team capture its first Southeastern Conference championship in 12 years. Off the field, he has learned how hard it is just to build one.
"My classmates were in the Perry Construction Yard one day trying to build this simple brick wall," Oelrich said. "I thought it was going to be easy, but after the group put it together, it was all sorts of messed up and the bricks were not even lined up! It was the realization that masonry is not something to be taken for granted, and it is a unique skill that not just anyone can do."
With the knowledge of brick building now in his tool belt, the 6-foot-1, 210-pound defensive back will take the field Saturday night at Mercedes-Benz Stadium in Atlanta for the SEC Championship Game, hoping to defeat top-ranked Alabama. Three hours earlier however, in front of about 15 million less viewers, he will have accomplished an even greater goal: graduating from the M.E. Rinker, Sr. School of Construction Management.
"It is absolutely surreal," the Newberry, Fla., native said. "I have been working my tail off for four and a half years, so to be able to compete for a championship while finishing school is an honor and a privilege. I could not have asked for anything better."
Having fallen in love with construction at an early age thanks to his father, Oelrich grew up loving the hands-on approach the industry provided and how project managers handle different challenges daily. From dealing with different people to solving problems, the lack of monotonous activity was as appealing as laying a big hit on a wide receiver. So how did the walk-on learn to balance the rigors of a degree in construction management with being a football player on one of the best teams in America?
"You must set your goals and priorities in the right order and never waiver from that," Oelrich explained. "As a student-athlete, you are dedicating around six to eight hours a day to your sport, so when you get done with your athletic responsibilities, you have to lock in academically and get your schoolwork done."
Having played in six games this season, the senior plans on participating in Pro Day this spring in hopes of prolonging his football career. Knowing that one day he will have to hang up his cleats, Oelrich has coordinated his day-to-day actions to accomplish his long-term dream of owning his own construction company.
"This whole process has required a lot of sacrifices, but it is worth it knowing it is going to pay off one day," Oelrich said. "My time at UF has inspired and motivated me to wake up in the morning and oversee a lot of different moving parts, including hard-working people I can relate to. You have to trust the process."
Oelrich credits head football coach Dan Mullen and his professors at Rinker for helping him develop into a leader, while also teaching him valuable skills related to commitment, attitude and time management. Both academics and athletics have prepared him for the talents and abilities needed to one day accomplish his professional objectives.
"Being a football player and a Rinker student have taught me a lot about time management and handling your business in a professional manner," Oelrich said. "Leadership is contagious, so when others see you doing the right thing, they want to follow in your footsteps."
His family will be following in his footsteps as they make the long drive to Atlanta this weekend. It will not be until after the game that he gets to celebrate graduating from one of the nation's finest construction management schools. That is because once finals wrap up, Oelrich's sole focus will be on getting prepared for the game, beating the Crimson Tide and helping the Orange and Blue secure their spot in their third-consecutive New Year's Six bowl game.
"There is obviously a huge amount of pride in having graduated from the University of Florida," Oelrich finished with. "Rinker and UF are in my blood because I grew up a Gator from just down the road. I am going to miss the people I was in the Rinker program with because we had a great time together, but I have huge aspirations of being successful and giving back to the university that laid the foundation for my success."