By: Kyle Niblett

Each week during Summer 2021, DCP will highlight its interns across the country. To be featured in this space, please email kniblett@dcp.ufl.edu.
Majoring in construction management and scheduled to graduate in December 2022, Isabella Beauchamp is spending her summer as an intern with Robins & Morton working on Memorial Hospital in Jacksonville, Fla.
A member of Alpha Phi for the past three years, Beauchamp is actively involved in the National Association of Women in Construction as well as the M.E. Rinker, Sr. School of Construction Management Safety Club.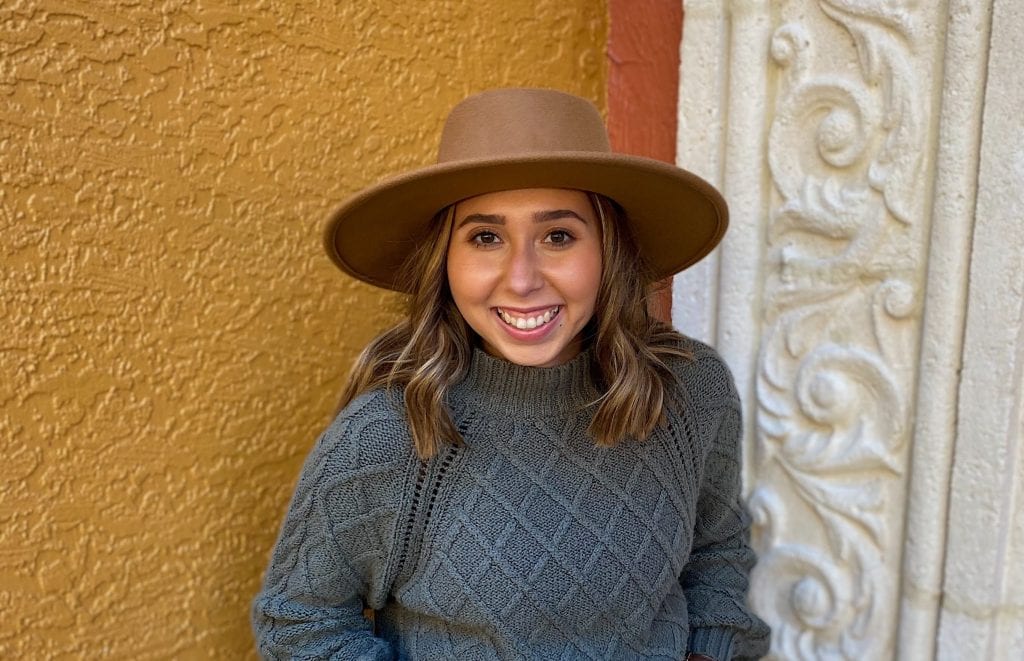 Whether it is walk throughs, completing safety equipment logs or closing out punch-list items, Beauchamp continues to learn and understand more about the construction industry. For this, she credits the University of Florida College of Design, Construction and Planning.
"DCP has provided the education needed to understand the construction process and what aspects are necessary for a working site," Beauchamp said. "The classes I have taken have allowed me to recognize the importance of staying on schedule and hiring the right subcontractors."
Staying on schedule has been key at the hospital, which has been the most challenging part of her internship. By managing the demolition of two areas in an ongoing hospital, her and her team at Robins & Morton have had to maneuver through the interior of the hospital without potentially damaging the atmosphere of the hospital. The demolition has been the most difficult part of the project as the preexisting materials and systems must be reconstructed. Most of these systems are also conflictive, so they have had to mitigate as many setbacks as possible.
"Since we are doing a demolition and an expansion, it can be difficult to understand what is new and what is old and how to fix it all," Beauchamp explained.
After graduation, she wants to work her way up to become a general contractor of a large commercial construction firm. With lofty goals for herself, she knows she will need experience in a team environment to succeed on various projects such as multifamily housing, healthcare and education facilities. Thankfully though, the Rinker student has been thriving in Robins & Morton's team-friendly culture.
"Going in with minimal experience, the team has allowed me to shadow them daily just to take in and absorb as much information as possible. They have helped me to identify problems and maneuver through them."
Q&A with Isabella Beauchamp
How has this internship helped you as a student at DCP?
The hands-on experience has further developed my education, as there is a
connection between the textbook information and real-life experiences. I am now mentally and physically able to connect what I have been learning to what is actually going on with my projects at work.
What would you tell prospective students who are thinking about attending DCP?
Joining DCP was the best decision I made when I was accepted into the University of Florida. The professors encourage hard work and dedication, and classes are extremely helpful when it comes to your future career.
What has been your favorite course/professor at DCP and why?
My favorite course was graphic communications with Assistant Professor Masoud Gheisari. This
class guided each student to create a three-story 3D model. Throughout the course, the 3D model was then transformed into a 4D simulation that included time into a video simulation. This class provided a visual aspect to the construction process and individually went step by step through the construction building process.
What has been your favorite memory at DCP and why?
My favorite memory at DCP was receiving my hard hat. This signified that in just a few semesters, my dreams of becoming a woman in the construction field would come true.
What is the one thing you know now that you wish you would have known your first day at UF?
If I could go back to my first day at UF, I would allow myself to make more friends in my classes. These people will be your support system throughout the semester. Each member of the group can learn from each other. I would also say to get involved as soon as possible. Once I became involved, I was surrounded by an amazing group of women that all shared similar values. These women helped me get out of my comfort zone and made me feel more confident.
How important is the DCP network of graduates across the globe?
DCP is so well-known that it is so important to keep in touch with all of your professors and fellow students. These people are willing to go the extra mile to refer you to their companies. The networking is the most rewarding part about the DCP program.