By Kyle Niblett
Once you attend the University of Florida College of Design, Construction and Planning, you are forever linked with past, present and future Gators.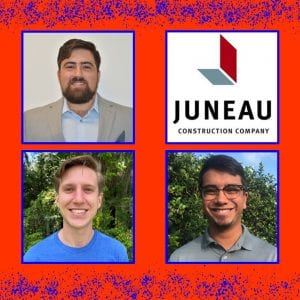 For 2008 UF graduate Matt Algeo and current DCP students Luke Estares ('20), Amuary Hernandez-Robles ('20) and Ethan Seidenberg ('21), that link was made even more apparent this summer.
Algeo, Director of Field Operations for Juneau Construction Company, helped overcome the in-person challenges of COVID-19 on internships by helping create a forward-thinking Virtual Internship Experience.
VIP2020 is a prestigious and comprehensive virtual/remote curriculum from one of the Southeast's premier commercial contractors. Estares, Hernandez-Robles, and Seidenberg make up three of the 12 college students from around the country reporting to Algeo and his coworkers this summer. When speaking of their seamless transition to VIP2020, all three credit their experiences in Gainesville.
"The M.E. Rinker School of Construction Management does a great job overall preparing students for the construction industry," Hernandez-Robles said.
Added Estares, "I have been able to quickly adapt to this virtual learning environment because it has been similar to our online classes from the spring semester." Estares is currently helping Juneau with quantity takeoffs, scope solicitation to subcontractors and comparisons of bids.
Estares believes the mentorship and manager piece of the internship is most rewarding part of his tenure with Juneau. With one manager coming from Preconstruction and the other coming from Operations, the DCP students spend half of VIP2020 in each program. In addition, a mentor is individually assigned at the beginning of the summer to answer any questions the interns may have. The opportunity given to the trio of DCP students to pick the brains of some of the most talented construction experts in the country is not taken for granted.
"Juneau's VIP2020 has allowed me to advance in the industry during this time when great, robust opportunities such as this are few and far between," Seidenberg said.
From working on programs such as On-Screen Takeoff, to learning more about Procore, all three Gators have learned that the best ability in this ever-evolving landscape is adaptability. Hernandez-Robles learned this at an early age growing up in a construction family, but it has been cemented with this internship.
"I feel my internship to this point has been customized to my personal level of experience, which has been my favorite part of Juneau," Hernandez-Robles said. "We have been able to focus on topics such as how to pull permits to build, and how-to analysis shop drawings and discuss errors with an architect or engineer."
Known for building a pipeline for future industry leaders, CEO Nancy Juneau, and her staff, including Algeo, have long provided a best-in-class internship opportunity for students from Gainesville. Headquartered in Atlanta with offices in the Sunshine State (Tampa and Miami), the Orange and Blue pipeline is sure to continue.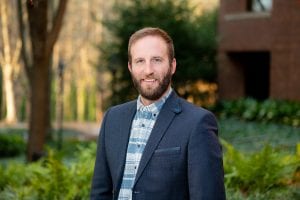 "As a DCP alum, I could not be more proud of my university and the Gator VIP2020 interns," Algeo said. "They come prepared, they show up on time, they're ready, they have smiles on their faces. All of them ask engaging questions. And those are the soft skills that you want to see and that we recognize. When we created this new program, VIP2020, it made a lot of sense to look as far into the future as possible with technology being integral to how we conduct business within the company as we continue to cultivate relationships and young talent with our internship program. The University of Florida could not be a better partner for Juneau Construction Company in this regard. DCP is truly developing the next generation of leading talent in our industry."
Hernandez-Robles said that he was grateful that Juneau took the initiative to keep their relationship with UF and DCP students intact in the midst of such a challenging time for universities and businesses.
"I believe what Juneau did by adapting their internship program and going to a virtual internship due to COVID-19 shows the excellent culture of the company," Hernandez-Robles said. "I could not be more thankful to the company for doing that for me."