By Kyle Niblett
Rachel Stanakis is a fourth-year interior design student who just recently finished interning at HuntonBrady Architects in Orlando. For the past three years, she has served on the Board for the University of Florida's American Society of Interior Design Association. Stanakis also volunteers her time on the leadership team for UF Young Life, which aims to create community among students on the Gainesville campus.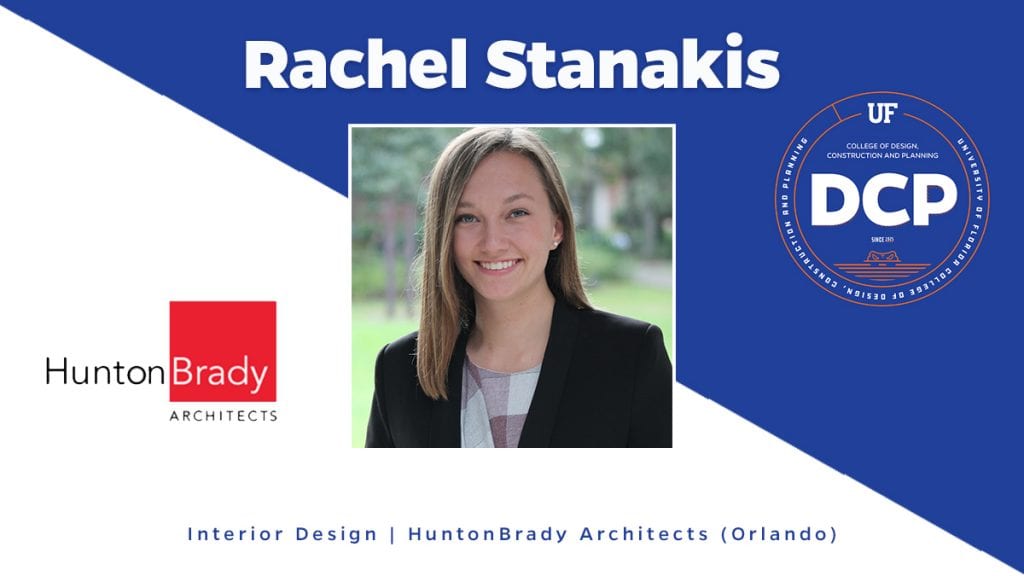 The Maitland, Fla., native lept at the chance to step out of her comfort zone during the pandemic and intern at HuntonBrady. Meetings in a room have turned into meetings on Zoom. While many full-time employees are choosing to work from home, Stanakis has appreciated how much she has learned from the interiors team due to her focused time with them.
"It has been extremely rewarding to work in the office alongside not only the interiors team, but the design and project architect teams," Stanakis said. "In addition to the HuntonBrady staff working alongside us interns and teaching us daily, everyone in the office goes above and beyond by intentionally showing us how to improve at our craft."
Proving that the Gator Nation is indeed everywhere, Stanakis says a bonus of working at HuntonBrady is the numerous UF alumni who work there.
"Each day I come to work I am reminded how grateful I am to come from a university that instills such a strong work ethic in its students," said Stanakis, who is one of four UF interns this summer. "I have gotten a chance to see Gators learn, innovate and inspire!"
With every day looking just as different as the job sites she has visited, Stanakis has been able to touch nearly every area of the company, working in both the healthcare and corporate sectors of the firm. From editing construction document redlines to creating material palettes and digital presentations, or even sitting in on client meetings, Stanakis knows this is only the beginning of her potentially prosperous career.
"Interning this summer has made me excited about my future career because I know that there will always be new ways I can learn to flex and adapt with the constant evolution that is design."
What They're Saying About Rachel Stanakis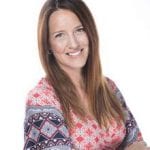 Shanna Hanson, IIDA
Director of Corporate Interior Design
HuntonBrady Architects
"As a fellow Gator interior design alumni (class of 1999), I understand the value gained by interning as a student in interior design. I had the same privilege over 20 years ago and it opened the doors to experiences and relationships that have landed me as the Director of Corporate Interior Design for Hunton Brady Architects.
What really stands out about Rachel is that she is driven with a great attitude! She reached out to us prior to UF's Design, Construction, and Planning Career Fair. We were able to get to know her a little, so when the Career Fair arrived, she was already at the top of our interview list. The first half of her internship was spent in our Healthcare Interiors studio. Mid-summer, she switched to Corporate Interiors. We have had her attend client meetings, site visits and dropped her straight into space planning and construction documents. Rachel is a champion at juggling several tasks at a time, a skill that is extremely valuable in our profession. She asks great questions, is willing to learn and has even taught me a few things in Revit.
Our hope is that we make a connection with our interns and assist in further developing the concepts that UF has well equipped them with into real-life application. Rachel will return to her senior year armed with knowledge, details and a much stronger understanding of interior design."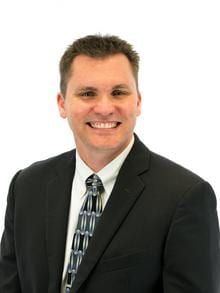 Robert Van Den Bogaert, IIDA
Director of Healthcare Interior Design
HuntonBrady Architects
"Starting with the tough times and the unknown in March with the birth of Covid-19, we had to make a call in regards our interns. For us, the decision was easy – bring them on. The role that the internship plays in their education and opening their eyes to how the profession of the interior designer works is deeply important to us. We decided to bring on two: one for the healthcare side of interiors and one for the commercial side, with a plan to have them switch midway and gain experience in both.
Now that Rachel's time is almost over with us, I feel she has gained a real understanding of the role and understands the impact the interior designer plays in the world. Tasks given to her included: creation and assembly of concept and presentation, design and understanding of details, understanding room use and materials needed, site walks, submittal process, sketch designs, implementing sketch designs into the plan set, assisting in meetings with client and planning coordination with M,E,P,F. In this short time, she has become a real asset to the team and has tackled the challenge we laid down for her with great success. My hope is they we have laid the ground work and established the passion for her much anticipated and deserved success as an interior designer."