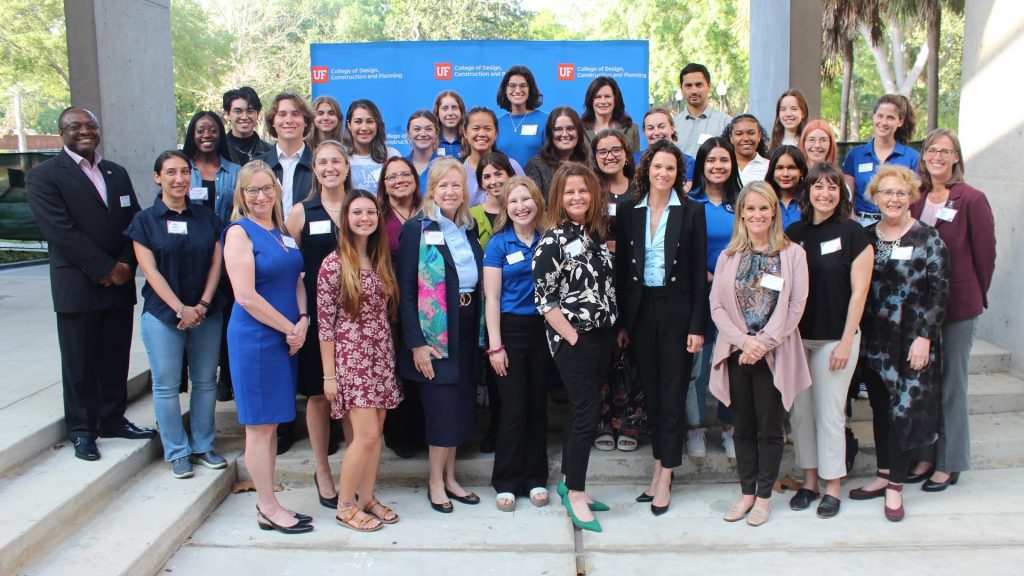 By: Kyle Niblett
March 10, 2023
With a registered crowd of 70-plus University of Florida College of Design, Construction and Planning students, the Sixth Annual DCP Women of Influence event took place in the Architecture Building Atrium on Wednesday, March 8. More than 75 DCP students registered to hear from and interact face-to-face with nine alumnae and friends of the college who are leaders in design disciplines nationwide.
After a welcome from Dean Chimay Anumba and Associate Dean for Undergraduate Education & Facilities Nancy Clark, the nine panelists introduced each other before students had the opportunity to glean insight from them during three separate break-out sessions. Significant takeaways from these conversations reflected topics of diverse internship experiences, the importance of mentors and the future trajectory of these fields.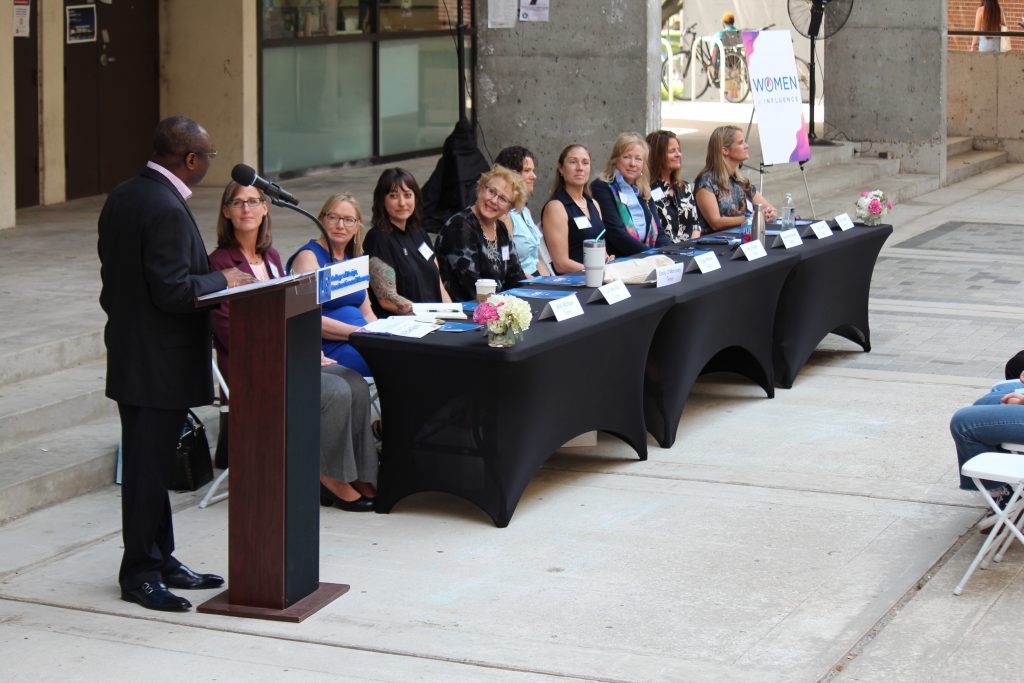 For 2006 UF interior design graduate Juli Mitchell, the event was of the utmost importance, especially on International Women's Day.
"Just as we strive to enhance people's lives through our designs, our industry must strive to support and include all designers," said Mitchell, who is now principal at Walker Architects. "That is why it is imperative to foster women in design disciplines from the education level and throughout their careers."
As the first female president of Holder Construction, 1995 M.E. Rinker, Sr. School of Construction Management graduate Beth Lowry felt called and responsible to return to campus and give hope to a generation of younger women. While displaying an approachable, humble personality, Lowry was delighted to go back-and-forth with many DCP students.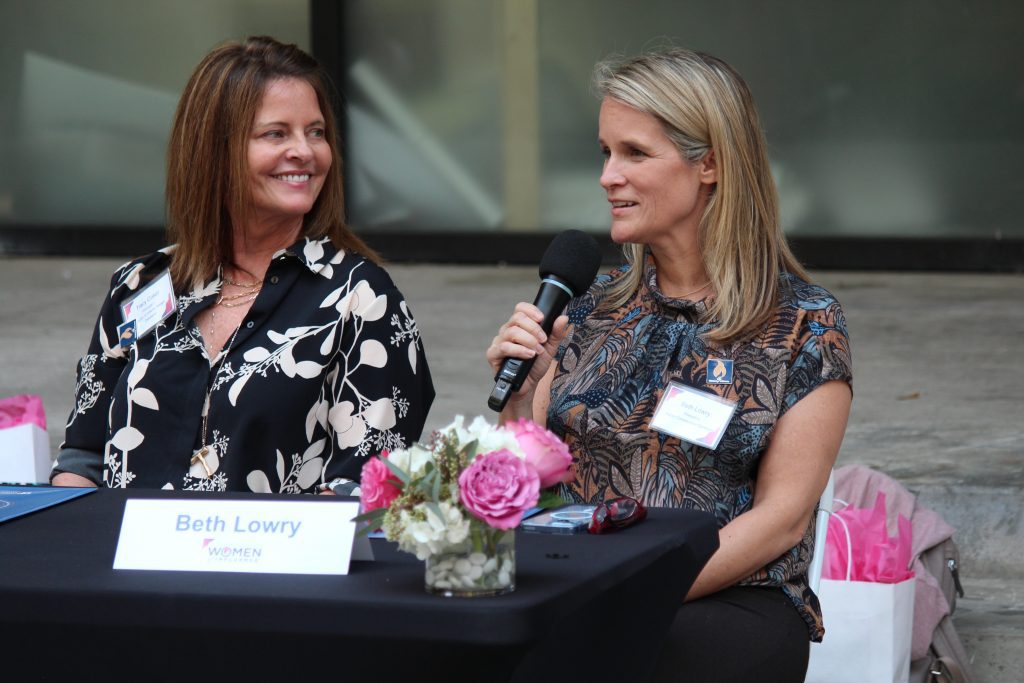 "I really applaud the college for creating a home for women who are interested in construction," said Lowry, who was happy to know that after being one of only three females in her graduating class, females now represent nearly a quarter of Rinker's total enrollment. "Construction is an absolutely great career for women, even if it is a somewhat unknown career for women. The fact this college makes it known for women is a differentiator for UF, because I'm not seeing that at other schools across the country."
The evening closed with a speech from DCP Ambassadors President Emily Ellingsen and a reception in order to continue the conversations between students and industry leaders.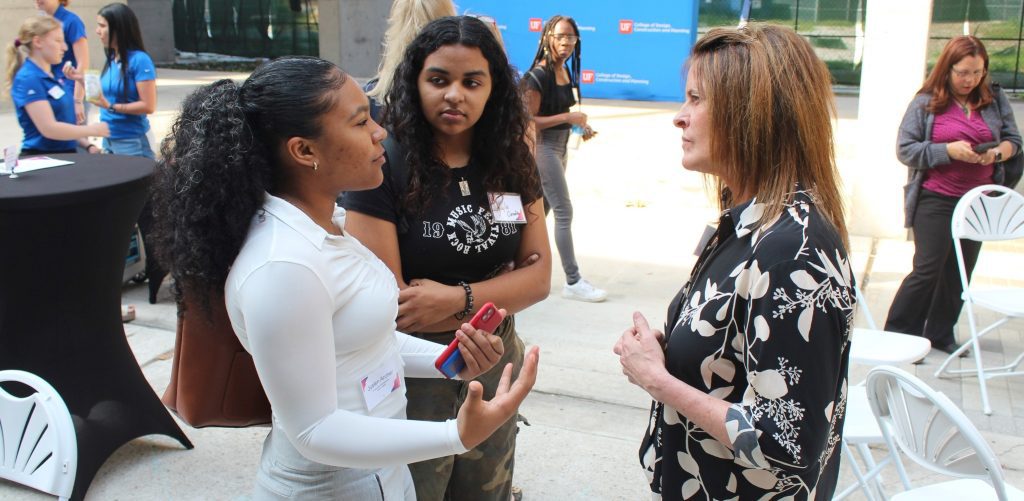 "I left this event feeling so empowered by the women I had the privilege of meeting," said Jyslen Archer, a first-year interior design student. "It was impactful to be able to gain insight on what my future could look like, especially the fact that all these women are in a high position of authority in their workplaces. As a first-year student, this event helped me realize how easy it is to network, get connected and find opportunities."
The feeling was likewise for the panelists.
"Speaking to these students really reminds me of all the hard work that it took to finish here," said Tracy Coker (BDES '88), the national director of interior design practice at Dewberry. "To this day it is an incredibly talented, competitive group of students. The competition at DCP is one of the main reasons why the program here is so successful."