By: Kyle Niblett
Just how in demand are students from the University of Florida M.E. Rinker, Sr. School of Construction Management?
Nearly 300 recruiters invaded the Stephen C. O'Connell Center this past Tuesday trying to lock down more than 225 Rinker students for full-time jobs and summer internships.
"I think the event is so successful because of the pride the alumni have as they return to campus and swell up with positive memories of their time here as a student," Rinker School Director Dr. Robert F. Cox said. "They are fully aware of just how talented and skilled our students are because they experienced it themselves."
Coming from all over the United States, the 98 registered companies battled against each other as they recruited blue-chip construction management prospects from 9 a.m. to 1 p.m. As students went up and down aisles like schools of fish swimming downstream, a plethora of Rinker graduates turned construction professionals were there giving it their best pitch to bring the next group of Gator greats to their company. Those who were able to secure commitments conducted individual interviews the rest of the afternoon.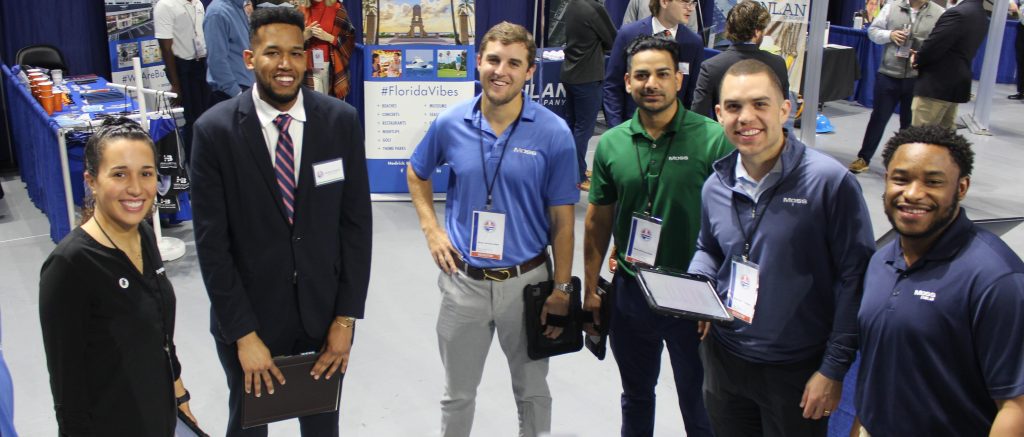 "We are fortunate to have almost 100 companies travel to Gainesville to talk to us," said Rinker student Danny Castañeda, who is also vice president of the Associated Builders and Contractors UF chapter. "We realize this isn't the case at most college construction career fairs across the country."
A noticeable change on the floor the last few years has been the increase of women recruiters and students. This past fall, Rinker counted a record 24 percent of its students as females. For Rinker junior Gabriela Cartaya, the conversations she had with female recruiters created a bond and a support system.
"Someone told me today their graduating class had three women, and zero in the class before them and zero in the one after them," the National Association of Women in Construction member said. "There are eight of us this spring in the junior class of 33, so it is nice to see that women are starting to thrive in this industry."
Students like Castañeda and Cartaya were encouraged to find organizations that offered the most exposure and experience in different aspects of the construction industry, as opposed to just focusing on a starting salary. From estimating to sustainability to project management, recruiters preached to not chase a project, company, or the best signing bonus. According to 2018 Rinker graduate Melisa Perez, the advice was foolproof.
"When I was a student here, I did two internships directly through the Rinker Career Fair," said Perez, who is now an assistant project manager at Current Builders. "Both were incredibly valuable because aside from learning what goes on day to day, I was able to understand how companies operate differently and what I valued as an employee."
Overall, the family reunion on day two of the UF College of Design, Construction and Planning Industry Expo was another success as Rinker continues to boast a 100 percent job placement rate.
"Rinker is a brotherhood and sisterhood of family members, and it is invigorating to me each year we host a career fair," Cox finished with. "One of the reasons why the construction industry is so special is that even though there are millions of people in the industry, the Rinker family is a very close-knit family. It is my favorite day of the year."