By: Kyle Niblett
A record number of design and planning firms made up of architects, interior designers, landscape architects and urban and regional planners attended day one of the annual University of Florida College of Design, Construction and Planning Industry Expo Monday afternoon. Students crowded the floor of the Stephen C. O'Connell Center meeting with 86 registered companies seeking internships and full-time jobs.
"We are very excited to have a record number of companies come recruit our students," Dean Chimay Anumba said. "The reputation of all our disciplines is very positive out there, and combined with the economy doing well, makes this a successful career fair. The companies that are not in attendance are definitely missing out on the best design, construction and planning students coming out of any program in the country right now."
From noon to 5 p.m., more than 400 ready-to-work students zigged up and down the rows handing out resumes, flashing their impressive portfolios and trading business cards like currency. Companies swooned as ready-to-work candidates visited their booths in record numbers.
"We always know that there is talent at the University of Florida, so we go out of our way to try to bring people we know will be successful and can contribute to our firm," said 1987 UF architecture graduate Cesar Reyes, who is Principal of Design and Production at STOA Architects in Pensacola. "The curriculum they learn in the studios at UF is extensive which means they're competent to learn, can adapt quickly and contribute immediately."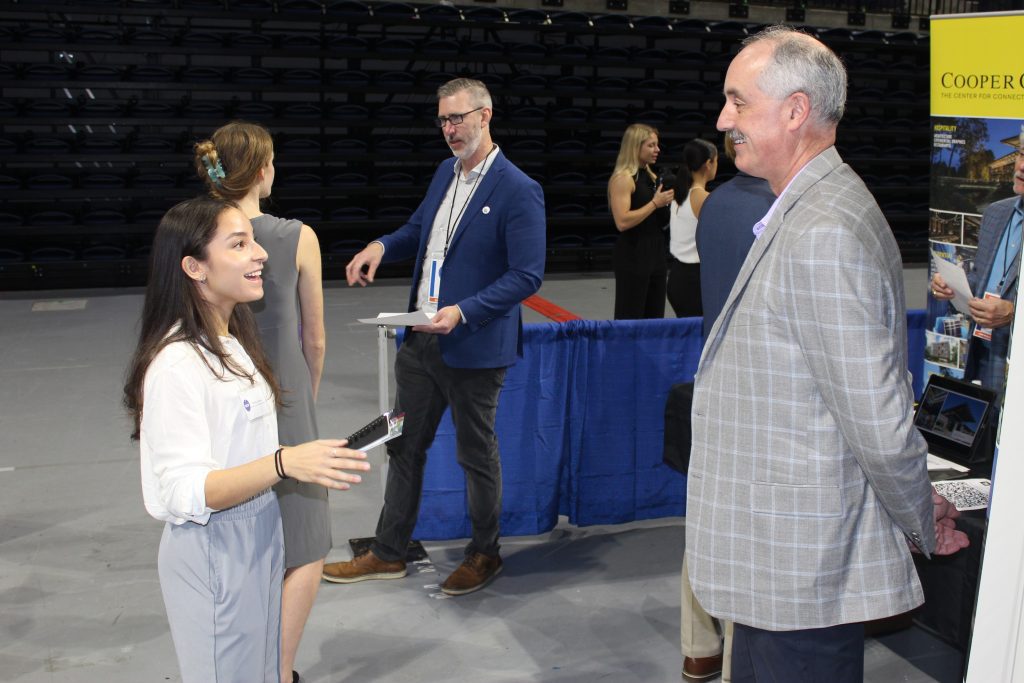 For D8 architecture student Shannon Strobhar, the education UF provides made her more than confident in mingling with professionals on the floor.
"I have really been able to build up a lot of experience before today, and I believe it is reflected in my website, portfolio and resume. I am excited about finding a place that makes me feel valued where I can produce quality work for quality people."
Following the five-hour event, job seekers networked with professionals at the DCP Industry Expo After Hours event, where food and drinks were provided, and conversation flowed freely in a more informal setting.
"A lot of the recruiters here tonight were alumni who love giving back," School of Architecture Director David Rifkind said. "They also know our students are graduating from a Top-5 public university. The talent firms have access to is unmatched."
Dean Anumba agrees.
"Our students are great because we train them to be highly technically proficient. We teach them to be exceptional at collaborating with other disciplines and be excellent in a variety of different fields."