By: Mia Alfonsi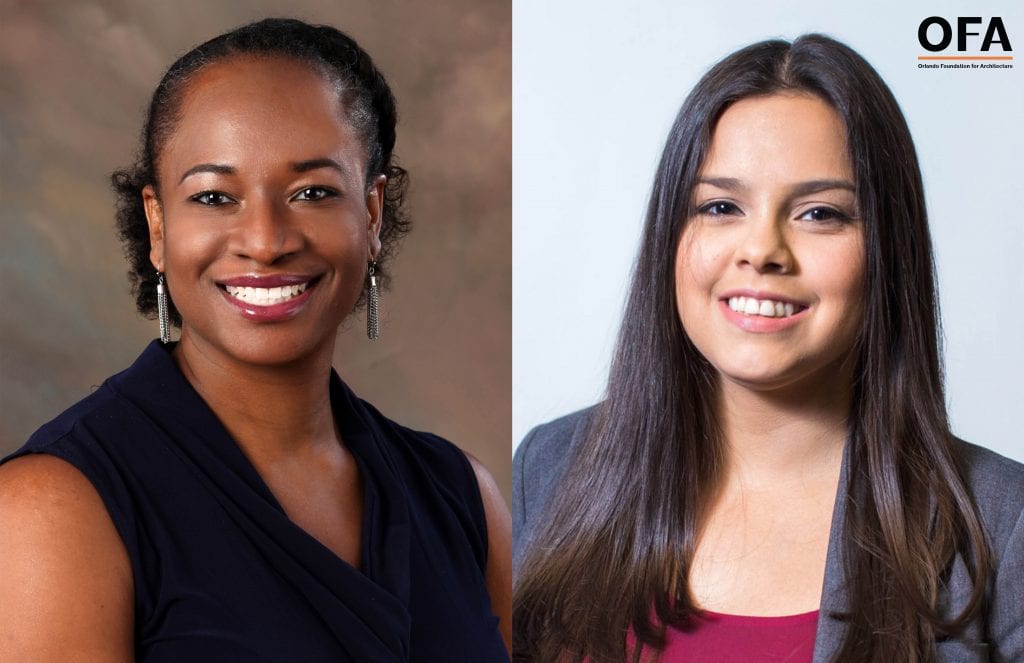 University of Florida College of Design, Construction and Planning students Natalie Casey and Alexandra McCoy were each awarded $5,000 student scholarships from the Orlando Foundation for Architecture in recognition of their connective, sustainable projects and diverse approach to design and planning. A thirty-year-old initiative, OFA's scholarship program has accumulated more than $300,000 and supports students in their professional endeavors.
"This particular set of scholarships links the Valencia College and UCF Bachelor of Design in Architecture with CityLab-Orlando's professional degree, the Master of Architecture," said Stephen Bender, lecturer and acting director for UF CityLab-Orlando. "Through the awards, students see the architecture community stand behind them all along in their pursuit to become an architect."
The support that Bender touches on is exactly what first-year UF CityLab-Orlando student Natalie Casey found in receiving her scholarship; it served as a "sign that I was headed in the right direction," according to Casey.
A single mother of two girls, Casey often faced the tough decision of devoting herself to a career in architecture or to her children. Casey was sometimes unaware of her talent and unfocused as she juggled motherhood's responsibilities; this scholarship opened her eyes to what she could do and why she should be recognized for it.
"As I read through a statement from one of my professors as to why I would be well-deserving of the scholarship, I could not believe they were talking about me," Casey said. "The words that flowed through his mouth seemed surreal. It turned out, all this time without noticing, I was bringing value to those at my job, in my class and to the design community."
Casey's winning project outlines a space for people to work, socialize or learn — a shared place that unites people and breaks down the invisible barriers associated with downtown areas. Like her project's themes, diversity and inclusion are two values that Casey not only enjoys most about UF CityLab-Orlando, but also hopes the architectural world, and society at large, will embrace indefinitely.
"I am in studio with people from marketing and medical programming as well as retired moms, young, old, black, white and everything in between," Casey said. "The ability to pull from those experiences as we learn from each other becomes priceless when trying to be innovative. My vision for the future is very much similar for my vision of our country. Just as we had to start being accountable for ensuring Green Design was being incorporated into our projects, let us start thinking toward design that promotes humanity and inclusion in the cities we live in."
Moreover, Casey's recognition of her race and gender pushed her closer to architecture's initiative to promote and nurture diversity and ignited her passion to keep going. Her Master of Architecture degree is a springboard to creating environments where people never waver from their passions, like she has for many years.
"As an African-American female, the recent initiative to create diversity in this field ignited my ambition to put the wheels in forward motion," Casey said. "Every push is a step toward bringing change to the environments I have worked. Pursuing this degree is not just about building buildings – I also hope to be a mirror for others to see a reflection of themselves when they walk into the office on the first day of work. It is my hope their focus never has to change from their passion for design, the way my focus changed for quite some years."
Second-year UF CityLab-Orlando student and scholarship winner Alexandra McCoy shares similar sentiment with Casey as she strives to "drive changes, like more sustainable approaches to building and social equity."
As a female minority herself, McCoy sees architecture intersect with every aspect of society and values equity for all. She pursued architecture due to her love of art and design, but now sees more depth in exploring how it impacts humanity, according to McCoy.
Her winning project, entitled, "Coffee Living/Roasting Workplace," demonstrates how spaces can serve as both a residence and place of work to fuel productivity and connection between organizations and the communities they serve.
The concepts of continuity and flexibility embraced in her coffeehouse plan mirror that of UF CityLab-Orlando's programming, under which McCoy can study and work simultaneously. The convenient process and the consistent collaboration with peers have enabled McCoy to reach new heights in architecture.
"I believe the experience you gain at a firm is invaluable to my studies and vice versa," McCoy said. "I am able to apply what I learn in the office to my studies, and seeing projects come to fruition is very exciting."
UF CityLab-Orlando's partnership with OFA allows students like Casey and McCoy to see the impact of their studies beyond the classroom. While engaging directly with community leaders and architects they learn about in the classroom, students embrace a realistic perspective in their own work and lean in closer to their personal impact.
"The support from OFA gives the students an invaluable source of inspiration, encourages students to get involved, and sets them well on the path to becoming successful architects and future community leaders," says Lucas Najle, AIA, adjunct lecturer at UF CityLab-Orlando and design architect at HuntonBrady Architects.
Casey and McCoy's recognition demonstrates UF CityLab-Orlando's excellence in preparing and empowering its students to be their best. UF CityLab-Orlando and OFA's partnership only reaffirms the value that each organization offers to students in their pursuit of architectural prowess.
"Support of UF CityLab-Orlando embodies these founding principles of our foundation and further advances our mutual objectives to support students through scholarships and involvement of staff and community leaders with the UF CityLab-Orlando program," OFA 2020 Chair Tim Gibson said.