Mission
The primary initiative of the University of Florida Design Exploration Program (DEP) is to offer both valuable insight and first-hand experience to prospective architecture design students. The program aims to immerse participants in an architectural educational environment that introduces students to core aspects of the university's design curriculum as well as to essential architectural principles in general. A greater understanding of both the architectural curriculum and environment at the University of Florida is achieved through the construction of studio design projects which will equip the students with hands on experience with the design process, program activities which serve to foster a sense of community and enhance teamwork among participants, and field trips which aim to broaden the scope of architectural theories, methods and principles discussed during the program.
Download the Design Exploration Program Brochure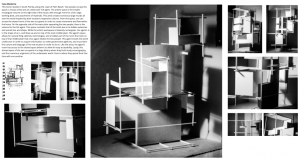 Design Studio
An intensive design studio directed by UF SoA faculty is the heart of the DEP experience. A low instructor / student ratio ensures personal attention. In studio, participants develop projects involving various phases of architectural design development and presentation. Basic design exercises such as drawing, model building and investigations of architectural concepts and constructions compliment the studio projects.
Seminars
The seminars will cover various aspects of design and building also form an important part of the program. Formatted as lectures and group discussions, they are led by guest professors in the morning and afternoon hours. Varied issues such as design processes and methods, architectural history and theory, model making techniques, use of photography as a medium of architectural documentation and the role of computer / digital technology in contemporary architectural practices are presented.
Field Trips
Field trips provide participants with exposure to important works of architecture from Florida's past and present. Through virtual on-site visits to architectural offices, buildings under construction and architecturally significant sites, participants learn about design, building and the architectural profession.
Program Fees
The $2800 program fee for the Design Exploration Program covers the program's (3) three weeks of instruction, studio supplies and materials, on-campus housing and all travel expenses.
Financial Aid
Scholarships for participants in need of financial aid are available on a limited basis. Those with a genuine need for financial aid must include a separate letter in their application packets explaining their request and indicating how much of the fee they can afford to pay. UF SoA Design Exploration Program faculty will evaluate applicants requesting financial aid to determine if a scholarship will be offered. Financial aid decisions will be determined on the basis of the overall strength of the materials in the individual's application packet.
2023 Summer DEP dates:  Sunday, June 11, 2023 – Friday, June 30, 2023
In order to apply, please register on-line and complete the DEP application:
The following documentation is to be submitted to Lisa Haynes (lhaynes67@dcp.ufl.edu) at the time of registration:
A completed 2023 UF DEP application
A copy of your most recent official academic transcript from your current high school
Personal statement [one or two pages in length] describing how creative and intellectual interests will benefit from your participation in DEP
Optional Letter of Recommendation

Please note the deadline to submit all required documents once your student is accepted into DEP is Friday, May 12, 2023.
Please send Materials via email to lhaynes67@dcp.ufl.edu or via USPS to:
UF School of Architecture Design Exploration Program
Attn: Lisa Haynes
PO Box 115702
Gainesville, FL 32611-5702
For More Information, Contact:
Lisa Haynes
lhaynes67@dcp.ufl.edu
352-294-1454
Jason Alread
Professor
jalread@ufl.edu
352-294-1454
David Rifkind
Director
rifkind.david@ufl.edu
352-294-1455