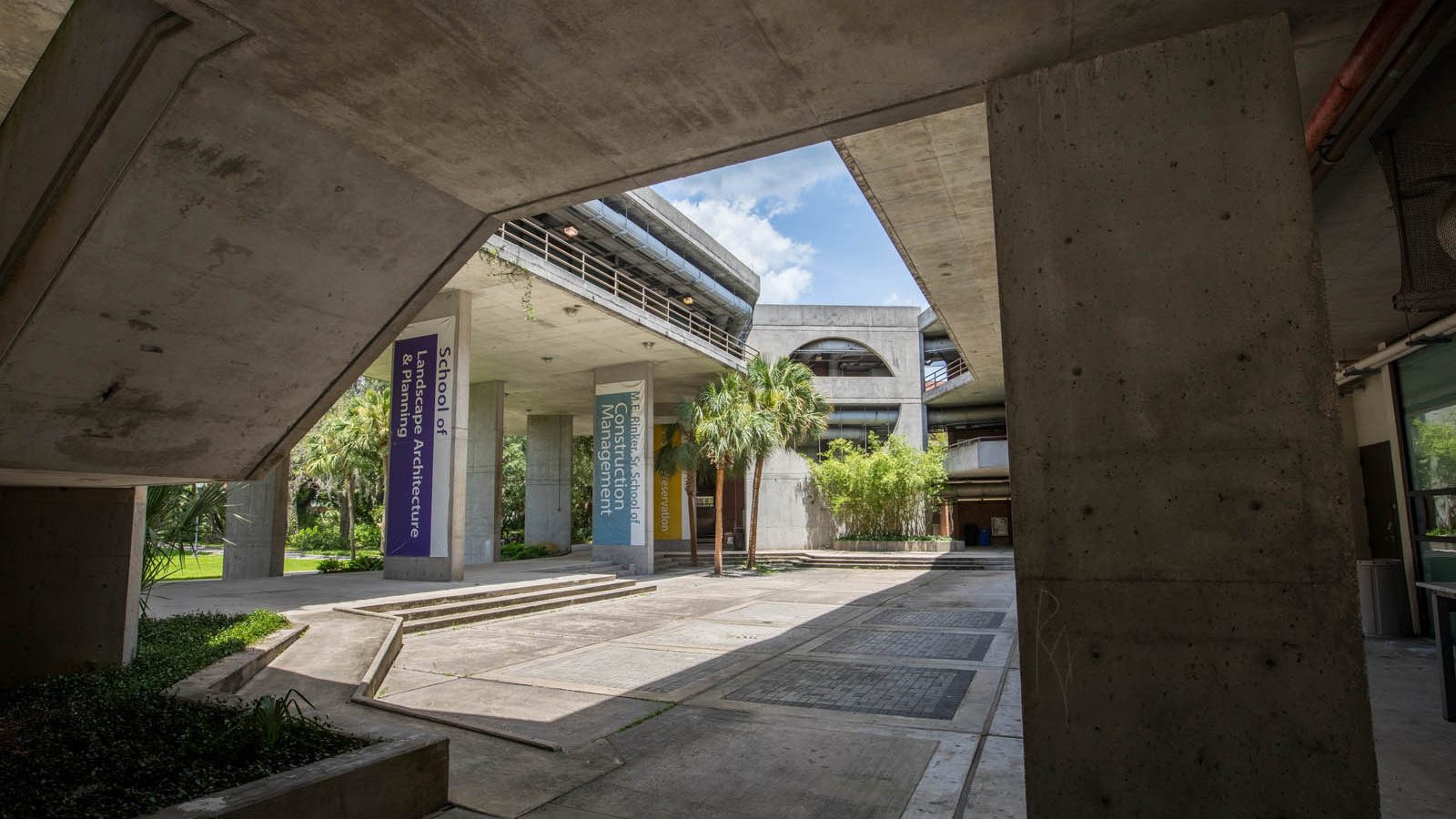 THE UF SCHOOL OF ARCHITECTURE CULTIVATES DESIGN AS A SYNTHESIS OF SEEING, THINKING, AND MAKING.
Design is an iterative process that gathers issues of space, form, historical precedent, ecology, structure, urbanity, landscape, and materials toward innovative and enriching architecture.
As the third largest state population in the US and the fastest growing as of 2023, Florida faces both the challenges and opportunities that come with rapid and sustained growth. Protecting sensitive natural ecologies, nurturing quality tourism, responding to an increasingly humid and hot climate, enhancing urban centers, reducing sprawling suburbs, protecting dwindling agriculture, transforming transportation infrastructure, and developing strategies of resilience to support inhabiting coastal communities under threat from periodic hurricanes and persistent sea level rise. These issues raise questions of design. How will we design for the future?
The School of Architecture is uniquely positioned to respond to these issues by deploying studio-based design and scenario modeling methodologies in collaboration with emerging experts in engineering, ecology, business, anthropology, artificial intelligence, energy, fine arts, medicine, and construction. Within the University of Florida, the State's flagship research institution, a trove of researchers and faculty, dedicated to academic excellence and interdisciplinary collaboration, are focused on the demands of changing Florida culture. The SoA is one of seven programs associated within the College of Design, Construction and Planning — Architecture, Landscape Architecture, Planning, Preservation, Sustainability and the Built Environment, Interior Design, and Building Construction. SoA faculty and students, working independently and collaboratively across disciplines through teaching, research and practice, have garnered international, national, state and local design awards, publish regularly, and have secured national, state and local grant funding for research-based service-learning and design projects. This body of work examines theoretical, poetic, and practical questions facing humanity and proposes responses, through the discipline of design, that are viable, innovative, and transformative.
Our undergraduate programs endeavor to provide students with the foundational knowledge – within a rigorous studio-focused 4-year program – that will nurture synthetic thinking and design skills by operating in varied modes of making: sketching, drawing, collage, scale modeling, computer modeling, and full-scale construction. Our supporting coursework in areas of structures, environmental systems, building materials, history, and theory are organized to support synthetic design within the design studio.
The graduate program extends fundamentals through a research-based design approach that explores contemporary critical issues of a change — climate, energy, infrastructure, building technology, artificial intelligence, transportation, urban form, and architectural pedagogy. At the graduate level, students develop self-directed interests while engaging design as a collaborative and integrative methodology operates in both real and speculative projects. This work is done in coordinated studios, grant funded projects, seminars, workshops and each student's individual thesis project. Often this work is coordinated with our research centers in the SoA and the College of Design Construction and Planning.
Doctoral candidates within our program focus on directed research into interests they bring. The SoA has a strong doctoral faculty who work individually with candidates to develop their course of study and craft a dissertation methodology that can produce published work, establish them as emerging experts, and prepare them for the rigors and opportunities of an academic career in the discipline of architecture.