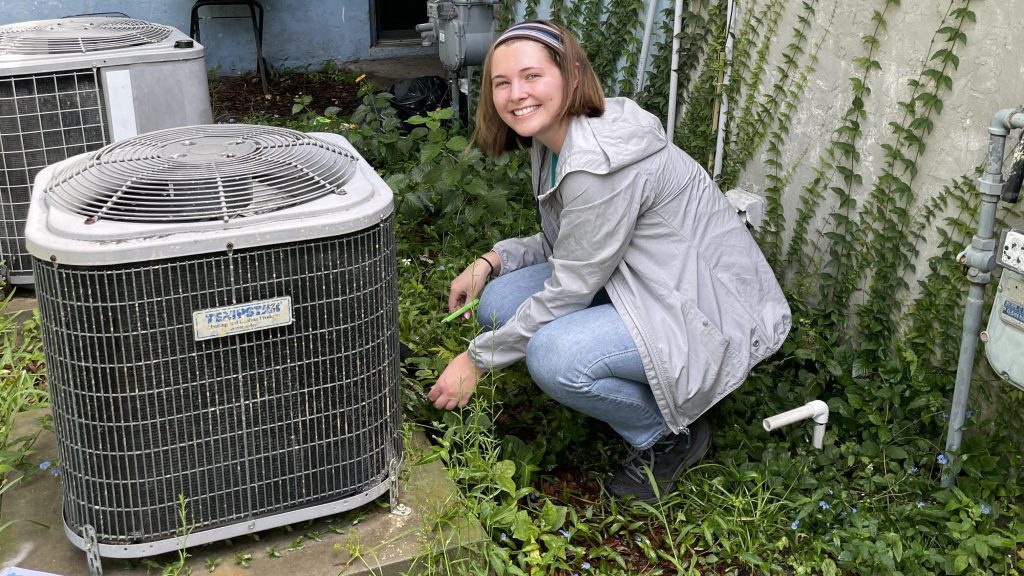 By: Kyle Niblett
June 26, 2023
Since graduating this past May from the University of Florida with a degree in Sustainability and the Built Environment, Teagan Milford has been on a mission to shape the world we live in.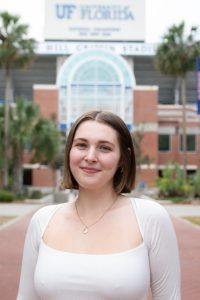 As she prepares to enter graduate school this fall, the newest UF College of Design, Construction and Planning (DCP) alumna is interning at Gainesville's Community Weatherization Coalition (CWC), which is a grassroots nonprofit started in 2005 with the mission of helping Alachua County residents reduce their utility bills by saving energy and water in their homes. To date, the company has performed 1,425 in-home tune ups, conserved almost nine million gallons of water annually, alleviated almost half a million dollars in bills for the community, and saved over two million kilowatt hours of energy annually.
The partnership between CWC and Rebuilding Together North Central Florida has empowered interns like Milford to perform energy audits in people's homes. These energy tune ups entail going to a client's home and doing a free thorough review of their appliances, infrastructure, and home envelope. Then workers like Milford suggest improvements or changes that could help lower clients' energy and water bills. When she's not making house calls, the Gator grad also creates content for CWC's social media accounts, restocks the tools necessary for said tune ups and strategizes with her coworkers on maximizing community outreach.
"DCP taught me the power of teamwork and critical thinking, which has equipped me to work seamlessly with everyone at CWC," Milford said. "The knowledge I gained at DCP about the importance of stability, efficiency, and maintenance within a home envelope has been invaluable in performing tune ups and understanding the unique needs of each client."
While trying to help the citizens of Gainesville and beyond, Milford has found it difficult to recruit new volunteers and clients, constantly coming up with creative ideas to recruit. She credits DCP for encouraging her to think holistically in her approach, which she says has contributed to her ability to problem solve when completing in-office work as well as tune ups. Combining that approach with her bubbly personality has formed amazing connections between herself, CWC and its clients.
"Through this internship, I have had the opportunity to get a greater glimpse into the Gainesville community in a way I never truly did during my time as an undergraduate student," Milford explained. "It has been incredibly rewarding and eye-opening to see the impact of how my DCP education and CWC internship in peoples' day-to-day lives."
As someone who wants to eventually work full-time in a career that combines her passion for sustainability with her interest in data, Milford has been fascinated learning about how minor details can cause major effects, like learning how air leakage through electrical outlets can impact energy bills. She has quickly learned about vulnerabilities in the home envelope through a blower door test, which depressurizes the home and reveals where the air leaks originate from. This has made her even more conscious of her own behaviors relating to sustainability.
"I would encourage all DCP SBE students to step outside their comfort zone and volunteer at CWC," Milford said. "It is one of the many, many places where I have noticed the accomplishments of DCP alumni. The University of Florida is a very special place, and DCP is a paramount example of what makes it so special. We have the knowledge and determination to change the world around us and shape a better future for us all."