By: Kyle Niblett
Hundreds of thousands of Americans opened up their smart phones Jan. 20, 2021 to witness a breathtaking spectacle: a time-lapse video featuring 200,000 United States flags representing those who could not attend the latest inauguration in Washington, D.C.
For University of Florida College of Design, Construction and Planning senior Ryan Lester, the eyes of the world were on his work.
C3 Presents was hired by the Biden Inaugural Committee to place flags on the National Mall. Subsequent to their hiring, C3 then reached out to Lester in December and asked the sustainability and the built environment major if he would create the magic he had quickly developed a reputation for. For him, the decision to unite his country through powerful visual storytelling and say yes was a quick one.
His journey to the nation's capital? Well, that was a long time coming.
"When I was 15, I reached out to "Final Kid," a Dutch filmmaking company responsible for the Ultra Music Festival Aftermovies on YouTube," Lester said. "The owner, Charly Friedrichs, responded to me and basically told me to continue sending him my work and maybe one day I could intern for him at the Ultra Music Festival in Miami."
After three years of sending in his work, Lester finally joined the team when he was old enough in 2016. The experience with the mostly European team opened the door to unimaginable opportunities. From UMF Miami, to Lollapalooza in Chicago and even the Parookaville Music Festival in Germany, the 23-year-old has ping-ponged around the world doing what he loves.
"For the first few years of my career, I couldn't afford good video equipment, but had a decent photography setup, so I started creating time-lapses with my photo camera," Lester said. "After posting a relatively successful time-lapse film on YouTube in 2017, I was able to pitch video ideas to large clients with the fairly cheap equipment that I already owned. With the money I made while shooting time-lapses for four years, I invested it back into professional video equipment to pursue my goal of being a filmmaker."
All of this came on the heels of Lester taking a gap year after high school. Following a move to Chicago at 19 years old, he found himself running 18-course tasting menu items at a restaurant owned by 3-Star Michelin Chef Grant Achatz. It was there in the Windy City where the Orlando native began to gain interest in the built environment, specifically urban planning. So, he thought to himself, why not go to college and get a degree for it?
"Growing up, my dad had always hoped I would be the first person in our family to graduate from college, preferably from the University of Florida," Lester said. "So, with his encouragement, I decided to move back to Florida for school, where I eventually became a Gator!"
The first-generation college student immediately fell in love with the large melting pot of students that is the sustainability and the built environment program.
"Whether you are interested in transportation, housing or even growing plants off the side of a skyscraper, I can guarantee there is a home for you in the SBE program," Lester said. "We all come together for the collective goal of doing what's right within the built environment."
Although he is not in the 4+1 program, Lester also took several historic preservation classes in undergrad and has gravitated toward studying that discipline the most. Scheduled to receive his bachelor's degree this spring in SBE, his interests combine the love for urban planning and the passion for historic preservation. The next step after graduating is obtaining a master's degree in historic preservation at UF beginning this fall.
"Historic preservation has always interested me because it can be a form of architectural appreciation and a tool for resilience," explained Lester. "Egregious urban planning in the mid-20th century contributed to many of the systemic issues we face today, and I believe that historic preservation can help protect vulnerable communities for the future."
Before even officially joining the program, Lester has hit the ground running. Working with UF Historic Preservation Program Director Morris Hylton III, Lester had the opportunity to use his filmmaking talents to create a trio of 30-minute videos for the Envision Resilience Nantucket Challenge. UF is participating in this challenge, which calls on interdisciplinary teams of graduate students from prestigious design universities to reimagine Nantucket's Harbor under the latest projections of sea-level rise.
"Ryan is among the most intelligent, engaged, passionate and talented students I have had the pleasure to work with," Hylton III said.
SBE Lecturer and Change Agent Hal Knowles agrees.
"Ryan is everything that Marty so eloquently stated," Knowles said. "It has been an honor to serve students like Ryan in our DCP family. I am so excited to know that his talents and interests are in good hands within the Historic Preservation Program."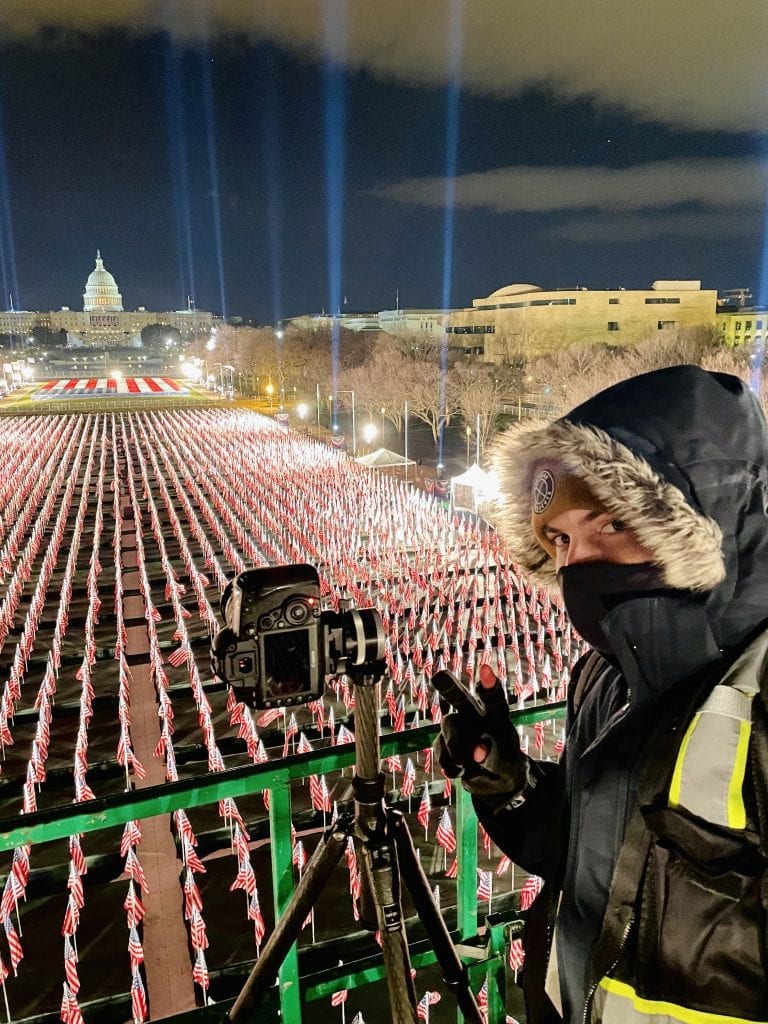 His experience thus far at UF intricately ties back to his work as a prodigious filmmaker. It is his talents through the lens which has made him such an attractive candidate to the MHP program at UF. Working music festivals around the world along with corporate events like Amazon Web Service's re:Invent in Las Vegas have helped Lester adapt to any situation he is put in at the push of a button. Thanks to UF, however, the education aspect of what he does helped at his new job this past month when tensions in The District were at an all-time high.
"Funny enough, I kept getting lectured by National Park Service rangers for using my tripod on the National Mall lawn," said Lester, who also worked with the uber-talented photographer Calder Wilson on the inauguration project. "After telling them about my academic interests with the UF Historic Preservation Program, we became friends. I felt safe, but it was odd being one of the only people in the world allowed on those grounds."
Before he had even left D.C., his videos were all over the internet. From CBS This Morning, to ABC News, to other global networks, media outlets around the world were sharing the work of a UF student.
"Scrolling through my own Twitter, I saw our videos and photos all over my timeline," Lester said. "I was amazed at how many people were interacting with the content."
So, the next time you hear DCP students are shaping the world you live in, remember that they are also shaping the lens you view it through.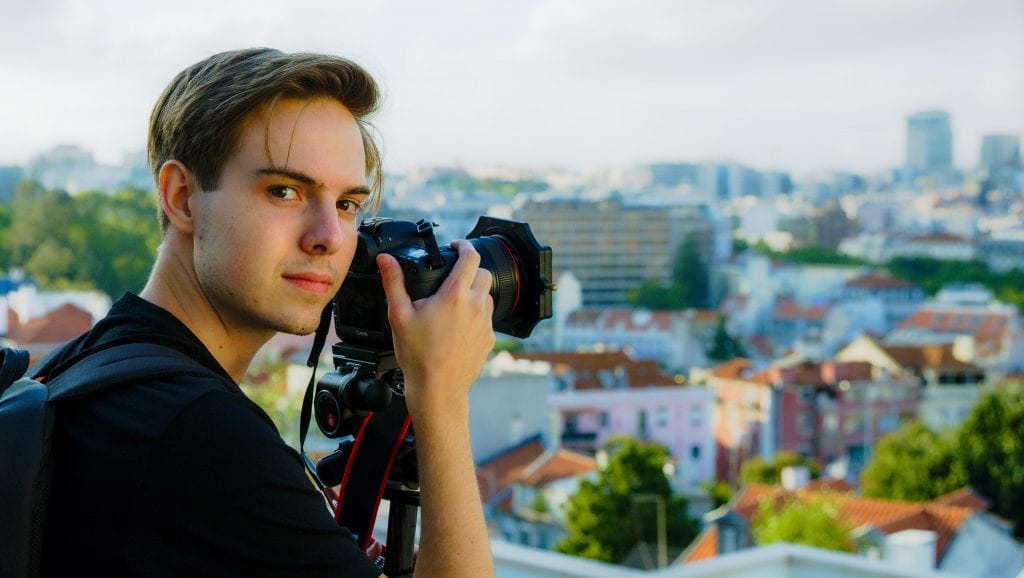 Lester's Thoughts on #OneDCP Faculty Members:
Morris "Marty" Hylton III

"I chose to pursue a MHP because of the program's director, Marty Hylton. Marty is hands down one of the most talented professors at the University of Florida. His passion for social justice through historic preservation is motivating. I just happened to randomly take three classes with him on accident in Spring 2020. Since then, he helped me get the filming job in Nantucket last summer and he is also working with me on my capstone project right now. Working with Marty to combine my interests in historic preservation and filmmaking is an exciting prospect and I am looking forward to what we can do together, starting in Fall 2021."

Hal Knowles
"Take one class with him and tell me he's not one of the coolest people you've ever met. Having a class with him is enough reason to be in the SBE program, considering the level of support and care he gives to his students. He is such an awesome person."

Linda Stevenson
"Professor Linda Stevenson is absolutely incredible. She taught what by far has been my favorite class – the graduate-level Practicum in Historic Preservation class. The combination between architecture, historic preservation and social justice creates such an amazing class experience. I encourage everyone in DCP to take it at some point."